CAHSS Professor and Alumnus Spearhead Documentary on Female Turf Team at U.S. Open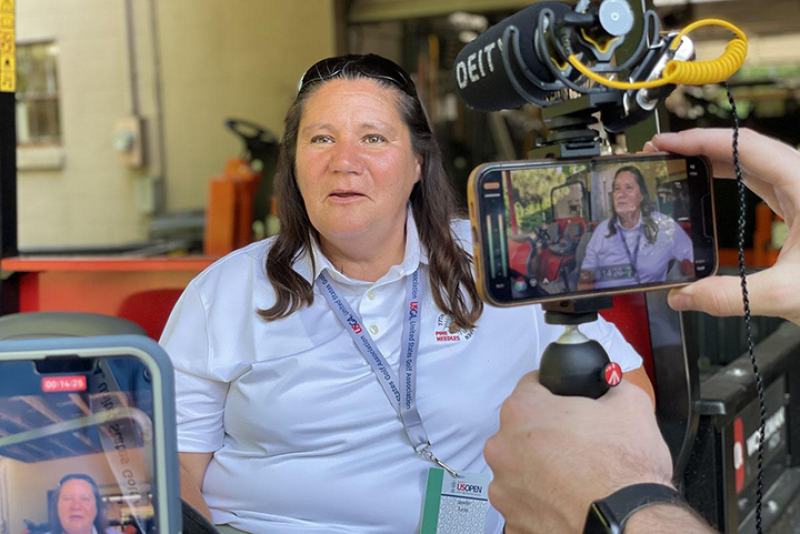 At 3:15 a.m., Leif Soederberg's (BA '22) iPhone buzzes. Soederberg's not a morning person, but on special occasions, he's up before sunrise. He groggily gets out of bed, packs his camera gear and hops on a golf cart, ready for a full day of filmmaking. 
In a nearby cabin, Sheila Schroeder, professor in the Department of Media, Film and Journalism Studies, receives a similar wake up call.  
Before the crack of dawn, the two get to work, documenting the all-female turf team at the U.S Women's Open. Turf professionals, the individuals who tend to golf course maintenance, are traditionally male with women making up only 1.5% of grounds crew members, according to the Golf Course Superintendents Association of America. But at the 2022 U.S. Women's Open, in a very public way, 31 women cut through the grass ceiling. 
"The greens in golf are almost like a sacred space," Schroeder said. "By inviting women in the turf industry to these marquee events to take part in taking care of the courses, they are exposed to the industry. They are exposed to each other. They're exposed to sponsors. It leads to more opportunities for them."
Turfgrass industry jobs require a specialized skill set. In golf, there are teams dedicated to cutting and watering. There are people who rake bunkers and fill divots. Mechanics, an even smaller subset of the turf industry, help maintain the lawnmowers and all the equipment.
"A lot of the women we talked to were the only women on their course," Soederberg said. "It was cool to see the camaraderie and support they showed each other."  
Each day, Schroeder and Soederberg followed around different teams, capturing b-roll and interviews on iPhones and GoPros – a unique experience for Schroeder, who is used to shooting on larger cameras. 
"My historical perspective of filmmaking has given me a sense of wonder. You have no excuse in terms of your filmmaking. You have a studio in your pocket," Schroeder said. "It's a miracle to see technology democratized in such a way that we all now have the ability to tell stories." 
While Schroeder and Soederberg were at the U.S. Women's Open, they documented the team through Twitter, Facebook and Instagram. But about halfway through, they realized they had a lot of extra footage, so they decided to turn it into a mini-series.  
With over 20 hours of footage logged, they are working on different episodes around 2 minutes and 30 seconds in length, targeting Twitter as their main platform. 
@WomenInTurfteam, a Twitter account that Schroder created, has almost 2,000 followers, creating an online community for women in the turf industry and those who support them.
The series is expected to lead up to the 2023 U.S. Women's Open.  
"Our series will help spread the word and will help women in the turf industry get the kind of exposure they need," Schroeder said.