DU Field Notes: DU Artists Help Create Meow Wolf Ride at Elitch Gardens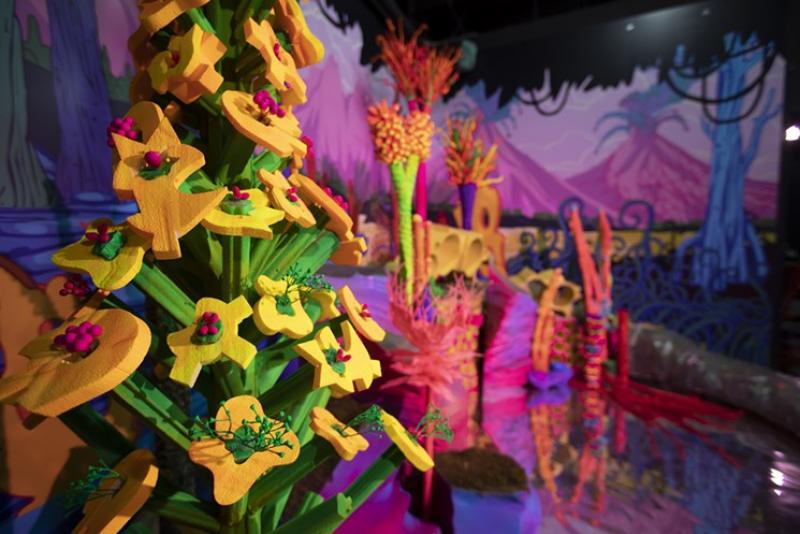 Santa Fe-based immersive art phenomenon Meow Wolf isn't scheduled to open its Denver location until next year, but as a sort of preview of its funky DIY aesthetic, Meow Wolf partnered with local amusement park Elitch Gardens to create a dark ride with an artistic bent. The permanent addition to Elitch's opened in April.
A remodel of an existing ride called "Ghost Blasters 2," the new ride — dubbed "Kaleidoscape" — utilizes the previous ride's shooting system, giving each rider a gun with which to shoot targets. Riders move through a number of separate rooms — everything from a colorful neon forest to a minimal sci-fi landscape to a jumbled thrift-store nightmare — and the targets, when hit, cause doors to open, flowers to light up, guitars to play and monsters to rise up.
Meow Wolf recruited a half dozen Denver artists to work on the ride, including DU faculty members Laleh Mehran and Chris Coleman, of the Emergent Digital Practices program in the College of Arts, Humanities and Social Sciences. Each artist was given a section of the ride to rework. Mehran and Coleman — who created the ride's opening animations — answered questions for the DU newsroom via email.
Q: How did you get recruited for the Kaleidoscape ride?
A: We were approached by a Meow Wolf artist liaison who had seen our W3FI project at the Galleries of Contemporary Art in Colorado Springs.
           
Q: What exactly did they task you with for your part of the ride?
A: They had very detailed plans with visuals for each "scene" (section of the ride). We collaboratively created the first scene, and Chris also made a video for the head (vintage Radio Shack TV) of a unique body seen later in the ride. We had to work closely with the art team from Meow Wolf to understand their vision, and in this way, it was more of a commission. Our work also came at the start, so we had to set a tone with the timing of the work.

Q: What was your prep/discovery process for what you wanted to do?
A: We got a chance to see the ride as it was before the Meow Wolf remake and understand the spaces. We then made constant visits to understand the ride as it was reborn. Our components were some of the last to be installed, because we had to really ride the cars again and again to understand the flow and timing of our animations.

Q: Was the project similar to anything you'd done before? Did you incorporate any existing work?
A: The animation we produced for the start of the ride is in our aesthetic wheelhouse, drawn from W3FI and other projects. Chris's video for the ride was based on his recent body of work but in a new way. With this kind of commission, you do not typically want to put your signature styles into it.
Q: Are you happy with the final product — not just your section of it, but the entire ride?
A: We're pleased with our component, and the overall diverse visuals have come together in an engaging and cohesive narrative. It is great to see how Meow Wolf's longstanding practice as an art collective has started to invite other artists in. In the same way, each artist who works with Meow Wolf has to understand that they are not making an artwork in a group show, but instead are making a small part of a Meow Wolf experience. It requires a different approach than the typical fine art practice.
 
Q: Are you working on the Denver Meow Wolf that is opening next year?
A: We're not currently engaged with Denver Meow Wolf, but if the opportunity came up, we'd be interested. We see Meow Wolf as a really exciting space for artists in Denver, especially for students coming out of Emergent Digital Practices. There are few places where you could apply all of the skills you learn in EDP, and from all of the Meow Wolf technical requirements, it is clear they are going to need our students!