Come Pitfalls and Pandemics, the Show Must Go On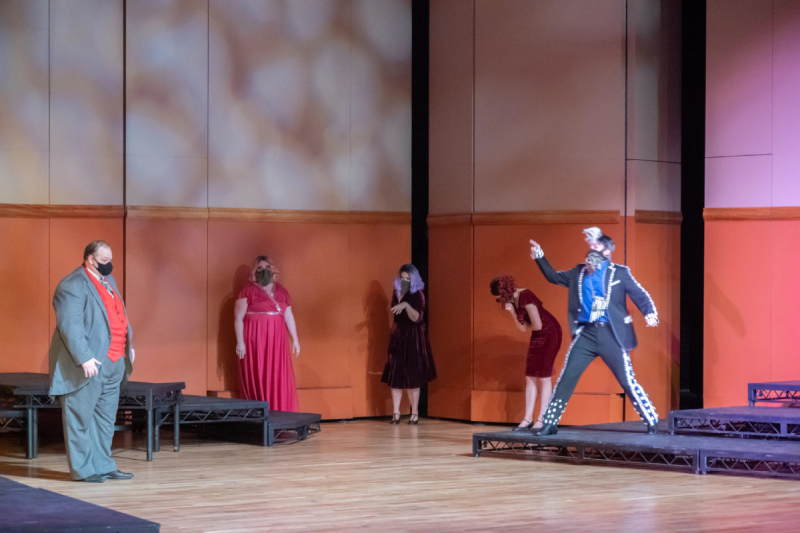 This article originally appeared in the summer issue of University of Denver Magazine.
Across the DU campus and throughout the 2020–21 academic year, students, faculty and staff in every discipline were severely tested by the coronavirus pandemic. Certainly that was true at the Lamont School of Music, where the challenges facing student and faculty performers were unprecedented.  
From the beginning of the pandemic, performing was considered a high-risk activity, one requiring musicians to reinvent how they taught, learned, rehearsed and performed.
Collaborating with the University's COVID response team and an aerosol scientist on DU's faculty, Lamont instituted safety protocols that addressed air circulation upgrades, musicians' masks, social distancing, surface cleaning, abbreviated rehearsals and shortened performances. On stage, even the most intimate opera scenes conformed to social distancing: Besotted hero swoons over alluring heroine from an unsexy 12-foot distance.  
To ensure that fans and patrons could enjoy the performances safely and from the comfort of remote locations, staff condensed the planning process for streaming performances from months into just days and weeks. In the true tradition of "the show must go on," the production staff streamed 230 concerts, recitals, master classes and events by students, faculty and internationally known guest artists.  
No question about it. That merits a robust BRAVO!