Losing her sight didn't stop one graduating Lamont student from pursing her love of music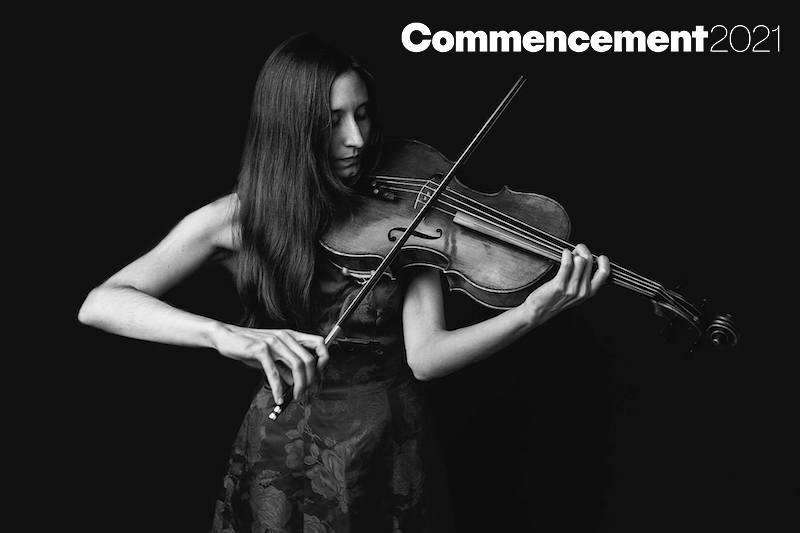 For violist Christina Ebersohl, who will graduate with a Master's in Performance at a University of Denver in June, not playing music was never an option.
"Music to me is just as important as breathing," she explains. When Ebersohl decided to commit to pursuing music, nothing was going to stop her — not the challenge of learning a brand-new instrument, not the challenge of losing her sight while learning that brand-new instrument, and certainly not the challenge of being the first music student who is blind in her college experience.
Ebersohl's love of music started at a young age. She remembers 7-year-old Christina sitting at the piano bench in her family's living room, picking out different melodies. She joined band and choir and learned to play the piano, tuba and flute. When it was time to start thinking about college, Ebersohl was conflicted about her path forward.
"Music is everything to me," she says. "It's my heart and soul, but at the same time, I have this overwhelming need to help people, and I felt like maybe music wasn't going to help as much as I thought it could."
That drive to help others led Ebersol to basic training for the U.S. Army, where she set music aside and became a linguist.
"I went in totally terrified and worked as hard as I could," she recalls. Her hard work earned her a Soldier of the Cycle designation, which recognizes the top soldier of the basic training cycle and which rewards impressive performance in everything from shooting to physical fitness.
With basic training behind her, Ebersohl moved to Monterey, California, where she had 18 months to learn Arabic. "I loved it," she says. "You learn so much about the culture. You spend 12 hours a day in class with native speakers and you only talk Arabic; then you go and do your normal military duties. It's absolutely exhausting."
It wasn't long after her language training that the course of Ebersohl's life changed when she was diagnosed with neuromyelitis optica, a central nervous system disorder that can impact eyesight, and she was honorably discharged from the Army. Unsure what her future might bring, Ebersohl made a decision that would shape the course of her life. She bought an instrument she had never played before — the viola — and started taking lessons.
Then, in February of 2014, she was declared legally blind, and she said at first, her dreams of pursuing music seemed far less achievable.
"It was devastating," Ebersohl says, remembering how disappointed she was to think she wouldn't be able to read music or drive to her lessons or tap into her talents to help other people. "I was terrified music wasn't going to be a part of my life."
Things seemed especially discouraging when her first blind cane arrived in the mail. "I probably stayed in bed for a month at that point. I had no idea what I was going to do, and I remember lying in bed in silence and just being suffocated by the silence," she says. But then her resolve returned: "I happened to get my phone and play something on YouTube. Just hearing it stirred something in me, and I was like, 'You have to find a way. You can't lie here forever. … [You]  have to find something."
Some encouraging words from her husband — "prove them wrong" — set her to work. She discovered new ways to read music and navigated her undergraduate experience at Portland State University. She learned Braille and how to put her cane to work in service of greater independence. Most astonishing of all, she earned her degree with most of her fellow students never knowing that she was new to the viola and just recently lost her sight.
The next bend in her journey brought her and her viola to DU for graduate studies at DU's Lamont School of Music.
"DU has been amazing," Ebersohl says. "I have literally not had a bad experience at Lamont. Every single professor has been invested in who I am and wanted to help me succeed. It's been an absolutely joy, and I can't imagine having gone anywhere else."
Her professors return the compliments.
"I have never before met such a bright, intelligent, hard-working and optimistic woman," says Basil Vendryes, a renowned artist who has served as principal violist of the Colorado Symphony Orchestra. "She remembers every nuance from each lesson and comes to the next session with new concepts digested. I honestly don't know how she does it. Christina has embraced her misfortune and created herself opportunities that defy her vision loss. I am inspired by her daily."
One of Ebersohl's most memorable experiences at DU involves her participation in an all-female  quartet. "Sometimes you meet people and just naturally click," she explains. "When they learned I couldn't read music and had to memorize everything, in solidarity, they memorized all the music with me. So when we played the final concert, it was just four chairs, four instruments and four people. No stands. … Having that solidarity was amazing."
As Ebersohl prepares to graduate, she considers herself fortunate, despite all the challenges tossed her way.
"Losing my sight has actually become a blessing, because now I have this unique perspective and this unique capacity to advocate for a group of musicians who usually aren't advocated for," she says. "I am an advocate and scholar for accessibility in music education and music performance, which is a very unknown field."
She is now looking ahead to start her Artist diploma which will allow her to focus all of her time on practicing and performing. And she has goals of setting up a scholarship competition for other musicians who have had to overcome a psychical challenge to pursue their love of music.
"I can't believe that I'm so fortunate to have been surrounded by the people that I have," she says. "I feel humbled every day."