Lamont Ensemble Offers DU Students a New Experience
Bluegrass group performs Nov. 16 at the Newman Center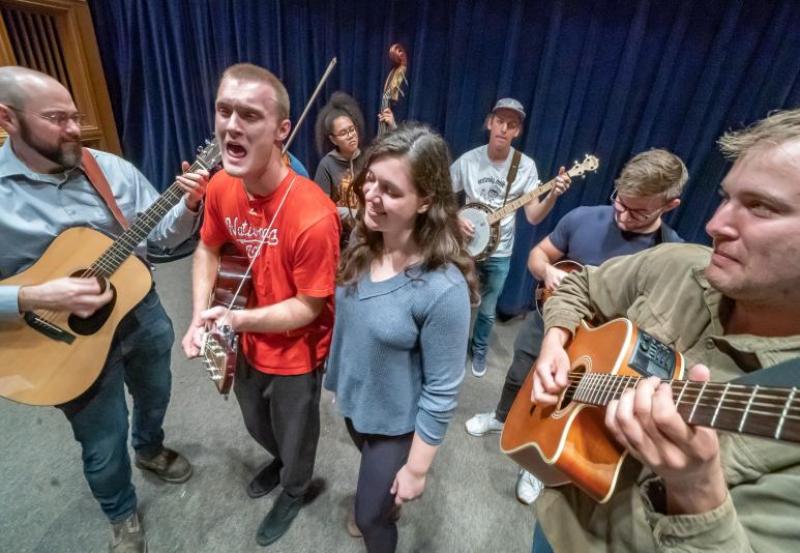 It's typical for student concerts at the Lamont School of Music to feature works by Mozart, George Gershwin or Miles Davis, but songs by Bill Monroe and Willie Nelson? For those you have to turn to the Bluegrass Ensemble, a mix of music majors and non-music majors who convene twice a week to work on selections from one of America's oldest music traditions.
Founded last year by Lamont faculty member Michael Furry, a rock musician-turned-flatpicking acoustic guitar champion who also works as the building coordinator at the Newman Center for the Performing Arts, the ensemble is part of Lamont's ethnomusicology program. It offers Lamont students a chance to expand their repertoire, while allowing majors in other disciplines the opportunity to learn a new skill or stay connected to a musical side they otherwise would have left at home.
"I have a very specific hierarchy of things that I have to have," Furry says. "My first thing would be, 'Can they play a traditional string instrument?' Acoustic guitar, upright bass, mandolin, fiddle, dobro? Those are the standard traditional bluegrass instruments. If they can't do that, can they sing? If they can't do that, can they play spoons? I had one student who came in ice cold, but I was able to get her comfortable on the spoons so we were actually able to use her and get her in the class."
At a recent rehearsal, Furry and the student musicians stood in a semicircle on a stage in a Newman Center classroom, running through their set for a Nov. 16 performance in Hamilton Recital Hall. Supported by bass, mandolin, banjo and guitar, singers harmonized on such songs as "Long Gone," "Unwanted Love," "Blue Eyes Cryin' in the Rain" and "Good Hearted Woman."
Early in the quarter, Furry also spends some of his classroom time lecturing — on the history of bluegrass and some of its key figures, on instrument basics, even on how to be a successful bandleader.
"This class allows them not only the opportunity to play music, but the skills needed to be able to go out into the world and find ways to generate revenue by playing music," he says. "That's definitely a goal that I want to have for my students."
Geography major Brandon Scheller may not be at that point yet, but the former high school musician, now in his third quarter in the bluegrass ensemble, appreciates the chance to stay connected to music and to learn about a new genre.
"I actually wanted to audition for the orchestra, but my class schedule didn't work," he says. "I found out about this winter quarter last year and did it and had a blast, so I came back this year. This time around I'm playing the mandolin, just to learn something new. Lamont can be seen as such a prestigious program and music school, but being able to come to this class, where we're all able to learn something new and grow within our own confidence and our own performing abilities, is a really unique experience."
The Bluegrass Ensemble performs with Lamont's North Indian Classical Dance Ensemble at 7:30 p.m. Nov. 16 in Hamilton Recital Hall at the Newman Center for the Performing Arts. Admission is free, but a ticket — available at the Newman Center box office — is required.