Words & Media from the DU Lamont School of Music - Our Official Online Newsletter
Winter 2021
I am delighted to welcome readers to another issue of Lamont Lyrics! While it has been a demanding year navigating face masks, social distancing and other mitigations, our community has continued to flourish through dozens of streamed performances, online master classes, intellectual engagement and inspiring creativity. All of us will remember 2020-2021 both for the impact of the coronavirus pandemic and for our unfailing efforts to sustain our art, be we performers, composers, conductors, scholars, theorists or teachers.

This volume of Lyrics, like its predecessors, combines news updates with profiles of individuals from all sectors of the Lamont community: a longtime donor and friend of Lamont, a faculty member who has had an indelible influence on Lamont students, an alumnus building a successful career while navigating the pandemic, a student with an entrepreneurial spirit, and supportive parents of a current Lamont student. All are part of the community we call Lamont.

Best,
Keith
 
Take a Look at Us
A yearbook of streamed performances where performers soared in spite of strict pandemic protocols.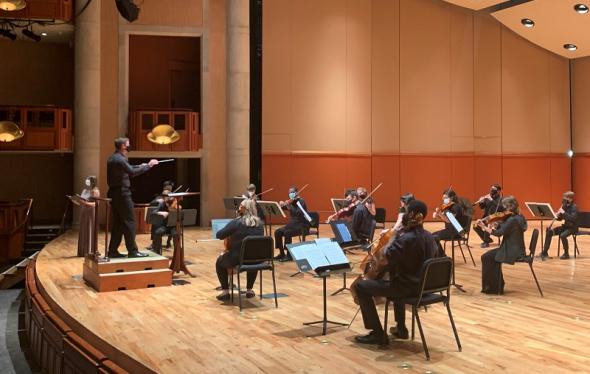 Fall Concert Season
Concerts, Master Classes & Convocations were Streamed Live
Lamont events were streamed while following strict pandemic safety limits on numbers of performers on stage and time spent in the room. Safety protocols also included mandatory masks and performer distancing.

Navigate to the next slide using the dots below.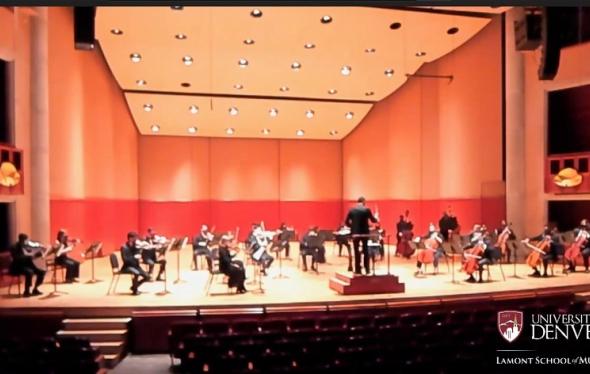 Live Streamed Performances
Lamont Symphony Orchestra & Lamont Wind Ensemble
Music Director Lawrence Golan conducted the Lamont Symphony Orchestra in a performance as Crimson and Gold string orchestras. They performed works by Peter Boyer, Gustav Mahler, George Walker, Piotr I. Tchaikovsky and a premiere of Threnody by Christopher Marshall.
The Lamont Wind Ensemble, conducted by Joseph Martin, gave two performances highlighted by a performance of Aaron Copland's Lincoln Portrait narrated by M. Roger Holland.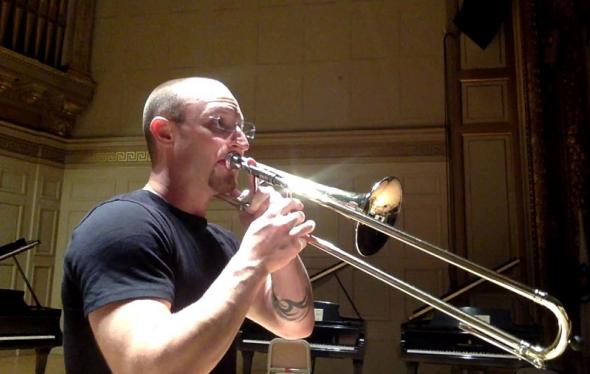 Zoom Master Class
Master Class — Toby Oft, trombone

Toby Oft, principal trombonist of the Boston Symphony Orchestra, visited campus virtually to teach a master class.
Master classes and symposiums were also presented by composers Andy Green and John Aylward, and percussionist Matthew Strauss.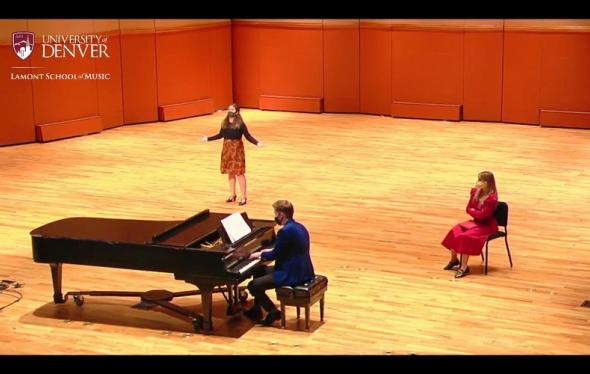 Streamed Performance
Lamont Opera Theatre — "An Evening of Italian Opera Scenes"
Lamont Opera Theatre singers performed scenes from the great Italian operas: Così fan tutti, L'Italiana in Algeri, Don Giovanni and more. The performance was conducted by Sahar Nouri, accompanied by pianist Cody Guy Garrison and directed by Matthew Plenk.
Zoom Convocations
Balkan Bump & The Flobots, Andy Rok Guerrero & Jamie Laurie
Virtual performances and conversations from Balkan Bump live from the Joshua Tree Music Festival and The Flobots Andy Rok Guerrero & Jamie Laurie gave Lamont students a closeup look at young touring music professionals.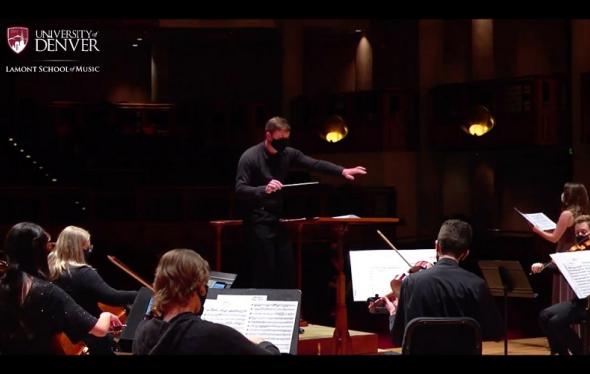 Streamed Perfromances
Student Recitals
Students performed their degree recitals throughout the season.
Photo: Conducting graduate student Drew Ritchie conducts his graduate recital.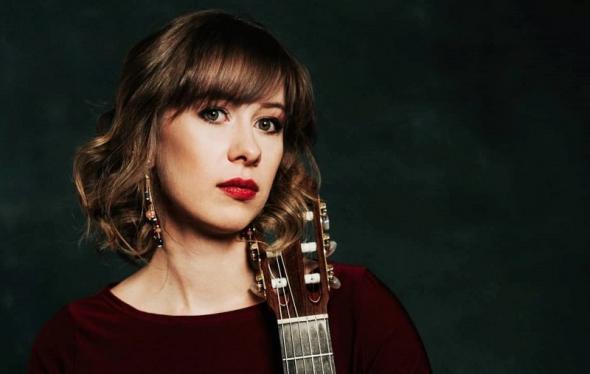 Streamed Event
2020 Denver Guitar Festival & Competition
This year's 2020 Denver Guitar Festival & Competition was held virtually with guitarists competing from around the world:
1st prize: Katarzyna Smolarek, Salzburg, Austria
2nd prize: Bogdan Mihailescu, Gaillard, France
3rd prize: Ana Maria Iordache, Tucson, AZ
4th prize: Chinnawat Themkumkwun, Bangkok, Thailand
Profiles
Introducing an alumnus conductor now a rising star in Europe, a graduate student singer building a podcast future, New Mexico parents bringing a warm glow to Lamont, a donor who spreads her joy across Denver and a professor whose students are legion.
News Stories
Lamont Distinguished Alumni Award & Newman Fellowship Gift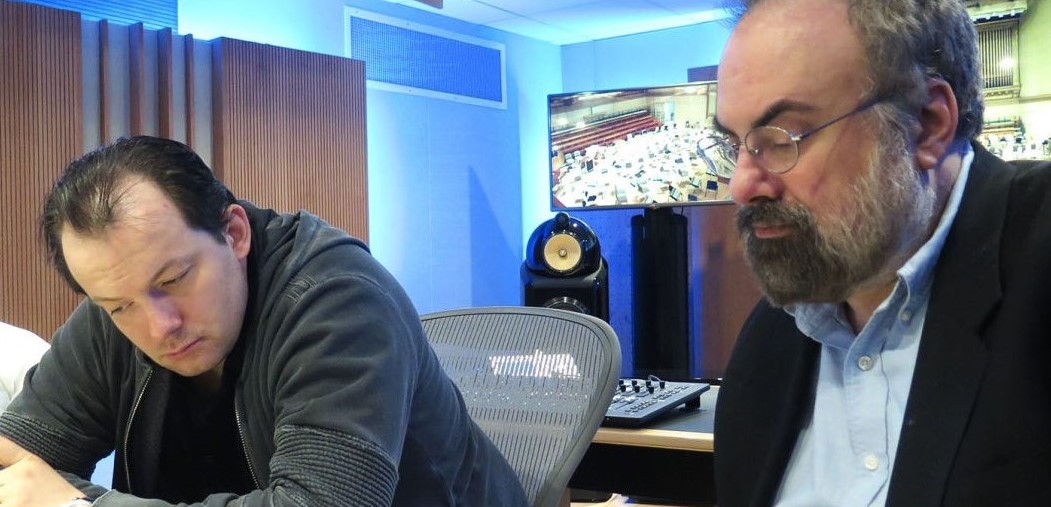 Robert Wolff, BM 1983, Receives 2021 Lamont Distinguished Alumni Award
Scoring editor for three of John Williams' Star Wars films and currently editing a recording project for the Boston Symphony Orchestra.
The Lamont School of Music has named film scoring and recording editor Robert Wolff (BM 1983) as the recipient of its 2021 Distinguished Alumni Award. The award was voted by the faculty for the second year as part of an effort to honor and connect with Lamont alumni. The award will be formally presented to Wolff when he visits the campus later this year.
Photo: Andrea Shea, WBUR/Boston. A Boston Symphony Orchestra playback session for Shostakovich #8, Symphony Hall, Boston, March 2016. (L to R) Maestro Andris Nelsons and Robert Wolff.
Read Profile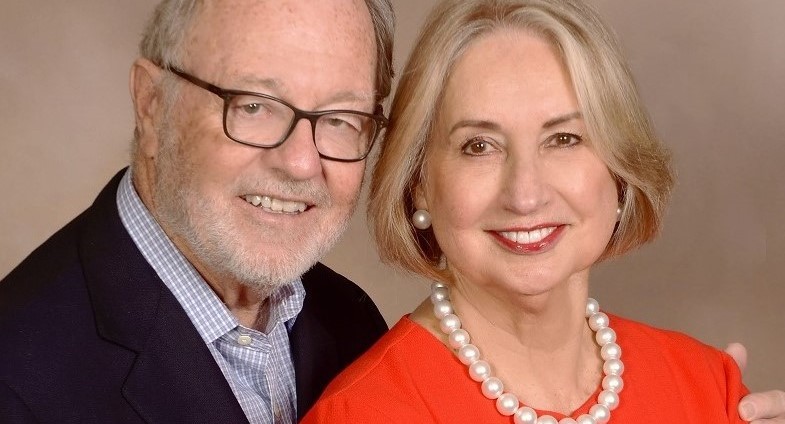 Gift from Robert and Judi Newman Benefits Music Students
Robert & Judi Newman, whose involvement with the University spans decades, recently renewed a gift to Lamont that funds a two-year fellowship for master of music students in performance or conducting.
Read Story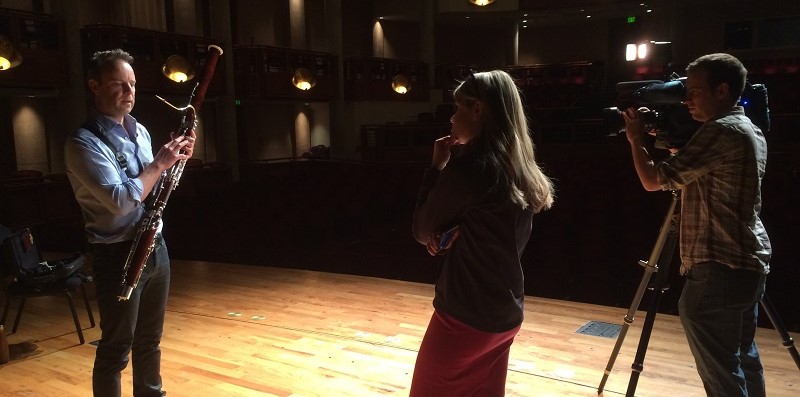 Read more stories & contact Lamont Public Relations
Our faculty, guests artists, ensembles and solo student performers present 300 concerts, recitals and events each concert season. In addition to producing the opera or performing with the Lamont Symphony Orchestra, our students and faculty travel the world, record, publish and engage with audiences throughout the Rocky Mountain West.

If you have an idea for a story contact Chris Wiger at the Lamont Public Relations office.
Read More Stories
Contact Lamont Public Relations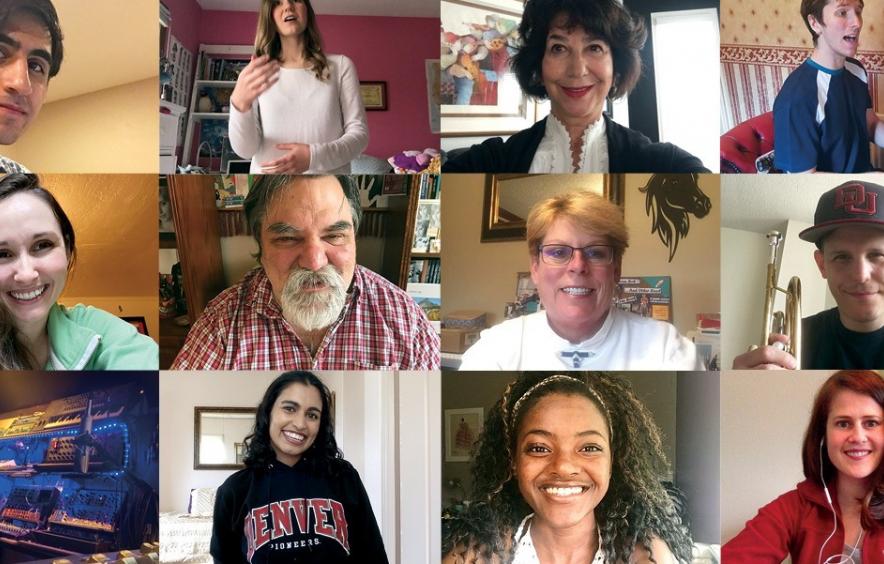 Give to Lamont
The Lamont School of Music is grateful for the generosity of donors who have made a significant impact through the Lamont Society. Thank you.
We invite you to donate online below or text your donation to Lamont at 41444.
Give to Lamont