Lamont Student Profile: Anika Erickson
by Angela Mitchell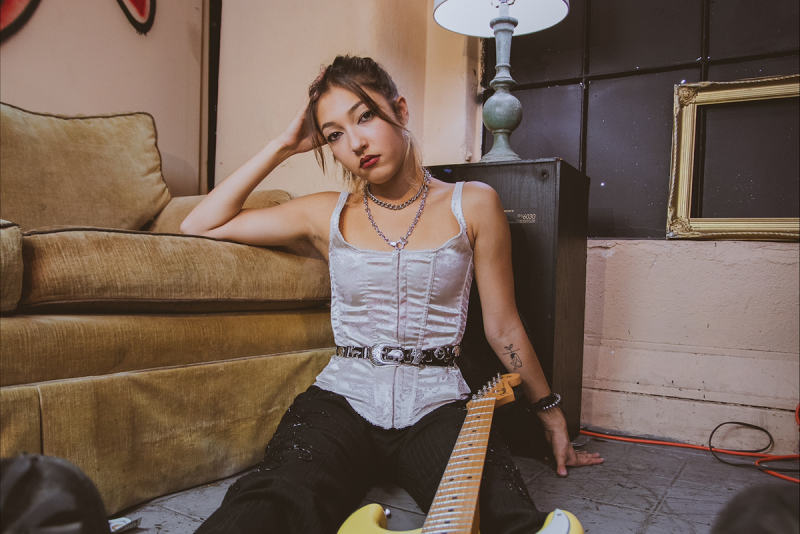 Anika Erickson is a self-professed night owl. She finds the most inspiration for songwriting in the wee hours of the morning, mixing and writing until about 8:00 a.m. Of course, when school is in session, she goes to bed at a more reasonable hour so she can make it to her busy schedule of classes as a second-year Recording and Production major.
Growing up in the Los Angeles area, Anika first tried her hand at songwriting when she was in 4th grade, keeping a little notebook where she'd jot down ideas. She started seriously writing when quarantine hit and was ready with a good-sized portfolio when it came time to start applying to university programs at the end of 2020.
When considering where to attend college, Anika originally thought she would attend the Berklee College of Music. That's where her parents met: her father was a production major and her mother was a singer. DU's Lamont School of Music was one of several "backup" schools for her, and she was thrilled to be admitted.
To help make up her mind, Anika came out to visit Lamont in the spring of 2021. She met with Michael Schulze, director of the R&P program, who showed her around the studios and spoke about what Lamont could offer.
"That's what ultimately sold me," she said. "I could get the kind of one-on-one attention here that I'd never get in a bigger program."
The Bachelor of Music in Recording and Production is one of Lamont's most popular and competitive programs, only accepting a handful of students every year. Alongside their coursework in audio production, students take applied lessons in a musical area of study, participate in ensembles, and take classes in music theory and musicology.
Anika has flourished since coming out to Denver. She performs with the Lamont R&B and classical guitar ensembles, and takes weekly lessons on jazz voice with Donna Wickham. "She has helped me to expand my repertoire, and taught me basic elements of jazz history and style," Anika said. "Learning about jazz harmony has really helped me with my songwriting, because I've found more interesting chords and rhythms and melodies."
An incredible opportunity came up in 2022 when Michael Schulze asked Anika if she'd be interested in working with students in Media, Film, and Journalism Studies to create a music video. "You don't have to ask me twice," she recalled saying to Professor Schulze. "I'm so there!" Shot over the course of four days, the video for Anika's original song "Oyster" is the result of this collaboration.
Anika leads a band that performs her songs, with an album coming out soon. They also perform live locally, with recent gigs at Lost Lake Lounge and Global Hall Live Music & BBQ.
In the long term, Anika would like to write and produce music for herself and other artists. She is already well on her way to working as a session singer, which she describes as "going into a studio and being able to sing any genre of whatever they want!"
"It's mostly about hustle," she continues. "I think the music industry as a whole is mostly about hustle and connections. You have to find the pulls in the system of ways to make money. It's not conventional, it's not a set schedule where you get paid for your 9-to-5. You have to meet people, be available, and say yes to everything."
 
Learn more about Anika Erickson at her website, on YouTube, and follow her on Instagram and Tiktok at @fancysnowpeas.