Lamont Welcomes Virtuoso, First Juilliard Master of Music in Piano Graduate
Jiawei Lyu has played the piano since the age of seven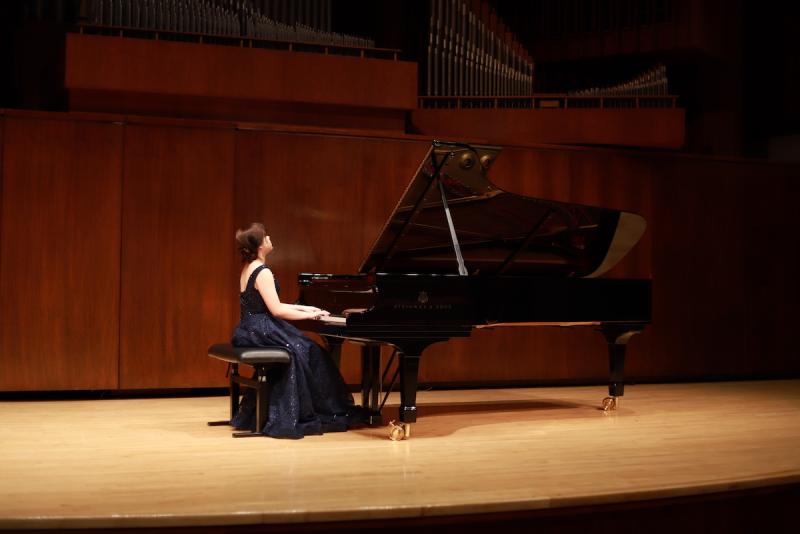 From China to New York City and now Denver, Jiawei Lyu's journey with the piano has taken her across the globe.
After graduating in 2022 from The Juilliard School as a full scholarship student of Jerome Lowenthal, renowned pianist and chair of the piano department, with Bachelor of Music (BM) and Master of Music (MM) degrees, Lyu was recruited to attend the University of Denver's Lamont School of Music.
She is now in her first year of Lamont's two-year artist diploma in performance program under the tutelage of acclaimed pianist Steven Mayer. Lyu is the first student the music school has recruited with an MM in piano from Juilliard, according to Professor Mayer.
"Jiawei is an exquisite artist. She is a pianist with a refined sensibility, a gift for deep lyricism and a natural technique. She also has a self-effacing personality and approaches the art of performance with great humility," he said.
Lyu ultimately chose Lamont for a number of reasons. She was excited that Denver was a change of pace from New York City and the school offered more individualized instruction to its students.
Mayer was also a big factor as to why Lyu chose Lamont as Lowenthal had been a mentor in the early stages of his own career.
"Lamont is a small school, so I think the teacher has more connection with the student. They can give you more advice and that's really important as a music student," Lyu said.
A Little Convincing is All it Took
Being the first member of her family to learn an instrument, 7-year-old Lyu had to convince her mom that she really wanted to play the piano.
She did so by practicing in music stores and the mall for two months until her mom agreed to buy Lyu her first piano.
At the age of 9, Lyu attended the Shenzhen Art School. Two years later she entered the Music Middle School affiliated with the Shanghai Conservatory of Music where she earned the highest piano entrance score.
Between 2015 and 2018, Lyu taught masterclasses, performed recitals and presented lectures in Shanghai, Shenzhen and Nanjing, among other cultural centers in China. In July 2016, Lyu was sponsored in a recital at the Yixing Grand Theater by the China Bureau of Culture.
In the United States, Lyu has performed at New York's Lincoln Center and at Juilliard, including as part of the New Juilliard Ensemble and Piano Scope.
Wolfgang Amadeus Mozart is Lyu's favorite composer, largely because she can feel the music most naturally when she plays his pieces. Lyu has performed several of Mozart's sonatas as a member of the Catskills Mountain Academy of Fortepiano.
The Work is Just Beginning
Recruiting high caliber, driven students like Lyu has provided unique and beneficial opportunities to fellow Lamont students.
"It's a wonderful thing for our students to have the example of a person who has this kind of dedication, skill and hard work behind them," Mayer said.
Mayer was also initially struck by Lyu's desire to think more about music and less about the visual aspects of performance — especially in a world where image has become so important.
"It is a rare thing to encounter a student who puts the music so far ahead of other elements of building a musical career. Jiawei is such a person," he said.
In working with Lyu, Mayer hopes to "fill in a few gaps," including helping to market and promote her distinctive talents.
"Today there are thousands of excellent pianists. The challenge is to be recognized for one's unique artistry. Our work is just beginning and I'm excited about it," he added.