2020 Faculty Awards in CAHSS
Celebrating outstanding professors in the College of Arts, Humanities & Social Sciences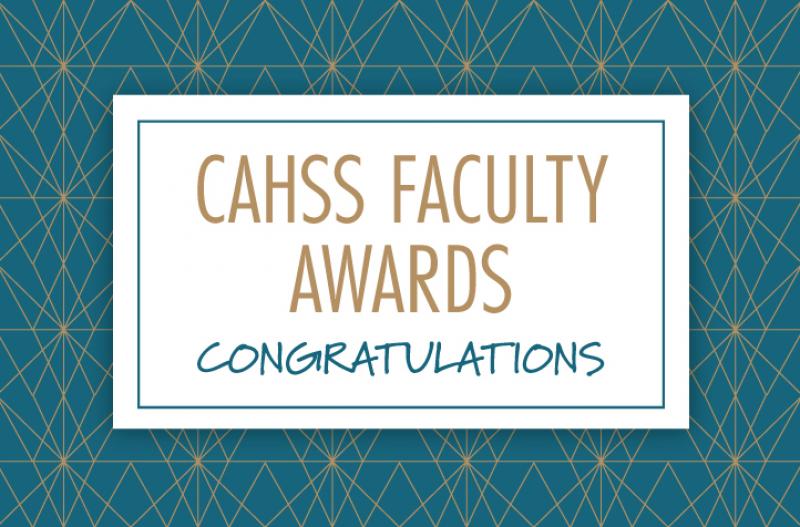 This year, the University of Denver honored six professors for their outstanding research and scholarship, commitment to their students and exceptional teaching. Four of those professors are from the College of Arts, Humanities & Social Sciences.The 2020 award winners were selected based on nominations from colleagues and students.
Distinguished University Professor Award
The 2020 Distinguished University Professor is Anne DePrince. A psychology professor in the College of Arts, Humanities and Social Sciences, she has played a valuable role in her nearly two decades at DU. DePrince served as chair of the Department of Psychology for several years and currently is director of DU's Center for Community Engagement to advance Scholarship and Learning (CCESL).
DePrince was nominated by her colleagues, who called her "an internationally recognized scholar, a trailblazing researcher conducting cutting-edge community engaged research and an exemplary leader." Her research focuses on violence against women and children, and her work has been featured in more than 100 publications, including nine edited books, 69 peer-reviewed articles and 35 book chapters, commentaries and technical reports.
DePrince's colleagues hail her work for its "transformative effect within the research community, including the advancement of theory and a fundamental change in the way we understand the benefits and risks of talking about trauma in research contexts."
This honor is awarded based on scholarly productivity, national and international distinction in a field of research, and work that makes a positive impact on society.
University Lecturer Award
Carl Raschke, professor and graduate advisor in the Department of Religious Studies, has been named the 2020 University Lecturer. His expertise is in the field of philosophy of religion with a focus on political theology. He is co-founder and senior editor of "The Journal for Cultural and Religious Theory."
In nominating Raschke, a colleague writes that he has been "tireless in his efforts to create a harmonious synergy between his scholarship and his teaching, developing new courses on a regular basis and infusing his regularly taught courses with new material, as well as mentoring our students — and our junior faculty — individually."
Raschke's impact reaches far beyond DU's classroom and even the United States. A colleague at a university in Europe writes, "Raschke continuously displays an ingenious instinct for the most pressing questions of the day, making him a noteworthy public intellectual. This is true in Europe, where he is one of the most respected American intellectuals. …Carl Raschke is undoubtedly one of the greatest scholars in philosophy of religions alive today, both in the United States and beyond."
This award honors superlative creative and scholarly work.
Faculty Service Award
Annette Stott from the School of Art and Art History has earned the 2020 Faculty Service Award. She is currently in her third year as director of the DU-Iliff Joint Doctoral Program in the Study of Religion, and she holds many leadership positions, including art history graduate advisor and chair of the art history admissions committee.
Stott teaches the history of American art with an emphasis on the 19th and 20th centuries. She has a particular interest in women in art and the intersection of American religions and art.
In a nomination letter, a colleague calls her "a pillar of public good who actively engages all members of the community" and "a scholar dedicated to the University, its students and faculty."
This award is given to a faculty member in recognition of outstanding service to the University, the community or the profession.
Ruth Murray Underhill Teaching Award
Kyle Fleming, an adjunct faculty member at the Lamont School of Music, has earned the 2020 Ruth Murray Underhill Teaching Award. He is conductor of the Lamont Men's Choir with a 20-year background as an educator, singer and conductor. He also has spent the past two decades in service as a church worship pastor and music director. He is currently associate director of worship arts at Broomfield United Methodist Church.
A colleague writes that Fleming is "a dynamic leader on and off the podium, full of passion and drive. His artistry is backed by rock solid skills as a conductor and singer, and excellent scholarship. …He is driven solely by his desire to see what is best for our individual students and our choral program, and is a supportive and engaging colleague."
His students, meanwhile, say, "His infectious passion for inspiring young musicians to achieve excellence as individuals and as ensemble members is to be emulated throughout the entire profession of teaching, regardless of subject." He also "has a gift for making learning fun and engaging for students of all levels without compromising the integrity of his behavioral and conceptual objectives."
This award recognizes excellence in teaching by an adjunct faculty member.