2023 CAHSS Dean's Dissertation Fellowship Awardees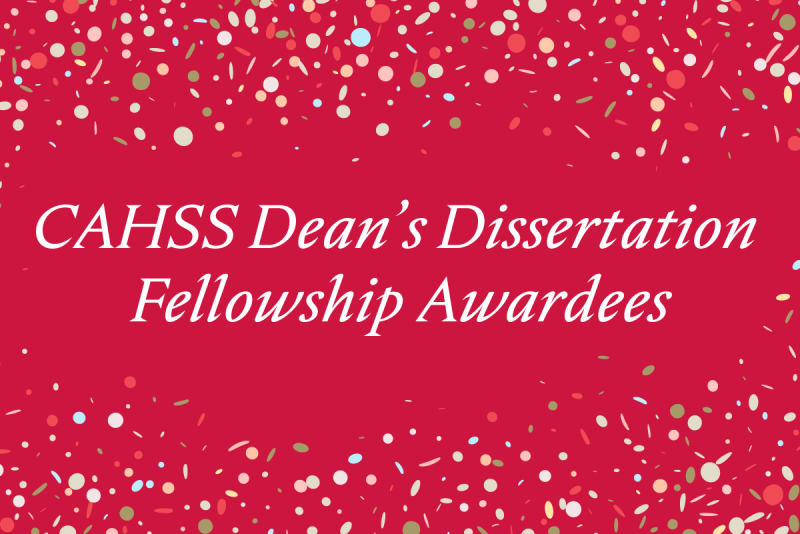 Each year, the College of Arts, Humanities & Social Sciences (CAHSS) is proud to offer Dean's Dissertation Fellowships to students pursuing completion of their doctoral work. Awardees, nominated by faculty in their departments from a highly competitive pool of applicants, are chosen to receive a year of financial support.
The 2023 Dean's Dissertation Fellowship awardees are: Shannon Powers (Department of Psychology), Jenny Albright (Department of English & Literary Arts) and Kevin Kohlhauf (Department of English & Literary Arts).
The dean's office recognizes the extraordinary commitment and creativity of these PhD candidates and congratulates the awardees!
Shannon Powers, Department of Psychology
Shannon Powers is seeking a PhD in developmental psychology with a concentration in cognitive neuroscience. She is currently studying how cannabis exposure during pregnancy impacts parental neural development. The scholarship will help her finalize and complete her dissertation that examines whether cannabis exposure during pregnancy affects neural responses to infant cues (such as crying and smiling), and how it may impact parenting behaviors. Legalization of cannabis and cannabinoids has doubled use among pregnant populations in the United States and been associated with higher rates of preterm deliveries and neonatal intensive care unit admission.
While the literature shows an increase in pregnant populations exposed to cannabis, limited evidence exists on the effects of cannabis in isolation of other substances, and its effects on neural mechanisms and behaviors of parenting in the postpartum period. Powers hopes to ultimately work for a research institution focused on mobilizing research and access to equitable resources for pregnant populations.
Jenny Albright, Department of English & Literary Arts
Jenny Albright is seeking a PhD in literary studies focused on narrative theory, contemporary literature and feminist narratology. Her research applies a narratological lens to a range of works by contemporary women writers, with an eye toward imagining new modes of narrative theory better suited to diverse subjectivities in fiction. She loves teaching, hopes to use her degree to ultimately secure a tenure-track professorship and looks forward to a long career sharing her research and love of literature with students. She is currently working on her dissertation, "Narratological (Re)Visions: Feminist Poetics and Nontraditional Narrative Structure in Contemporary Women's Writing."
Kevin Kohlhauf, Department of English & Literary Arts
Kevin Kohlhauf is a doctoral candidate seeking a degree in literary studies. His research addresses contemporary American literature and postmodern narrative, with a focus on the ways in which literary genres are read, performed, circulated and made new in our current moment. He is currently working on his dissertation, "Genres of Parody: Autofiction, Horror, & the Contemporary Novel."