Graduating Criminology Student Paves Way Toward Accelerated Path to Legal Career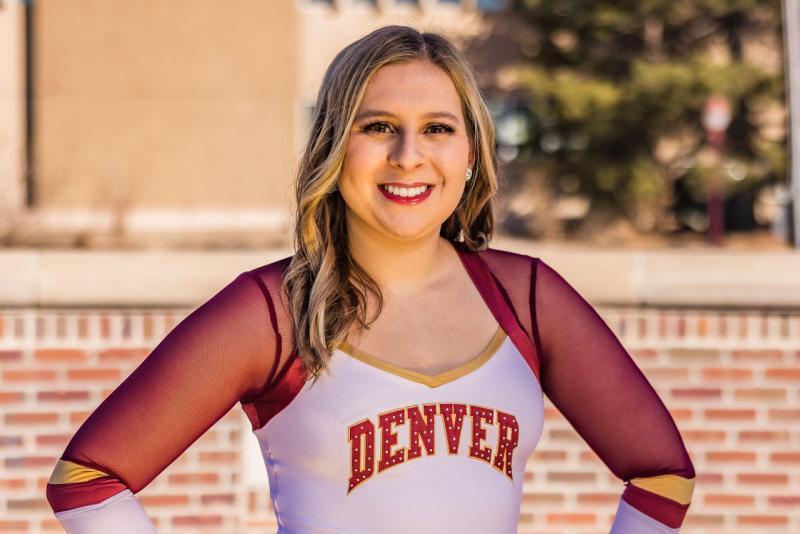 University of Denver student Alexa Prickett attributes the discipline, drive and perseverance that enabled her to earn a bachelor's degree and two minors in three years despite a pandemic to growing up in a closeknit family in Tucson, Ariz., as a competitive dancer.  
"Dance was always a huge part of my life and is a big factor in who I am today," she said. "I often spent more time at the studio than I did at home. Also, my mother was a teacher and my dad's a doctor, so I turned out to be very dedicated and logical. I don't think it could have gone any other way."
When looking at colleges, Prickett wanted an out-of-state school with a more intimate environment and smaller classes than the large universities she'd seen.
"DU had the whole package: a really good criminology program, great school spirit and a nice homey feel," she said. "I could see myself here."
Graduating in June with a bachelor's degree in criminology and minors in political science and writing practices, Prickett initially chose criminology with an eye toward pursuing a career in the intelligence field. Her experience at DU, however, shifted an underlying interest in the law from the back of her mind to her chosen career.
Prickett's DU journey began in fall 2020, when she took common curriculum and introductory classes for her major and immediately found professors like Tracy Durant and Desire Anastasia-Cartwright who both provided inspiration and direction.
"I always advise freshmen to make connections with your professors because they play a huge role in your education," she added. "It's something that really helped me throughout my college career."
She credits the Introduction to Law and Society course she took with Visiting Teaching Assistant Professor and Adjunct Faculty Member Randy Wagner along with other classes of his with "helping me recognize that I wanted to do something more with political science and pushing me more toward a legal career."
"I was always pleased to see Alexa's name on my class roll at the beginning of any quarter," Wagner said. "She was the student who always showed up for each class prepared and willing to engage in discourse — and she did so always in good spirits and with a smile on her face."
Prickett called the American Government Simulation class that allowed students to assume the roles of members of the U.S. House of Representatives "probably the best class I've taken at DU." Students were assigned to committees and drafted bills that, if passed in committee, were voted on on the House floor.
As a senior graduating with honors, magna cum laude, Prickett was required to complete a senior thesis. She chose to write about the juvenile justice system — an area she believes does not receive enough attention and relates to her interest in pursuing family law.  
"My parents divorced when I was very young but remained very friendly and always put me and my sister first, but a lot of kids of divorced parents are not so lucky," she said.
Prickett's research focused on how trends and cycles in addressing juvenile justice have changed since the 1990s and involved interviewing an individual previously in the juvenile justice system as well as attorneys and others who worked in the system.
 "The approach swings back and forth from punitive to rehabilitative," she said. "Right now, it's more rehabilitative but I wouldn't be shocked if it went back to punitive. My thesis talked a lot about how race, gender and sexuality play an important role."
Throughout her time at DU, Prickett found crucial friendship and support from her teammates in the University of Denver Dance Team, an organization she joined her first year that continued to practice and perform while working within COVID restrictions.
"We held virtual auditions and practices and were constantly trying to better our techniques and learn new choreography," she said.
Last year, as COVID restrictions were lifted, the team danced at every men's hockey and lacrosse and men's and women's basketball home games. "I absolutely loved getting to do what I love while supporting the school I love and being with my best friends," she said.
Prickett delighted in engaging with young girls who came up to talk and take photos with her and fellow dancers. "I grew up going to athletic events with my dad in Tucson and being so excited to see the dancers and cheerleaders. It's been such a cool, full-circle experience."
Once again able to compete in 2022-23, the team participated in regional competitions in fall quarter and for the first time, in Dance Team Union's national competition, The College Classic, in spring quarter.
The team continues to participate in a partnership with the Rocky Mountain Down Syndrome Association. At least once a quarter a group comes to the team's studio to hang out with team members, play games and learn a short dance combo. "It's such a fun experience and our team hopes to do even more with them in the future," Prickett said.  
She considers the COVID-19 pandemic the greatest challenge of her college career but is proud to have pushed herself to overcome a sense of isolation.
"I find it hard to do school online, did anything I could to find classes that were available in person and am lucky that I found them," she said.
While she waits to hear from all the law schools she's applied to before making her final decision, she's reflecting on the many ways her college experience has changed her for the better.
"I talk to my parents about all that I've been learning and doing, and they've noticed it, other people have noticed it. I feel lucky to have been able to experience so much and succeeded, especially during COVID. I can't wait to start learning about all these different parts of the law and seeing where they might lead," she said.