CAHSS Professor's Research Supports Philadelphia Obituary Project's Efforts to Honor Homicide Victims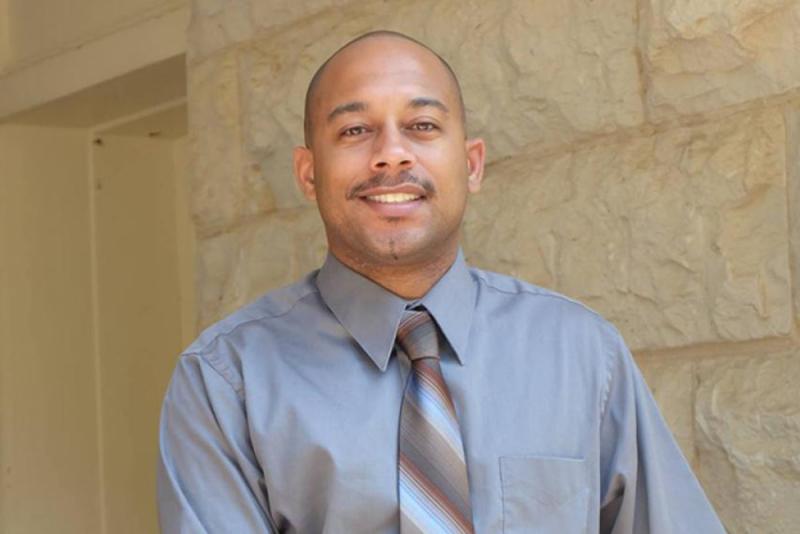 For years, CAHSS Associate Professor of Sociology & Criminology Reggie Byron had studied media coverage of urban homicide victims that he believed dehumanized victims, neglected the impact of their vibrant lives and tragic deaths on family, friends and society and failed to instill empathy in readers, viewers and listeners.
The director of the Critical Race & Ethnic Studies (CRES) program's search for alternative coverage ultimately led him to seek and receive a DU Public Good Fund grant for working with the Philadelphia Obituary Project (POP), a nonprofit dedicated to honoring homicide victims through obituaries co-created by surviving family members and professional journalists.
The grant enabled Byron to pay three interested students — Lily Baeza, Ellie Barnett-Cashman and Malea Marxer — over the summer to help evaluate the greater impact of the obituaries by reading, coding and analyzing them, thereby providing hands-on research and analyses experience.
"Together we decided to read obituaries and pull information — race, sex, age and relationship of the person who was interviewed for the obituary to the victim," Byron explained. Additional "variables" collected and coded included victims' personality traits, work and hobbies, community involvement and aspirations.
The grant will also help POP "hire more journalists representative of the demographics of the people of Philadelphia who they are writing about," Byron said.
POP Executive Director Albert Stumm said the funding has already enabled POP to recruit new writers. He believes Byron and students' analysis of POP obituaries will allow the organization to secure additional funding and realize its future expansion goals.
Presenting Counternarratives
Byron's previous research had revealed "significantly skewed media portrayals of urban crime victims," he said. He added that unlike people who had died in mass shootings, victims of everyday homicide — many of whom were innocent bystanders — too often remained invisible in media accounts studied, exacerbating loved ones' grief and loss.
Conversely, POP's obituaries portray "a much more humanistic counternarrative of victims of homicide by highlighting the victims' personality traits, hobbies, religiosity and aspirations," Byron explained, adding that advancing such counternarratives is a key component of critical race theory.
Byron supervised students in compiling their POP research findings into a paper to be presented to DU's Research Showcase in May 2024. The students will also apply for a travel grant to co-present with Byron at the Southern Sociological Society Annual Conference next spring. Students had the optional opportunity to apply their work toward an internship for credit that involved additional assignments, including an internship paper.
Besides offering a more humane, realistic profile of victims, presentations will emphasize "the devastating personal loss of these loved ones and the collective loss of individuals on their way to making meaningful societal contributions," Byron said. He believes student involvement in the ongoing project continues to instill critical empathy.
"Most of our students are privileged in various ways so, hopefully, nothing like this is going to happen to them. But it has helped them see the humanity of people who are living with this daily trauma of having lost a loved one to gun violence and still having to live in these neighborhoods, fearing what might happen to younger children or someone else close to them. That empathy will hopefully motivate students to use their privilege to help change the situation."
POP's obituaries tell nuanced stories about people with bright futures, big dreams and full lives contributing to society in various ways. "Moreover, despite general beliefs of criminal involvement, many people were random victims of street robberies, victims of domestic violence, died trying to be good Samaritans or were killed during their quest to escape from street activity," Byron said.
He hopes that "those who are more privileged see themselves in these largely Black and brown victims and that this convergence of interest will drive them to demand violence prevention policy change. Ultimately you want to give people of color, especially those who've had victims of their families murdered, a chance to let the world know who their loved ones were."
Sparking Personal Connection and Transforming Student Perspective
Baeza, a criminology major with minors in history and psychology who participated in both the paid summer work and the internship for credit, also cited deepening empathy toward homicide victims as a major benefit of her participation in this project.
"When I read a victim's life story, it painted a picture of who they were and who they wanted to be," she said. "It invited me to glimpse into their life and see how much potential was unjustly taken by gun violence."
Family members' stories about victims included in their obituaries inspired Baeza's research paper for her internship entitled "Grief, Loss, and Trauma through Storytelling and Research."
"What I noticed was the difference between families who received closure on their dead loved ones — learned how they died, who killed them — versus those who did not and may still be searching for justice to this day," she said.
Her paper also unearthed the secondary effect this type of research can have on the researcher and her personal struggle with experiences with death and grief in her own family, leading to a surprising realization.
"The most important thing I learned is that when researching within the field of sociology/criminology, the best researchers are those who can hold both their research and feelings in the same hand," she said.
"We're always told that to become a good researcher we must not 'feel our feelings' while working but feelings are natural, and they came up during my work. I believe they allow us to recognize that we are all human and make us realize we may have more in common than we think," she added
Assistant Teaching Professor Alana Inlow, who supervised Baeza's internship, has high praise for Baeza's paper.
"Lily approached this deeply emotional topic delicately, yet critically, and added a unique perspective to understanding the researcher's role — aiming to humanize subjects that have been historically dehumanized by the media and popular discourse," she said. "It was wonderful to work with Lily and watch her written work unfold."
Baeza hopes her work with Byron and student colleagues to support POP will continue to generate positive change. She's grateful to Byron for the opportunity and excited to "create my own study and start researching areas of criminology I never thought possible, to find local nonprofit causes I believe in and to use my voice for change and good. I am going to allow my experiences with this project to change the way I see the world. If there's one thing that I learned it is that we really don't know anyone's story until we take the time to listen."