DU Japanese Program Connects Student with Roots, Study Abroad Opportunity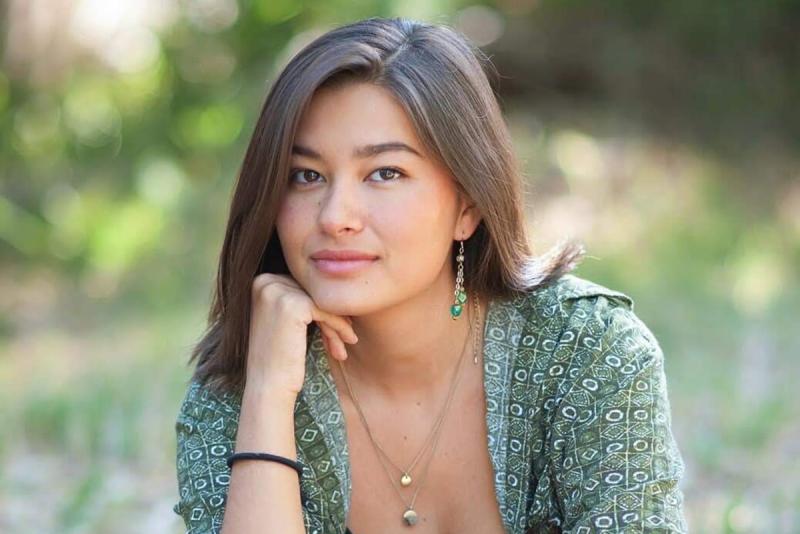 Growing up on the north shore of Oahu grounded in her mother's Japanese heritage, Mina Walker would hurry home from school to swim, paddleboard and catch frogs in the river winding toward the beach behind her house. She picked up basic vocabulary and pronunciation from her mom and grandma, who conversed with her and each other in Japanese. 
When she moved to Parker, Colo., in middle school, however, Walker felt like a bit of an outsider.
"There was a lot less diversity," she explained. "It made me more aware of my Japanese identity. I wanted to get in touch with that part of myself in a deeper way."
Walker began to study the language on her own in high school. Her efforts gave her a head start when she began taking classes toward a minor in Japanese at DU in the fall of 2020. After struggling to learn on her own, she found a welcome sense of community and mutual support, despite living at home and the COVID-19 pandemic's many challenges.
"The classes helped me break out of my social shell because you're with a group of people who have similar interests and are all learning the language together," she said. "There's a need for talking and it becomes a real bonding experience."
Last fall, she became one of the first 20 students to participate in the College of Arts, Humanities & Social Sciences (CAHSS) new  major in Languages, Literatures & Cultures with a concentration in Japanese.
"Mina's genial personality and diligence made teaching classes in which she was enrolled not only easy, but enjoyable," said Teaching Assistant Professor of Japanese Michael Toole.
Through Toole, Walker learned about Bridging Scholarships, sponsored by the American Association of Teachers of Japanese (AATJ). The scholarships provide a diverse group of undergraduate college students with opportunities to study in Japan.
With Toole's guidance, she applied for and received a bridging scholarship to study at Doshisha University in Kyoto this past spring.
Walker started at the university in March, living in student housing, interacting with other international and Japanese students and relishing the hands-on cultural experience.
"I'm taking fewer classes than I do at DU, and the pace here feels a little more relaxed which gives me more time to explore," she said.
She admits that despite her Japanese-American background, the immersion initially delivered some culture shock. "Cities in Japan are so tall and pack a lot more population into a much smaller area than Denver," she said.
"The amount of people and the narrow roads surprised me at first. I'm learning to be aware of how everyone is acting around me to adapt and fit in," she added.
But the food made her feel right at home. "I grew up eating Japanese food, but I was surprised by the convenience-food culture," she said.
"They have these convenience stores everywhere — kind of like Starbucks in the United States — and sell 'bentos,' these little lunch plates of delicious, affordable food you can get any time of day to take home and reheat."
An avid nature lover, Walker has taken advantage of the extensive, convenient public transportation to hike in the mountains outside Kyoto and finds time to reflect in the city's Botanical Gardens adjacent to the university.
While attending Kyoto's annual Cherry Blossom Festival, she sampled "incredible street food while the cherry petals fell all around you like snow."
Walking through the famous tunnel of red Torii gates leading to Kyoto's ancient Shinto shrine, took her breath away.
And during "Golden Week," a weeklong celebration of several consecutive holidays in late April and early May, Walker travelled to Tokyo and then north to the island of Hokkaido. The experience offered a more realistic picture of a nation she had so long romanticized.
"The city and countryside are just beautiful, but there are buildings falling down and places suffering from losing population to the cities," she said. "I remember sitting on the beach in north Japan and realizing that they still have problems here, just like everywhere else."
So far, her time in Japan has helped her understand the country's infrastructure and work culture better, enabling Walker to refine her post-graduation goals. "I still want to use my Japanese degree and experience in Japan, but I think I would like to work for an American versus a Japanese organization," she said.
Also majoring in ecology, she hopes to get experience working in U.S. national and state parks and possibly as a conservation or sustainability manager for a company in a Japanese-speaking country. "It would be amazing to work or do research in the national parks in Japan," she said.
For now, Walker looks forward to savoring her remaining time in Kyoto while planning her travel itinerary for August before returning to DU as a senior in fall quarter.
"The most beneficial thing about my study abroad thus far has been gaining the confidence to go anywhere in the world and thrive," she said.
"Having the experience of struggling with the language barrier and cultural differences will help me when I go to other countries. I feel more confident in my ability to live independently, as well as with talking to people and building connections no matter what their background is."