CAHSS Graduate Combines Passion for Spanish and International Studies at DU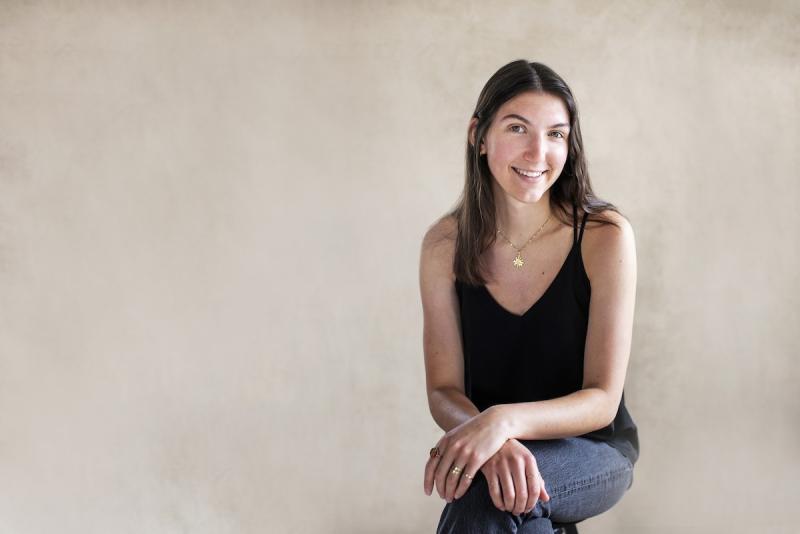 As the curtain closes on Arianna Carlson's time as a University of Denver student, she can confidently say studying abroad in Spain was a vital turning point.
Starting as a freshman in the fall of 2019, Carlson spent much of her time taking classes in the Josef Korbel School of International Studies. Less than a year later the COVID-19 pandemic hit, a time she describes as a "purgatory" of mostly online, some hybrid and a few in person courses.
Carlson made the decision in the fall of 2021 to study abroad at the University of Deusto in Bilbao, Spain — a decision that ultimately changed her academic path.
"Having the opportunity to be abroad in a foreign country speaking mostly Spanish, living with a host family, taking classes around Spanish and Basque history and culture was super fascinating," she said.
Once she returned to Denver, she took two classes in the Department of Spanish Language, Literary & Cultural Studies and "dove headfirst" into studying the language.
"Being abroad was so incredible; learning about new experiences and cultures was just amazing for me. The next best way to do that while not being abroad back in Denver was through literature," Carlson said.
She is now set to graduate in June with two bachelor's degrees — one in International Studies from Korbel and another in Spanish from the College of Arts, Humanities & Social Sciences (CAHSS).
The importance of building connections
Once Carlson added a Spanish degree to her undergraduate plans, she took every chance to build connections and work with the faculty in Sturm Hall.
One of those opportunities was working on a thesis with Professor Javier Torre. Carlson's topic explores literary representations of victims of violence in the Basque Country.
She was also the recipient of a Partners in Scholarship (PinS) grant in 2022 from the Undergraduate Research Center (URC) to travel back to Spain and further her thesis research.
Torre described Carlson as an "extraordinary student whose most conspicuous trait is her intellectual curiosity."
"When working on a project, she just never has enough, she continues reading and finding new ways to approach her research goal," Torre said. "She has the kind of perseverance that water has, drop by drop, little by little, carving a canyon through rock. That's the type of grit she possesses."
Carlson also presented this spring at the World Languages Undergraduate Research Conference at Metropolitan State University.
Over the last three months Carlson was involved in the Student-Faculty Partnership Program where she observed Associate Professor Susan Walter's Iberian culture and civilization classes with the intention of better understanding the learner's experience.
And "in typical Arianna fashion," she went above and beyond and attended every class, Walter said.
"Arianna is an incredibly hardworking, inquisitive and bright young woman who has been a leader in the classroom throughout her years as a Spanish major," she added.
In addition to her work in the classroom, Carlson also took the lead in getting DU's Spanish club back on its feet last fall and then took on a position as one of the club's co-presidents this year, Walter said.
"I have always felt tremendous support from the faculty, and I know that my experience both at DU and beyond would look incredibly different if I didn't have the same support of, and connection with, faculty," Carlson said.
A full circle moment
Studying abroad led to a significant change in plans, but it was also a full circle moment for Carlson.
Originally from Idaho, Carlson moved to Colombia for two years when she was 10 years old. She has increasingly realized how meaningful this time spent abroad was for her. It was her first connection to Spanish, and where she learned to speak the language.
"I think it really impacted me, first going into a school system that was completely different, a culture that was quite different, the language was different … All of that really shaped me and how I go about exploring the world and learning," Carlson said.
As for what's next, Carlson plans to take a year off and then pursue a master's degree — and possibly a PhD — in Spanish with the intention of potentially staying in the world of research and academics by being a professor.
"I know my passions and interests have changed since coming to DU and where I thought I'd see myself in the future, so I recognize things are subject to change, but that's what I've really fallen in love with ... and where I see myself going," she said.
And keeping an open mind has yet to lead Carlson astray.
"Especially with a liberal arts education, we don't come here to only get the information and leave. I think it's a lot about the experience. The experience that I've had here is what's shaped my passions and interests so much," she said.