Exploring the Impact of COVID-19 on DU Students
Courses in the Department of Sociology & Criminology explore the effects of COVID-19 on DU undergraduate students.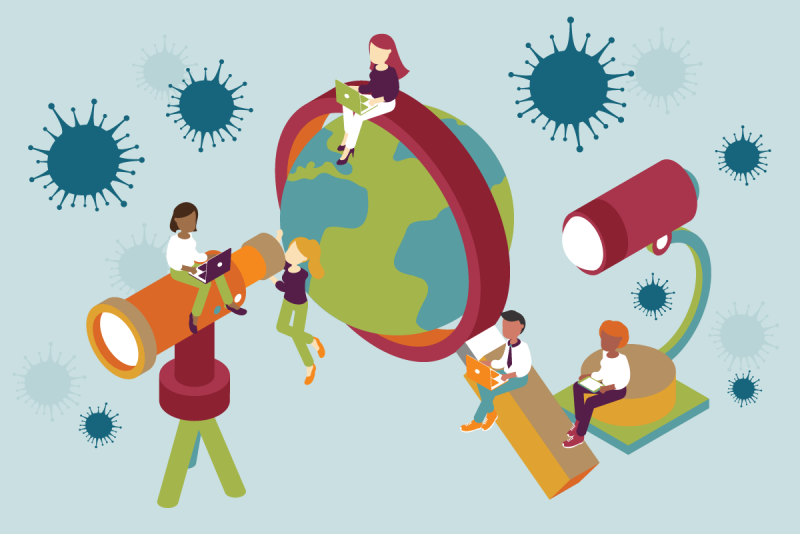 University of Denver students and faculty were just days away from the start of the spring quarter when Mayor Michael Hancock issued the stay-at-home order. The pivot to online learning happened swiftly, with nearly 400 lecture-based classes in the College of Arts, Humanities & Social Sciences moving to DU's online learning platform.
But it wasn't just the learning environment that changed — faculty also updated their course plans and syllabi, so students could develop a deeper understanding of the impacts of COVID-19. Two courses and one independent study conducted in DU's Department of Sociology and Criminology explored the effects of COVID-19 on DU undergraduate students.
"While we hadn't yet planned on covering COVID-19 in the course, I knew it would likely come up as a topic of interest. My colleagues and I were eager for the opportunity to collaborate, lend some insights into the effects of the pandemic and help students make sense of what was happening," said Lisa Martinez, professor of sociology and criminology.
Professors Martinez and Jeffrey Lin each taught sections of Sociological Imagination and Inquiry and helped design a survey to measure the impact of COVID-19 on social isolation and relationships, finance and education and mental health. In all, 239 students from a convenience sample of friends, classmates and contacts responded to the survey.
Martinez recognizes the need for further analysis in order to draw more detailed conclusions — especially about the impact of COVID-19 across gender, race, year, income and major — but the study still found that the pandemic is affecting students economically and socially and creating greater mental health stressors.  
"The pandemic has affected students's relationships and increased their anomie or feeling of disconnectedness. And, given responses to the mental health measures, this finding shows the importance of the relationship between social connection or isolation and mental health/well-being," said Martinez.
Associate Professor of Sociology and Criminology Jared Del Rosso offered an independent study course in the spring that looked more closely at the positive and negative outcomes of taking classes virtual.
"Dr. Del Rosso's independent study project was about education amidst crisis. Throughout the quarter, I was able to work alongside my peers documenting some of the realities experienced in relation to COVID-19 and education. We did this through weekly journals, discussions and oral histories. We also utilized texts about shifts in education as a response to past crises to inform our understanding of education during times of crisis," said DU student Tricia Archuleta, who studied criminology and psychology and will be attending Sturm College of Law this fall.
Interviewing students at different phases in the academic quarter revealed a marked shift in feelings toward online learning. Sociology student Mia Kleine noted that the initial transition left students frustrated and daunted by the difficult learning curve, but many students ended up pleasantly surprised by the positive outcomes they experienced as well.
"At the beginning of the quarter when we first started to discuss our feelings about the transition, it wasn't positive at all. We were trying to figure out the new platforms we were using and navigating new assignment styles and timelines. Finding motivation while some of us were still working or living at home far away from Denver was challenging.
"By the end of the quarter, the students I interviewed were so positive about the whole experience. They reflected on how this experience helped them be more technologically literate in their future careers. They were optimistic about possible online classes in the future and thankful for the kindness and understanding that they received from their professors," Kleine said.
Though many students eventually overcame hurdles such as internet access, acquiring textbooks and finding quite spaces in which to learn, it was clear from the survey's quantitative data that balancing classwork with additional concerns about the pandemic remained a challenge.
"The most surprising thing I learned through this study was that most students were greatly impacted by COVID-19 in some way, and the online learning system, while flexible and responsive, was difficult to manage with life stressors occurring outside of the classroom," Archuleta said.
Overall, these studies gave students the opportunity to reflect more deeply on the value of social relationships, whether they're academic, personal or professional. 
"I will never again take the relationships that I have with my professors and peers for granted because that was an aspect of school that I really missed this quarter. I think that this sort of forced introspection has affected both students and professors and I think it will overall help classrooms in the future. I was surprised and impressed by the resilience of my peers and the optimism they showed about this weird, difficult time," Kleine said.