Inside Wire: Connecting Colorado's Prison Population Over the Airwaves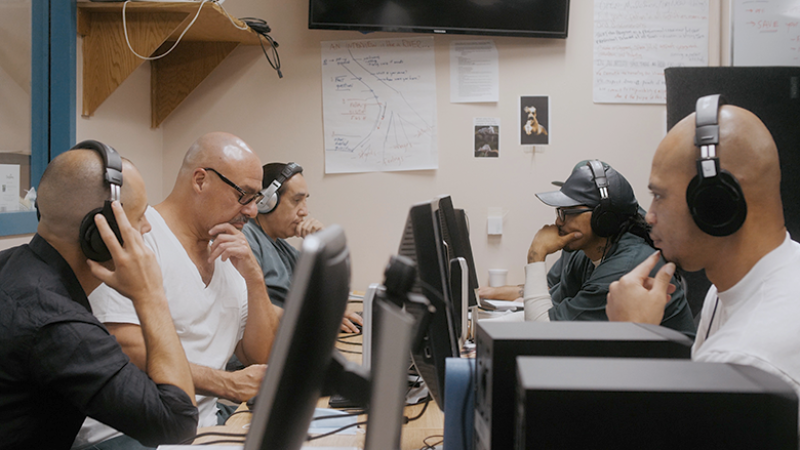 Listeners inside and outside of Colorado's prison system can now tune in to music, stories, news and entertainment through Inside Wire: Colorado Prison Radio. Inside Wire is created by and for Colorado's incarcerated residents. Launched on March 1, it's the latest project conceived by the University of Denver Prison Arts Initiative (DU PAI).
"We're the first statewide prison radio station in the country, and the first in the world to stream to the public," says Ashley Hamilton, assistant professor of theatre and co-founder and executive director of DU PAI, a program that provides educational creative arts experiences to enrich the lives of incarcerated people.
The radio station got its start in late 2020 when the DU PAI team began imagining ways to connect with the prison population during the pandemic. Hamilton has worked within the U.S. correctional system for almost a decade, most recently with the Colorado Department of Corrections (CDOC). The team pitched the idea to the CDOC, and they were very receptive, she says.
Ryan Conarro, DU PAI's creative media specialist, has taken the lead on the project. He brings experience in radio and media production to his role as Inside Wire's general manager and program director.
Conarro began consulting with Phil Maguire, founder and chief executive of Prison Radio Association which runs National Prison Radio in the United Kingdom, the world's first national radio station for prisoners and a model for Inside Wire. The two met regularly throughout spring 2021, and Maguire shared what he learned and mistakes that were made. He also shared a set of policies that they use to obtain content clearance from the UK department of corrections.
"It was so useful to us because they had already done so much work years ago, like thinking about all the different possible pieces that need to be considered," says Conarro.
He and the Inside Wire core team of producers collaboratively revised the policies and then pitched it to the CDOC saying, "Here's our proposal for our own boundaries within which we intend to stay. Do you agree? They agreed," he says.
It now functions as a handbook for incoming producers so there is a shared understanding on content.
Inside Wire broadcasts 24/7 from radio studios at three locations: Limon, which houses the core team, Sterling and Denver Women's correctional facilities. Conarro works with a total of 15 incarcerated producers at the three sites.
Conarro says his role as a facilitator makes it easier for the producers inside facilities "to tell their stories, to put music on the air, to keep the airwaves alive and cultivate that sense of connection."
He also equips producers inside the facilities to be facilitators for other people.
"The people that we identified to be on these core teams at each facility signed on partly because they want to be part of building something from the ground up," says Conarro. "It's really not only about them. Part of their role is to expand opportunities beyond that room."
According to Conarro, "producer" is a catch-all term, meaning that each person is producing content. For example, the production department produces spots for airing.
"Instead of commercial breaks, we have spot breaks where you might get a public service announcement, you might get a health and fitness tip, you might get a moment of reflection. All of the spot series — the writing, the voicing, the messaging, the underscore — all of that has been designed by the teams inside," he says.
The features department illuminates life inside through interviews and storytelling. The music department manages the music library, programming and music shows. And the engagement department tracks feedback and participation from around the facility.
Having worked for a rural community radio station in Nome, Alaska, Conarro learned the ins and outs of the business. He expects the same for his Inside Wire producers.
"I felt it was important and useful that everybody on each of these three teams knows how to do everything," he says.
Hamilton says that Conarro has been instrumental in getting the project off the ground and getting the producers trained. She gives an example of a producer who has been incarcerated for 30 years, since the early days of personal computers.
"I don't know if he'd ever touched a computer when he started with us," says Hamilton. "On the day that they set up all the recording equipment, he turned to Ryan and said, 'I feel like I'm a janitor on a spaceship.'"
A year later, he was the person who created the launch broadcast.
All content for Inside Wire is pre-recorded and reviewed by Conarro and the DU PAI team before going to the CDOC for final approval. They currently have a reserve of content that goes back several weeks.
"One of the joys of doing this in this setting is that there is so much enthusiasm and excitement and eagerness inside facilities to be a part of this. [We'll never] lack for people who want to produce, who want to share their story, who want to host a music show," he says.
Inside Wire is one of many projects initiated by DU PAI, including a statewide newspaper, a statewide creative magazine, a podcast that runs from three prisons and classes that are offered in 12 prisons three times a year.
Hamilton calls Inside Wire another tool for connection.
"I think there's a sense of connection that could come from hearing folks who you identify with, other incarcerated folks. The station is really geared to support incarcerated people. Our programming is really about benefiting them," she says.