Lending a Hand: CAHSS Student Attends International Conference on Meaningful Play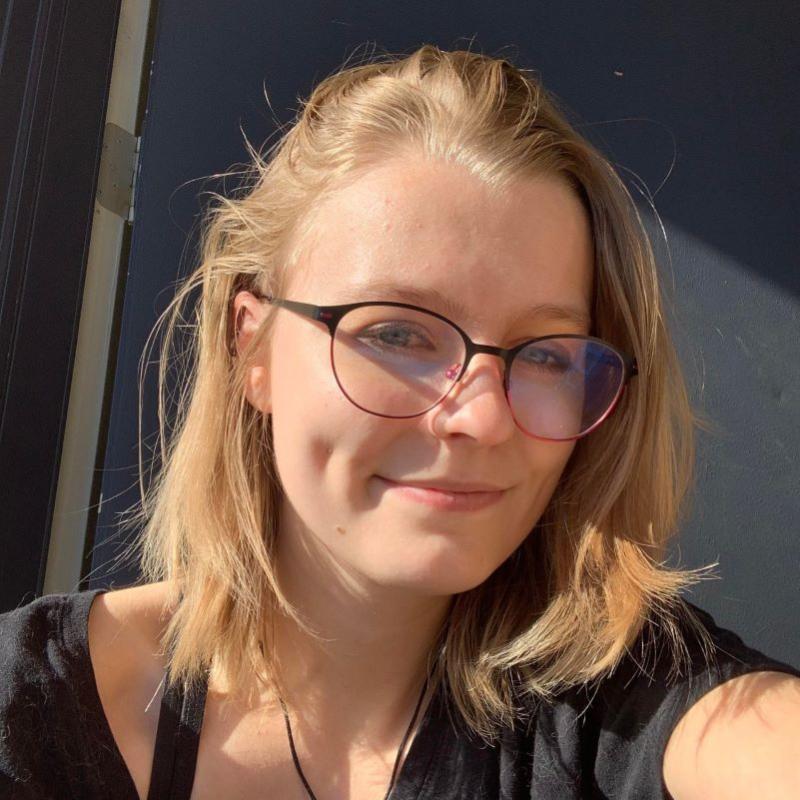 Jenna Armstrong (BA '23) was delighted to hear from graduate student Akio Correll that the computer game she, Correll and two classmates developed in Professor William Depper's course "Programming for Play" was selected for presentation at the International Conference on Meaningful Play, in East Lansing, Mich.
Focused on game theory, research and design innovations, the Oct. 12-14 conference united scholars and industry professionals to share games that educate and persuade in meaningful ways.
While the timing of the conference was challenging for everyone, Armstrong believed the opportunity was too good to pass up if she could make it happen.
"The conference was during midterms, and I work two jobs but there were all kinds of important lectures and presentations. I thought it would be so cool; surely, I could make it work," said Armstrong, a dual major in Emergent Digital Practices (EDP) and Computer Science.
However, after researching the costs associated with attending the conference, Armstrong knew she couldn't afford it. Correll, who works full-time and is pursuing an MFA in the EDP program, jumped in to help.
"Jenna is quite possibly the hardest working undergraduate student I know and an amazing human being," she said. Correll wanted Armstrong to experience "the tremendous value of participating in these unique experiences to share meaningful, creative work."
A Team Effort to Make It Happen
With the conference registration deadline looming and little time to explore university resources, Correll contacted her EDP professors and was directed to CAHSS Dean Rhonda M. Gonzales  and Associate Dean Paula Adamo for help in identifying undergraduate funding sources.
Adamo then promptly reached out to faculty and staff and found the Student Scholar Travel Fund which is specifically geared toward providing financial resources for undergraduate students to attend conferences and present academic research.
Correll helped Armstrong fill out the application and Adamo collaborated with faculty members involved to expedite the process in record time.
"As a grad student, the expectation is to put ourselves out there," Correll said. "Sharing our work and learning from others is a huge part of our learning experience. I hope that, with more support for talented undergraduate students like Jenna, we can normalize the idea that submissions for conferences should be encouraged for everyone."  
The Practical Benefits of Academic Conferences
The university funding allowed Armstrong to fly to the conference on Oct. 11 and return home on Oct. 15 so she could take advantage of the jam-packed schedule of lectures, roundtable discussions and presentations. Armstrong presented her group's computer game the evening of the first day in a science fair-like environment.
Correll, Armstrong and undergraduate students Seth Divine and Cooper Rapp had created the game "Hospital Havoc" as a final project aimed at prompting the player "to engage with their humanity."
It features a frontline hospital worker charged with accepting or rejecting patients during the height of the COVID-19 pandemic. Inspired by Divine's interviews with his aunt, a frontline hospital worker, the game immerses players in the life-and-death challenges of managing the hospital's reception desk "while balancing out your own sanity, professionalism, the hospital emergency level and hospital capacity."
"We were in a giant room with participants' games set up and people strolling around and playing games all evening," Armstrong said. "About 75 people came through over the three hours and we got feedback that our game was 'fun, challenging and enlightening' about the COVID situation in hospitals."
Armstrong made friends with a group of PhDs who develop computer games on the side and learned quite a bit about the field from speaking with them.
"There were several very interesting speakers including a speaker on transgender women and how games created a safe space for communicating feelings that people are not always open to," she said.
Leaning Into Future Goals
Armstrong, who plans to work in a hostel in Norway following graduation in June 2023 and eventually parlay computer skills acquired at DU into a job in media management, said the class project helped bolster her confidence and clarify future goals.
"I was able to take a manger role and communicate between the artist, the writer and the coder," she said. "It made me realize I want to help the different components of a team work together to make a cohesive project."
As for the most important thing she learned through the conference experience? "The power of collaboration and having a sense of meaning behind what you're doing," she said. "The emphasis for every one of the creatives I met was on having a passion and sense of purpose in their work."
Armstrong also expressed gratitude for the team of people at DU who made her attendance possible, beginning with Correll. "I didn't have the time or resources to figure out how to make this happen. I can't thank her enough for being there to help with all the materials that explained the importance of what we were doing."
"It's a beautiful example of everyone pulling together to support a single student," Adamo said. "When we can all play our different instruments in the orchestra the music becomes a single melody. It's all about student success, that's why we're all here."