Local Holocaust Survivors Share Stories on New Educational Website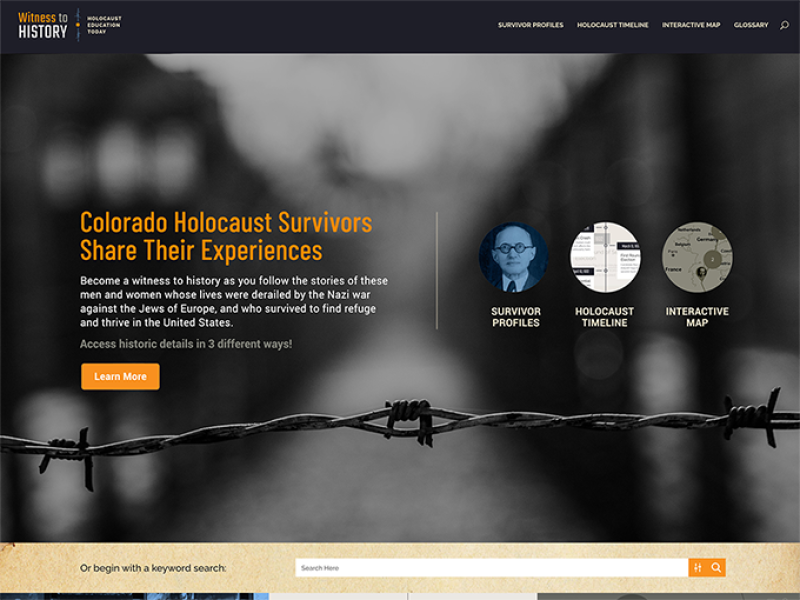 Fred Marcus grew up in Berlin, escaped from Nazi Germany to Shanghai, survived the deprivations of the ghetto, arrived in the U.S. and became a noted Denver educator. His story of triumph over tribulation may have been lost to generations if not for a recently launched website, Survival and Witness, which chronicles the lives of survivors who made Colorado their home after the Holocaust.
Survival and Witness is a project of the Holocaust Awareness Institute in the Center for Judaic Studies. The institute has been a campus and community resource for Holocaust awareness and education since 1983. For the past several years, it has been developing programs to provide online curricula to Colorado teachers.
According to Adam Rovner, director of the Center for Judaic Studies, Survival and Witness is the result of many discussions with Colorado educators and those working for such high-profile institutions as the U.S. Holocaust Memorial Museum to determine what teachers and students need to promote their learning.
A recent U.S. Millennial Holocaust Knowledge and Awareness Survey revealed that younger generations lack basic Holocaust knowledge. Attacks against Jews and Jewish institutions, Rovner says, have increased in recent years, with many incidents, such as assault, vandalism and harassment, occurring in school settings.
"That's unfortunate, but it also provides an opportunity for reaching young people," Rovner adds. "Educators find that providing historical context to the Holocaust can be an effective way of reducing antisemitism in schools and in later life."
The online platform, made possible by funding from the Rose Community Foundation, supports the recently passed education mandate for Holocaust and genocide studies in Colorado public schools (HB20-1336). Drawing on archival materials and firsthand testimony, the website will be mapped to existing lesson plans and the Colorado educational standards now in development under the new mandate. It will be free to Colorado educators and students.
"Because we are supporting the state mandate, we are committed to highlighting the narratives of those who flourished after the war right here in Colorado," Rovner says.
"What happened nearly eighty or so years ago on the other side of the world is not always very accessible to students or their teachers right now, right here. Survival and Witness aims to connect them to that history and to those places."
The website will offer many ways to engage with the history and memory of the Holocaust. It will include timelines and profiles, as well as a dynamic mapping feature allowing users to see the geographic journey of those featured on the site. 
A 1000-word narrative about each survivor will relay their stories. A more detailed chronological narrative of 10 to 15 "chapters" for each survivor will include text, images and video testimony from the survivor about his or her experience.
Students will be able to see Fred Marcus as a schoolboy through the digitization of family photos. They will also be able to watch curated excerpts from his video testimony in which he describes how his teachers and fellow students eagerly participated in anti-Semitic abuse as the Nazis rose to power.
The Holocaust Awareness Institute worked closely with the Colorado Holocaust Educators, a consortium of teachers in the state, to refine Survival and Witness before launching the website. They hosted teacher trainings for professional development and provided registrants with books featuring portraits of survivors.
"Survival and Witness is our site, but we will provide further resources — trainings, books, events — in support. And we'll be working with other institutions to bring our site and these opportunities into as many classrooms here in Colorado as possible," Rovner says.
"As the state mandate comes into effect, we aim to provide one of the most comprehensive and accessible resources to teachers and students across the state."