MA Student Ryan Rose on Inclusivity and Podcasting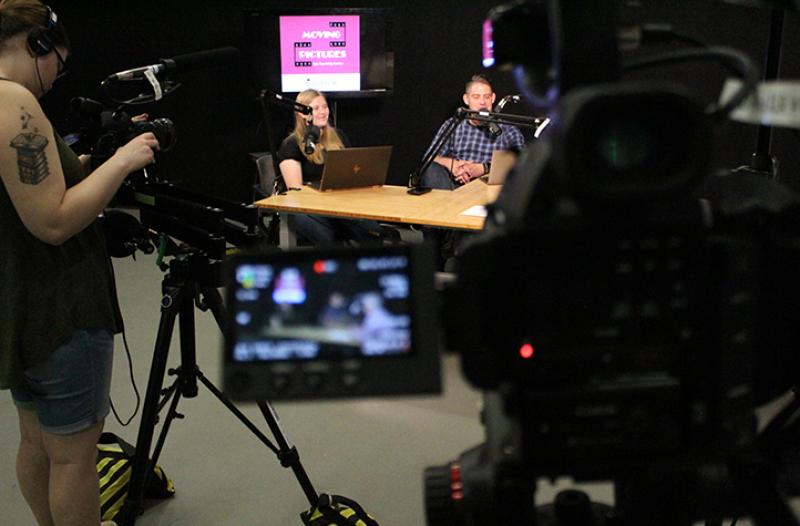 With seven episodes rolling out and a winter lineup already underway, Moving Pictures, the podcast of Project DU F.I.L.M., is facilitating conversations around inclusive storytelling in the world of film.
Ryan Rose, a master's student in Media and Public Communication, hosts and produces Moving Pictures. After taking Intro to Field Production and Editing, Rose was recruited by DU Associate Professor Sheila Schroeder, who founded and directs Project DU F.I.L.M. 
"Dr. Schroeder started Project DU F.I.L.M. to help create stories and opportunities for marginalized identities," Rose explained. "It's an honor to be able to extend her project into the world of podcasts."
Rose's degree typically focuses on public relations and nonprofit communications, but he's using Moving Pictures to take these interests in new directions.
"I have always been intrigued by cultural theory and film studies. Recognizing how important storytelling is in the world of narrative film, I sought different opportunities to learn how to apply my studies. As a gay man, I have always struggled to find stories that truly represent me in film and television."
Coming to DU has long been a goal of Rose's; here, he hoped to hone leadership skills and guide a team toward a meaningful goal.
"I have always admired DU and have dreamt about going to this University since I was a kid. It is such an honor to be part of a program that is advocating for social justice and working to make an inclusive world for all."
In this space, Ryan has been able to manage projects, produce podcast episodes and, most meaningfully, lead a team toward a collaborative goal. Moving Pictures consists of undergraduates and graduate students from English, film and music studies, alongside film studies faculty, alumni and industry professionals, connecting academic spaces to real-world experience.
"My husband, a University College academic advisor, taught me that experiential education is so important. From website design, production design, scriptwriting, marketing, team management, distribution and so much more, I play a role in every corner of this project."
Rose hopes to bring other universities and institutions into the conversation in order to continue exploring the many facets of inclusive filmmaking.
So far, the podcast has covered topics including director's and casting director's perspectives on inclusivity, production design, cinematography and more. The podcast's "Women in Film" series discusses the roles of women in production, writing and character representation, among other, ongoing topics.
Upcoming podcasts will include the "Women in Film" series and branch into areas like genre film critique. Rose is also planning to add a video component to distribute on YouTube and social media sites as a way to continue to expand content.
Podcasts, Rose explained, are full of opportunities to incorporate other components and bring in a wide variety of guests. Most importantly, this media opens room for human storytelling.
"Podcasts are so much fun. They require an atmosphere of comfort and ease that other types of media don't necessarily hold. The conversation is the focus and this means creating a space where people feel comfortable talking about sensitive or challenging topics."
But telling stories is only half the equation.
"When we listen to other's stories and recognize their perspectives on the world, we learn about ourselves and, in turn, learn to value other perspectives that may conflict with our own."
"Narrative storytelling is how many people internalize the world around them," Rose continued. "By exploring how stories can be inclusive and socially responsible, Moving Pictures and the Media, Film and Journalism Studies program are setting the bar higher in the film industry to make sure all voices are heard."
Listen to the podcast here.