Meet the CAHSS Student Ambassadors Team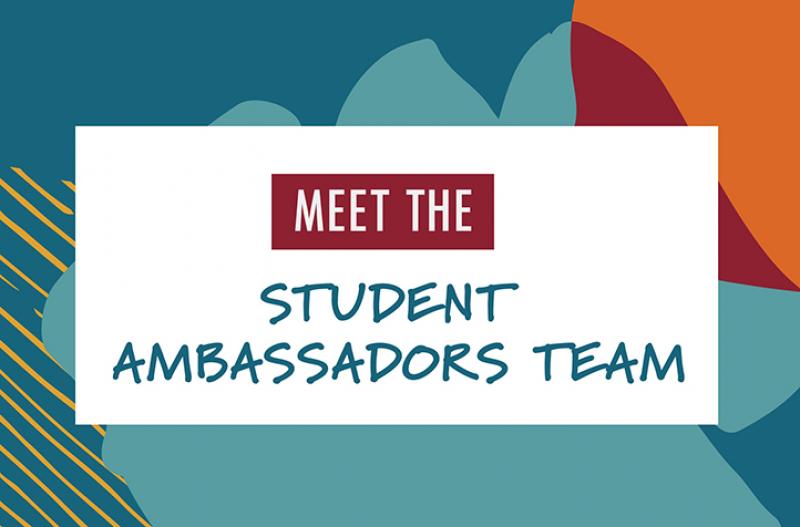 Meet our Student Ambassadors Team (SAT)! These students have been elected by their peers to represent the College of Arts, Humanities & Social Sciences (CAHSS). The ambassadors act as liaisons between the students and the faculty, alumni and Dean. They focus on bettering the College from the students' perspective, provide beneficial events for networking and present opportunities for students to express their opinions and concerns about CAHSS. 
Kelli Klipka – SAT President | Class of 2020
Kelli serves as president of SAT and is pursuing a major in political science and management. Kelly joined SAT because she loves CAHSS and believes the College has thoughtful and creative people. She wanted to help further the College's mission and improve the student experience at DU. Kelli oversees projects regarding career development, marketing and communications and alumni engagement.
Kelli's favorite TV shows are "Sense8" and "Black Mirror," and "The Alchemist" by Paulo Coelho is her favorite book. Kelli's favorite class at DU is "Campaigns and Elections," but she also loves learning about political theory and economics. Her advice for fellow students: "Supplement 'resume builder' activities with things you also enjoy. I've gained so much by going out in the world and learning how to apply what I've learned in the classroom. At the same time, engaging with activities on campus that I purely enjoy allowed me the space to grow personally."
Clint Cordova – Vice President of Alumni Outreach | Class of 2020
Clint Cordova was born and raised in northern rural Wyoming. He spent five years as an infantryman in the United States Army, deploying twice to Iraq and once to Afghanistan. Upon attaining the rank of Sergeant, he left the army to attend school at Northwest College, where he competed in collegiate speech and debate, participated in student council, was president of the NWC trap and skeet club, attained an AAS in welding technology and started his own business. Clint then transferred to DU to continue his education in pursuit of an undergraduate degree in sociology, history and English. In addition to his position as VP of alumni outreach, he participates in the DUDAD club and is currently writing two novels. Upon graduating, he hopes to pursue an MFA in creative writing at DU.
Annie Phillips – Vice President of Communications & Events | Class of 2021
Annie is a third-year student at DU pursuing majors in strategic communication and Spanish. During the fall, she studied abroad in Seville, Spain where she traveled to eight countries and studied Spanish literature and cooking. She joined SAT to make a difference in the CAHSS community by bridging the gap between students and faculty, and to improve the student experience at DU. Her favorite movie is "Grease" and her favorite book is anything Nicholas Sparks. She is a member of the Delta Zeta sorority and loves to ski, camp and try new foods. Her advice to new students: "Find things that you love and do them—never care about what anyone else thinks!"
Elizabeth Hamilton – Vice President of Career Development | Class of 2020
Elizabeth is a fourth-year student majoring in gender and women's studies and religious studies. As an upperclassman also looking for internships and full-time positions, they are excited to help fellow peers seize opportunities available through SAT's career development programming. When they're not helping out with SAT, you can find them giving a campus tour, studying in Beans or teaching swim lessons in the Ritchie Center. In Elizabeth's free time, they like to bike in Wash Park and go to slam poetry at the Mercury Cafe. 
Maddie Heiken – Theatre Department Ambassador | Class of 2022
Maddie serves as the interim Vice President of Communications & Events and the representative from the Department of Theatre. Maddie is pursuing a major in theatre with minors in leadership and critical race and ethnic studies. She joined SAT to connect CAHSS with the student perspective and to get more involved on DU's campus. Maddie works with the dean's office to advertise events, share CAHSS successes and help host events on campus. Maddie's favorite class so far has been "Theatre for Social Change" because it allowed her to combine her passions of theatre and community engagement. Maddie is inspired by the students she works with, and sees them as hopeful signs for the future. Maddie's dream job is to become a high school theatre and English teacher and then a public-school principal.
Charles Lowell – History Department Ambassador | Class of 2022
Charles Lowell is a second-year student at DU majoring in history with a minor in economics. He's also involved with the club baseball team and the Esports club. Most of his time on campus is spent in the classroom, with his extra-curricular requirements or speaking and meeting with professors. When not on campus, he's either hiking in the mountains, fishing or coaching Little League Baseball. He grew up 40 minutes away from Boston in a town called Needham, MA, where he spent many days on a small island in the summers called Cuttyhunk. There he learned to work hard and how to grow up on the water. To other students, he says, "Give everything you can toward your classes, even if you don't like the classes you're taking. It will help in the long run."
Saskia Jorgensen – Psychology Department Ambassador | Class of 2021
Saskia is a third-year student majoring in psychology and minoring in political science and business administration. This fall she studied in Prague, Czech Republic at Charles University, and traveled to 14 countries. She's from Conifer, Colorado and loves skiing, hiking, music, theatre and dogs. She joined the CAHSS Student Ambassadors Team in hopes of helping to bring the college together and in order to get to know fellow students and staff/faculty. Her advice to new students: "Get involved however you can, whether it be through clubs, sports, FSL or whatever else, so you have people to connect with across campus, in classes and socially!"