Publishing Institute Accepting Applications for DPI Community Scholarship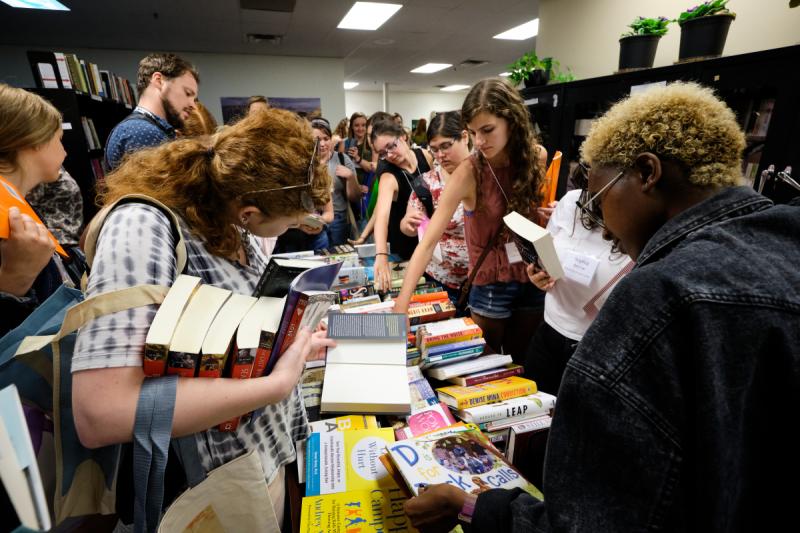 The Denver Publishing Institute is pleased to announce that we are now accepting applications for the DPI Community Scholarship, which will provide scholarship support for applicants who identify as BIPOC (Black, Indigenous and people of color).
With generous support from Park & Fine Literary and Media, the DPI Community Scholarship Fund will provide full tuition scholarships for six individuals to attend the 2021 Denver Publishing Institute. Park & Fine will also provide mentorship support to scholarship recipients after the program is complete.
 "Park & Fine Literary and Media is committed to doing all that it can to create new pipelines into the publishing world. This scholarship will allow students of color to have the opportunity to learn more about our field, make valuable contacts and connections, and become part of an industry where diverse voices and experiences should be more fully represented," said PFLM founders Theresa Park and Celeste Fine in a joint statement. 
The idea for the DPI Community Scholarship Fund grew from a conversation with DPI graduates regarding how the Denver Publishing Institute can better support historically underrepresented groups to launch their careers in book publishing. Park & Fine joined with Shambhala Publications and dozens of individual donors to fund these scholarships dedicated to increasing racial diversity in publishing.
The Denver Publishing Institute (DPI) is a 4-week-long summer program (July 11–August 6, 2021) at the University of Denver. DPI is taught by industry professionals who work for trade, university, textbook and independent publishers throughout the country.
Recent graduates have gone on to work at: Hachette Book Group, W.W. Norton, Penguin Random House, Macmillan, Sourcebooks, Europa Editions, Rowman & Littlefield Publishing Group, and McGraw-Hill. Course and lecture topics include book marketing, manuscript editing, copyediting and proofreading, digital marketing strategies, the role of the bookstore and many other publishing specific courses. For more details visit https://www.du.edu/publishinginstitute
Prospective applicants who would like to learn more about the program and the scholarship can attend a virtual information session on Friday, February 19, 2021 at 12 noon MT. [This webinar is closed]
The scholarship application process — which will go through DPI's admission application — is open to BIPOC applicants and will be awarded based on financial need and academic merit.
Apply online: https://gradadmissions.du.edu/apply/ Applications are due by March 26th.  For priority consideration for scholarships, apply by the early application deadline of February 26th.
About Park & Fine Literary and Media
Park & Fine Literary and Media represents many of the preeminent authors and voices publishing books today, including award winners, perennial bestsellers, thought leaders and pop icons, all of whom help to shape our culture and our conversations. The team works across all genres and categories, from picture books and children's on up through adult fiction and nonfiction. With in-house legal, branding and retail partnership experts, the PFLM team works closely and collaboratively with each other and their clients to ensure a strategic and robust launch for each book. To learn more about Park & Fine, visit their website: https://parkfine.com/