Pushing for Change: DU Grad Volunteers with Human Rights Group in Peru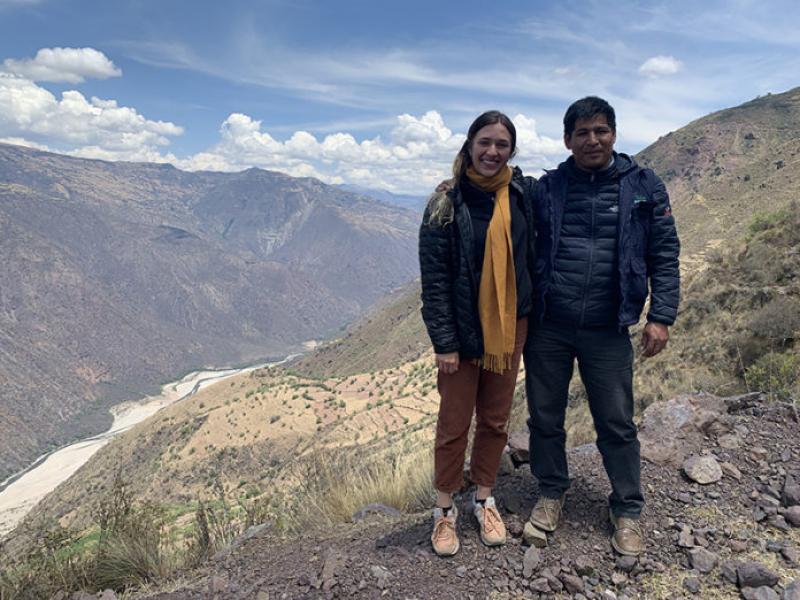 Abby Wold's postgrad journey took her to the countryside of the Andes Mountains in South America. After graduating with a double major in history and philosophy, along with a Spanish minor, Wold (BA '19) was ready to get some real-world work experience before pursuing a master's degree in public health. She set off for a trip through South America, starting in Ecuador and ending in Peru. That's where she started volunteering at the nonprofit organization Paz y Esperanza.
"I am really thankful I had that opportunity," she says. "It was really thought-provoking for a lot of reasons."
A human rights organization based in Peru, Paz y Esperanza reaches across South America and other parts of the world. The nonprofit focuses on issues related to economic inequality, environmental activism in the Amazon, indigenous community rights and sufficient access to public health. 
Wold had the unique opportunity to lead a fact-finding project for the organization. She interviewed people working at Paz y Esperanza, along with people in the community. Her goal was to find out as much information as possible: How has the nonprofit affected their lives? What information or resources does their community not have access to? How can Paz y Esperanza provide the best services possible? Compiling this information helps the organization achieve its goal of promoting public health in these remote communities. 
"We would travel twice or three times a week to the villages in the countryside of the Andes Mountains," Wold remembers. "In these communities, there's one doctor within five hours and low sanitation. With climate change, it's been snowing earlier there, so crops have been dying and people have been getting sick with upper respiratory infections. They don't have the resources or access to information to find out what to do about this."
The group would go into towns and talk with mayors and doctors to facilitate agreements to buy medical supplies or hand out how-to books explaining symptoms of an upper respiratory infection and how they can be prevented.
"It was really just providing people with more information about their health and putting their health matters back in their hands," Wold says.
Wold says her education at the University of Denver helped prepare her for this unique experience working in a different community.
"Every day, I was deconstructing my Western lens and becoming aware that I have so much more to learn," Wold says about her time volunteering with Paz y Esperanza. "The most I can do is listen and learn, but also unlearn. For as many things as I learned, I also unlearned a lot."
For Wold, this experience confirmed her decision to attend graduate school and fueled her desire to focus on public health. She hopes to do something related to policy work and help make health care more accessible to everyone in the United States, especially underserved communities. As Wold looks to the future, she is grateful for her time working with Paz y Esperanza.
"This experience is valuable because it gives you things to think about that you might never have thought about before," Wold says. "It was perspective changing."