Rocky Mountain Jewish Historical Society Awardees Announced
Honoring Colorado Jewish women in leadership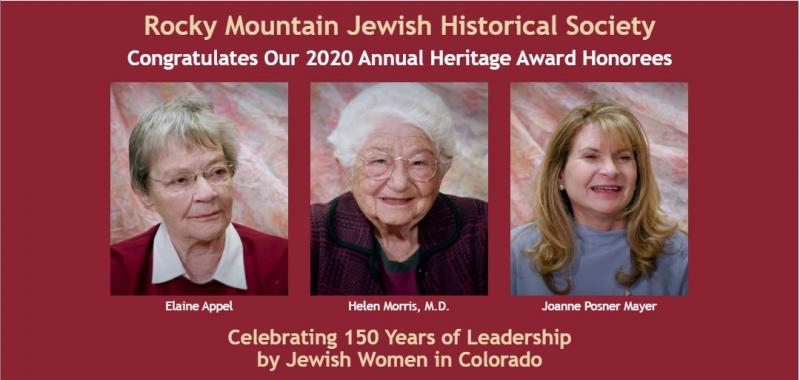 Every year, the Rocky Mountain Jewish Historical Society (RMJHS) honors outstanding members of its community with the Heritage Award. In commemoration of the centennial of the Women's Suffrage Amendment, this year RMJHS celebrates Colorado Jewish women in leadership. Three remarkable women have been honored with the Heritage Award: Elaine Appel, Dr. Helen Morris, and Joanne Posner Mayer. Read more about their achievements below.
Elaine Appel founded one of the most successful cleaning product businesses in the US with her husband Max. Introduced in 1986, Orange Glo furniture polish used orange oil to provide an alternative to harsh-smelling chemical cleaners and was widely sold in the US and internationally. As the company grew to 180 employees, Appel did the bookkeeping and managed many aspects of the business, from packaging to personnel. The company was incorporated in 1992 and was valued at $300 million when it was sold in 2002. Today, she is a philanthropist and gives her support to many notable organizations in Colorado and beyond.
Dr. Helen Morris graduated from the University of Colorado Medical School in 1956, the only Jewish woman in her medical school class. An outstanding student growing up in Denver, she remains a life-long learner. Specializing in internal medicine, endocrinology and immunology, Morris earned a national reputation as an acclaimed researcher, heading her own research lab at National Jewish in the 1970s and 1980s. Her expertise led to her prestigious appointments on the board of the National Health Institute and on a Federal Drug Administration advisory committee. Today she supports many public institutions including the CU School of Medicine and DU's Rocky Mountain Jewish Historical Society and the Center for Judaic Studies.
Joanne Posner Mayer is a Denver native who has made a positive impact on the nonprofit community. She attended George Washington High School and received a degree in physical therapy from CU, inspired by her childhood dancing with what is now the Colorado Ballet. Her career took her to Switzerland, where she was introduced to the use of large inflatable balls in physical therapy. Her idea to import the balls to the United States and educate other therapists evolved, and in 1991 she founded Ball Dynamics International and introduced the fitness community to Fitball®. Today, she is able to give back to the community. Her interests and causes include The Posner Center for International Development, a nonprofit and workspace in Curtis Park, as well as many other notable Colorado institutions.