Senior Makia Jones: A Vision for Inclusion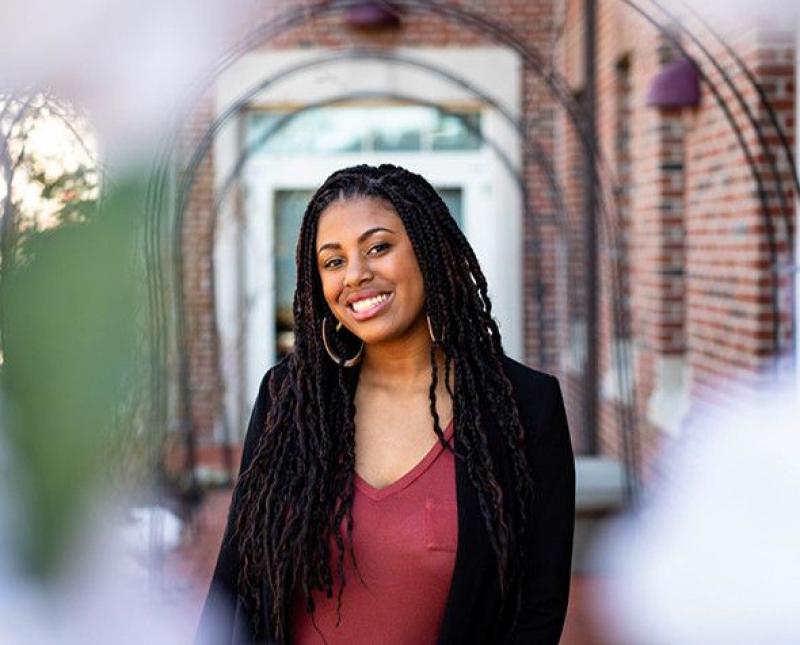 Even before her first day of classes, Makia Jones learned lessons from DU she will never forget.
As part of the University's Excelling Leaders Institute (ELI), Jones had come to campus a week early with 30 fellow first-year students to learn about academic preparation, leadership development, social identity and campus networking.
"That was the first time I had even thought about how DU was going to be wildly different from the past that I had had before," said Jones, who grew up in Denver and attended the Denver School of Science and Technology in the Stapleton neighborhood. "And [I was] able to say, 'OK, here's a bunch of other people who also don't know what's going on.'"
In that first week, she received some key advice from her ELI mentor: see discomfort as an opportunity to plant roots and grow.
"I think that is the best advice I've heard," Jones said. "It's been applicable every day."
Over four years at DU, Jones says ELI has become her on-campus "family," and she graduates in June with gratitude for the support of that family. During her first year, she doubted whether DU was the right fit for her and struggled to find her place on campus. She considered transferring, but credits ELI for giving her the courage to stay. Since then, she has worked hard to help others, especially other students of color, find their place at the University just like she did.
While living on campus all four years, Jones joined a plethora of campus groups, including the Black Student Alliance and Theta Nu Xi Multicultural Sorority. She says she relished the opportunity to spend time with students who looked like her or who cared deeply about black students' experiences on campus.
She also delved deeper into her own identity through her academic studies. After initially deciding to major in biochemistry, she made the switch to become a double-major in public policy and gender and women's studies. The two majors married well for her interest in diversity and inclusion, because she learned how to balance her desire for radical change with the patience and policy steps to make that change sustainable.
"While I was learning more about myself and getting more of that personal identity development through gender and women's studies, policy was letting me see how the world around me was reacting to me and vice versa," Jones said.
Besides her involvement with campus groups, Jones worked with Undergraduate Admission and Campus Life & Inclusive Excellence to help the University become a more welcoming place for students of color. She is determined to continue her work in the field of diversity and inclusion, and hopes to attend business school in the coming years before working toward her PhD.
"My plans are to continue pursuing my passion to do this work, and train other people to provide environments that allow everyone to thrive and be prepared for the more diverse population that we're becoming in the U.S. and globally," Jones said.
Jones is thankful for the people who helped her persist through some of her more difficult moments over a busy four years. She now finds herself a "completely different person" than her first day on campus.
"I think every moment on campus has been very formative," she said. "Just because, truly, the people who I've chosen to be around have changed me, which has been great. Hopefully I've had that effect on other people, too."