Stories that Speak to Us: What CAHSS Professors Are Reading and Watching for Pride Month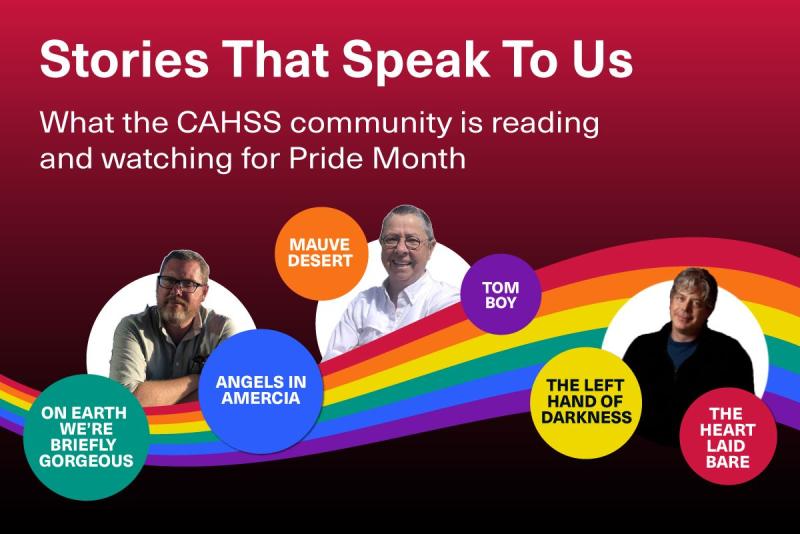 Thoughtful, heartfelt stories told through literature, theatre, film and television inspire and empower, connecting us deeply and reflectively with our personal and collective experience in ways that often reverberate throughout our lives.
The CAHSS newsroom periodically asks CAHSS faculty, students and staff to contribute their recommendations in specific categories geared toward specific topics for our series "Stories that Speak to Us."
To kick off Pride Month we asked CAHSS professors across various disciplines to share their favorite books, films or TV shows that speak to LGBTQ experiences, gender identity and sexual orientation identity, works that made a personal difference to them and maybe even changed their life trajectory.
Luc Beaudoin

, professor, Gender & Women's Studies
Ursula K. Le Guin's "The Left Hand of Darkness," her 1969 fantasy of a planet where no one embodies a single (or maybe more correctly, any) gender until reproduction calls, was mind-blowing for a boy in third grade, which was when a teacher of mine suggested I read it because it would "speak" to me. Obviously, she knew I was gay, and thought that I might need some reassurance at how natural all forms of gender and sexuality should be. (I'll ignore that it likewise means on another planet). At times, Le Guin's novel reads anachronistically today (pronominal usage, a tendency to emphasize the "andro" in androgyny), but its message is still loud and clear. Most telling of all: anyone in the novel who subscribes solely to one gender identity is considered perverse and dangerous.
In 1986 Michel Tremblay, one of the most significant Québécois writers, published "Le cœur découvert" (translated into English as "The Heart Laid Bare") — his first novel to concentrate solely on a gay male relationship. Quiet and intimate, it was written just before the gay community in Montréal was really starting to think about the impact of the AIDS epidemic. As such it's a type of period piece that reveals the stresses of men surrounded by friends and finding their lives, loves and identities. My then boyfriend Jean and I watched when it was broadcast as a television film on Radio-Canada in November 1987, totally taken with the fact that for the first time the ordinariness of a gay relationship was there for everyone to see.
"Angels in America" — the 2003 HBO miniseries adaptation of Tony Kushner's 1991/1992 plays — speaks to a certain moment in queer experience in the United States, when the community was reeling under the impact of HIV/AIDS, with its soundtrack of laughter during White House press briefings about gay men dying, and of silence when many were disowned by their families and left to die alone. The miniseries brought those moments to life, and they are rich in imagery, faithful to Kushner's intents and just gorgeous. It was one of the first major steps towards lyricizing the trauma of those years, helping to create a context that eventually would allow us to heal. Emma Thompson's angel breaking through Prior Walter's bedroom ceiling is a singular moment in visual history, after all.
Frédérique Chevillot

, professor, Department of Languages, Literatures & Cultures
Reading "Zami: A New Spelling of My Name," by Audre Lorde was soothing music to my heart. I cannot believe she was able to tackle so many intersecting identities as an African American, out-lesbian, at a time when just as many barriers remained aggressively in the way. This text is a testimony to Lorde's poetic expression, passion for life and courage in taking on so many fights at once. Each and every one of us ought to read Zami, no matter how we identify in this crazy world of ours. Hope will be found between the lines and beyond.
I wholeheartedly recommend Nina Bouraoui's "Tom Boy," that explores the author's discovery of her identities between the gender she was assigned at birth as a young girl, and her desire to be given a chance to have the same experiences in life as any other little boy, at that time. The context of the Algerian liberation war against the French colonial powers serves as an historical background and metaphor for the struggles the author endured between at least two gender identities, two cultures and countries, as the daughter of an Algerian father and a French mother, and two languages: French and Arabic. Just a beautiful text!
I also recommend "The Color Purple," by Alice Walker, "Mauve Desert," by Nicole Brossard, "Thérèse and Isabelle," by Violette Leduc and "The Lesbian Body," by Monique Wittig.
R. D. Perry

, assistant professor, Department of English & Literary Arts
Luc endorsed "Angels in America," the mini-series, but I'd still like to choose "Angels in America", the plays (part one: "Millenium Approaches;" part two: "Perestroika"). The risk of redundancy is well worth it, and not only because the plays contain both moving and funny scenes cut for the miniseries. This is a major work, epic in scope. The original plays especially try to grapple with the AIDS crisis as it is unfolding in real time. What happens when a community is visited by a plague? You think biblical, apocalyptic thoughts, ones that throw into question history's capacity to produce meaning. Amazingly, out of that morass, "Angels in America" finds hope and ends with a sorely needed blessing.
The other book I'll recommend is likewise a crowd pleaser: Ocean Voung's, "On Earth We're Briefly Gorgeous." This is a novel that received an immense amount of critical acclaim, of which I am often skeptical, but, in this case, it really is a great book. Written as a coming-of-age story in the form of a letter to his illiterate, Vietnamese mother, Voung's book is by turns funny and moving. Appreciative of the rapturous joys of adolescence and the melancholy involved with looking back at that time, its style, too, is always gorgeous.