We Support Our Artist-Teachers and Staff
Your contributions are essential to the School of Art and Art History's high artistic and academic standards, so we provide resources to support your academic and artistic career. Explore the resources we provide to faculty and staff below.
Faculty Resources
Staff Resources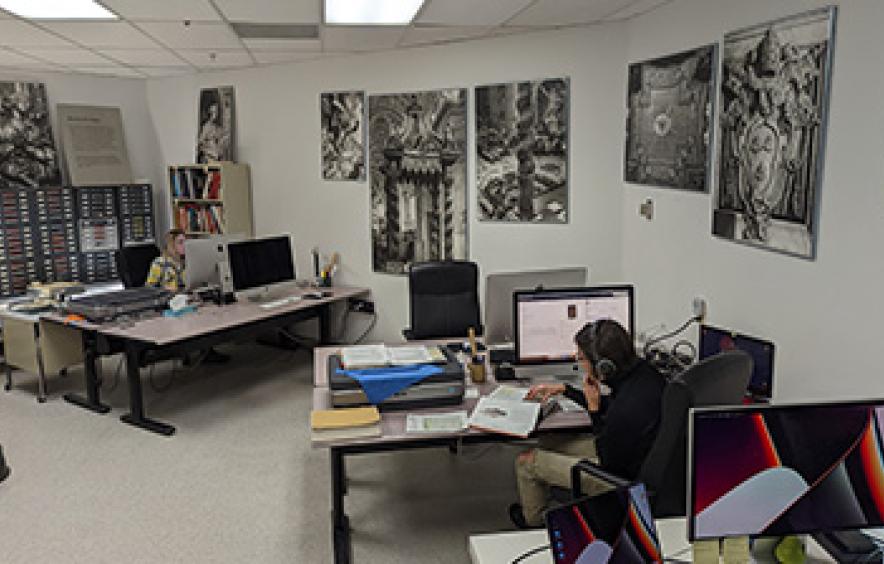 Visual Media Center
The Visual Media Center (VMC) provides digital imaging services to faculty for learning, research and teaching purposes. Digital images produced or purchased by the VMC are found in the Jstor Digital Library, a database available through the University Libraries to all DU community members. Our visual resources collection contains over 160,000 images across three collections which include the School of Art & Art History Teaching Collection, the University Libraries Archivision Collection, and a selection of objects from the University Art Collections. High-resolution images are accompanied by high-quality metadata created by VMC staff that faculty and students can use for research, studying and citations, unlike results from Google or other search engines. The collection reflects the cultural and art historical diversity and inclusivity of the curriculum of the School of Art & Art History, and contains historical, geographic and didactic materials that will be useful to many disciplines and departments at DU.
Anyone in the DU community can request to have still images added to the visual resources collection for educational purposes. If you have questions about requesting images or the VMC, contact the Interim Director, Meagan Callahan. The VMC is in room 122 in Shwayder Art Building.
College of Arts, Humanities and Social Sciences Funding Opportunities
There are many funding opportunities available at the University of Denver to support faculty and staff professional development, as well as faculty research and course development. Current faculty and staff can learn more and apply via Portfolio.