Lamont Career Series Developer Wins Staff Innovator Award
Krista Beckman is working to ensure Lamont students have meaningful avenues for career development.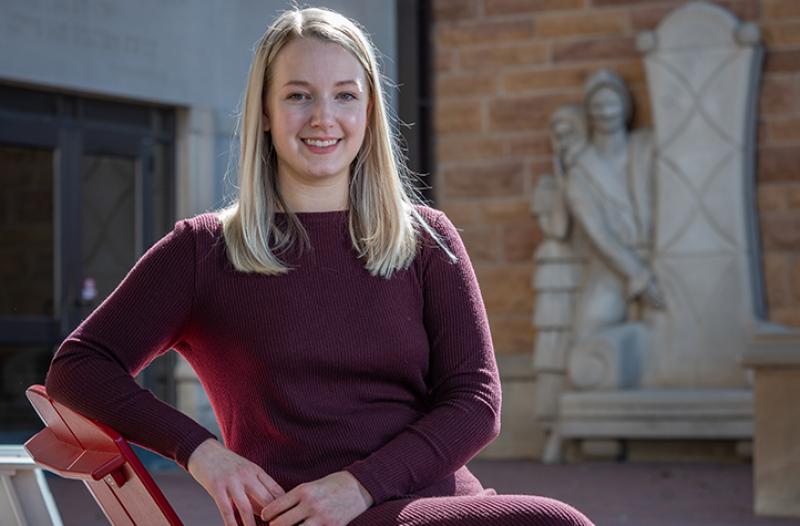 Krista Beckman, a library assistant at the Bonfils-Stanton Music Library, is working to ensure Lamont students have meaningful avenues for career development and can connect with others to help realize their professional aspirations.
Beckman graduated from Lamont in 2016 with an MM in choral conducting and an MA in music theory. Now, she's a working musician (a singer, conductor and music theory teacher) in addition to her work with the Library.
"I find myself in a unique position to understand some of the needs of Lamont students," said Beckman. "Reflecting on my personal experience as a student, I realized that I was almost never engaged with events happening on campus — I was usually buried under a pile of articles to read and papers to grade and I was generally reluctant to leave the cozy enclave of Lamont."
Today, Beckman is using her experience to develop the Lamont Career Series, which brings career events and resources to music students. While reading DU's Strategic Plan, Beckman was struck by the importance of interconnection.
"One of the themes that stuck out to me was the goal of greater connection between different parts of the DU community — bringing together students, alumni, faculty and staff and creating relationships across departments."
Beckman's initiatives have been centered around drawing resources together, from working with experts like Carolyn Sommers and Patty Hickman at the DU Career & Professional Development center, to bringing in a variety of alumni voices with the help of Erin Dietrich of CAHSS alumni engagement. Beckman's work gives students hands-on opportunities for career support while also revitalizing inter-departmental partnerships with resources on campus.
"Lasting innovation — an initiative that moves beyond the beginning stages into longer-term success — requires support from the people you work with, and often means bringing in others to share their expertise," Beckman explained.
"I've benefited from the encouragement of my supervisor, Sarah Perske, and the head music librarian, Woody Colahan, who share with me the goals of making our library as useful and welcoming as possible. I've [also] relied on partners from across campus to make these events happen."
Entrepreneurship is another point of emphasis crucial to Beckman's work. In the Series's first panel in spring 2019, alumni spoke with students about freelancing and the realities of a career in music. 
"Panelists shared advice about the 'hustle' of being a successful performer and business person. These musicians perform professionally as their primary means of income — a situation most musicians aspire to but many find difficult to actually achieve (because getting that many paying gigs requires a lot of hard work!)."
As the Series continues to grow this academic year, Beckman is foregrounding the idea that music students have many options for career success, even those they may not have previously considered. Beckman is branding the events as "Choose Your Own Adventure" in order to lean into the reality that musicians often combine performance with a range of other career paths.
"The 2019-2020 series has included, thus far, a presentation by Sarah Perske called 'Creating Your Own Ensemble' and 'Music x Tech,' a panel of alumni and faculty working at the intersection of music and technology. I recruited the faculty for the second event, handled event logistics, and promoted the events by designing and sharing visual materials."
Upcoming events include "Telling Your Story," a resume, website and interview workshop led by Carolyn Sommers, and "Mentor for a Moment," a panel of cross-disciplinary alumni.
"To me, innovation means identifying a specific need and finding creative ways to meet that need," Beckman explained. "It involves thinking beyond the present to envision a new future, and then taking the steps to make that future a reality."
"For an environment to be conducive to innovation, people must know that their perspectives are welcome and that their ideas will be taken seriously. I'm grateful that DU — and the Music Library in particular — has provided that opportunity to create the space for something new and hopefully beneficial to Lamont students."
Beckman and other staff award winners will be recognized at DU's annual Faculty and Staff Awards Luncheon on January 13.
More information about the Lamont Career Series can be found at du.edu/pioneercareers.