Lamont Opera Theatre presents "The Little Prince" by Rachel Portman
Press Release
•
Announcement
•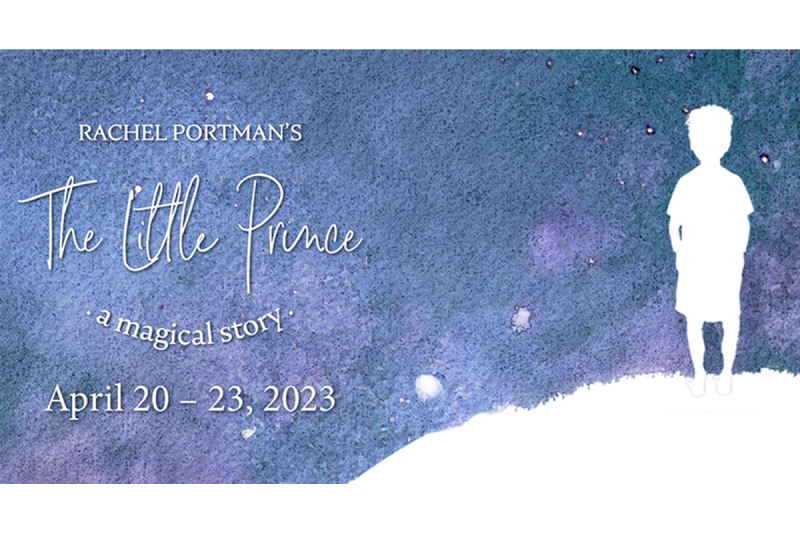 The University of Denver Lamont School of Music will present the opera The Little Prince by Rachel Portman, April 20-23, 2023 at the Newman Center for the Performing Arts, Gates Concert Hall.
Based on the beloved 1943 book by Antoine de Saint-Exupéry, The Little Prince is the story of a stranded pilot meeting a young prince who has fallen to Earth from a tiny asteroid. As the Little Prince explores the Earth, he meets a number of colorful, and often puzzling, characters.
The opera was first performed at the Houston Grand Opera in May 2003; these performances at Lamont will be the first in Colorado. It will also be the first time that the Lamont School of Music has presented an opera by a living, female composer.  Matthew Plenk is the artistic director and Sahar Nouri is the music director and conductor. Scenery and costumes were designed by Jacob A. Climer and produced and provided by the Utah Symphony and Utah Opera.
With a libretto by Nicholas Wright that is rich with many gems of philosophy and symbolism, The Little Prince defines and celebrates friendship, love, and truth.
"I remember reading this story to my kids and am looking forward to sharing this inspiring opera with our audience," says Matthew Plenk. "All of us, from ages one to 92, can learn so much from these characters and how they view the world."
"The Little Prince has a very special place in my heart," says Sahar Nouri. "I had the pleasure of working on a very successful revival production of it at Houston Grand Opera in 2015. And ever since then, I have been waiting for the opportunity to share this wonderful opera with the public again."
Plenk continues, "I hope that you can come reacquaint yourself with this timeless story of compassion and love, and remind yourself that "One sees clearly only with the heart.""
"Rachel Portman's score is lush, beautiful, and tuneful. The text may at first seem suitable merely for a children's book. But in fact, the story is even more impactful for adults," adds Nouri. "Looking back to the innocence and deep simplicity of childhood, we are reminded to nurture our sense of curiosity, imagination, and truth-seeking."
The Little Prince by Rachel Portman
Thursday, April 20 at 7:30 p.m. - purchase tickets
Friday, April 21 at 7:30 p.m. - purchase tickets
Saturday, April 22 at 7:30 p.m. - purchase tickets
Sunday, April 23 at 2:30 p.m. - purchase tickets
Venue
Gates Concert Hall, Newman Center for the Performing Arts
2344 E Iliff Ave
Denver, CO 80208
Tickets
Adult full price: $20 to $40
Student, seniors, and group sales discount: $16 to $36
Purchase online at newmantix.com or call 303-871-7720
ABOUT RACHEL PORTMAN
British composer Rachel Portman is perhaps best known for scoring films and was the first female composer to win an Academy Award, which she received for the score of Emma. She has received two further Academy Nominations for The Cider House Rules and Chocolat, which also earned her a Golden Globe Nomination. Portman was given an OBE in 2010 and is an honorary fellow of Worcester College, Oxford. Learn more.
ABOUT LAMONT OPERA THEATRE
Lamont Opera Theatre presents fully staged operas, musicals, cabarets, and concert performances. Students and theatre professionals collaborate on the set design, costuming, make-up, set construction and social media marketing. Often these productions include technical and design expertise from the DU Department of Theatre. Some students take on directorial duties, such as hosting auditions. Recent Lamont productions include Don Giovanni, Oklahoma!, Susannah, Hansel & Gretel, Carmen and The Marriage of Figaro.
ABOUT MATTHEW PLENK
A graduate of the Metropolitan Opera's Lindemann Young Artist Development Program, tenor Matthew Plenk made his Metropolitan Opera debut in the 2007/2008 season as the Sailor's Voice in Tristan und Isolde under the baton of Maestro James Levine, a role he repeated under the baton of Daniel Barenboim. He has since returned to the Met as Arturo, Janek in The Makropolous Case, the Song Seller in Il Tabarro and Marcellus in Hamlet, and appeared as Arturo in the Met's 2011 tour of Japan. Learn more.
ABOUT SAHAR NOURI
Sahar Nouri serves as Opera Colorado's chorus master, assistant conductor, and principal coach. She is also on the conducting staff at the San Francisco Conservatory of Music's opera program. Previously, Nouri has been a member of the music staff at Houston Grand Opera, Dallas Opera, Utah Opera, Opera North Carolina, Glimmerglass Festival, Opera in the Heights, Aspen Opera Theatre, Opera Steamboat and Merola Opera. Learn more