Lamont Staff Profile: Angela Mitchell
by Keith Ward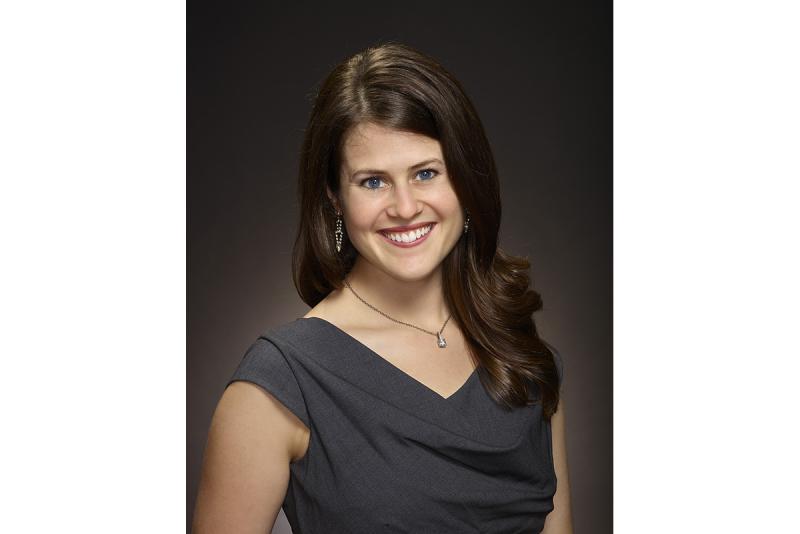 "I'm always wanting to learn and grow." This reflection by Angela Mitchell, during a conversation over coffee at La Belle Rosette, captures her story well. She is Lamont's new Manager of Marketing and Communications, the most recent post for her in a fascinating life defined not just by learning and growing, but by creating opportunity.
Mitchell describes herself as someone who combines aspiration and pragmatism. A native of Wisconsin, she completed both music and business degrees at the University of Minnesota, a master's degree in performance at the University of Houston, and a Certificate in Performance at DU. Her career has been a balance between vocal performance ("where my heart and soul lives") and work in music-related industries, all unified through her overarching goal to advance the cause of music.
People notice Angela's talents quickly. In college, she was employed at American Public Media, where she worked for Performance Today, a daily syndicated classical music program that marked the beginning of her creative work in radio. A summer college internship as an outgrowth of her business degree turned into a full-time position with Deloitte Consulting, which she held for two years until music called her back. An internship as a graduate student in Houston led to another full-time position in Houston Public Media, where she originated, produced, and hosted "Music in the Making," a weekly show featuring music majors at Rice and U of H. When she and her husband, Brett Mitchell, relocated to Ohio upon Brett's being hired as a conductor for the Cleveland Orchestra, Angela's career in radio blossomed. She earned a full-time position as an announcer and producer at WCLV, where she produced and conducted hundreds of interviews, live performances, and specials. One of her programs, on the music of Star Wars, earned her the Ohio Excellence in Journalism award for Best Documentary.
Angela's activities as a professional vocalist certainly have enhanced her abilities to connect with interviewees and to her audiences. Since her days in Houston she has had lead roles in opera and musical theater productions. As a strong proponent of contemporary music, she frequently collaborates with composers and gave the world premieres of Voice of the Lake by Margaret Brouwer and Sappho Fragments by Joel Zigman.
Lamont has benefitted from Angela's talents since 2018, when she and her maestro husband came to Denver and she began in our Office of Admission as the Enrollment Specialist. Lamont's Director of Admission, Stephen Campbell, recognized her considerable skills quickly and began giving her special projects that leaned into her years of experience in creating content for radio. She led and produced interviews of faculty, developed a virtual tour of the Newman Center, and pursued other projects that influenced our print and online media. This year she won her current position, succeeding Chris Wiger upon his retirement.
Through radio, Angela learned to become a storyteller. In online, social, and print media, she now is Lamont's chief guide in telling our story. Here is a sample of what she wants to tell: "We have this gem of a school. We pride ourselves on being small—no more than 300 students, which translates to this incredible individualized attention given to each student. We're also embedded in this wonderful, private R1 university in one of the most beautiful areas of the country, which provides unbelievable inspiration."
We are fortunate to have Angela here, sharing through multiple media the vibrancy of Lamont and its many successes. She abounds with ideas and projects that include more faculty profiles, developing a tagline with the assistance of Jeff Pucillo, a Lamont Society Councilmember and co-founder of Tell-Ignite, and exploring new ways to engage new audiences online and in print. In all her handiwork, creativity, and ingenuity, in her learning and growing, Angela already plays an integral role in Lamont's community.
See more of Angela Mitchell's work at her website.