Lamont Symphony Orchestra to perform music by Alumna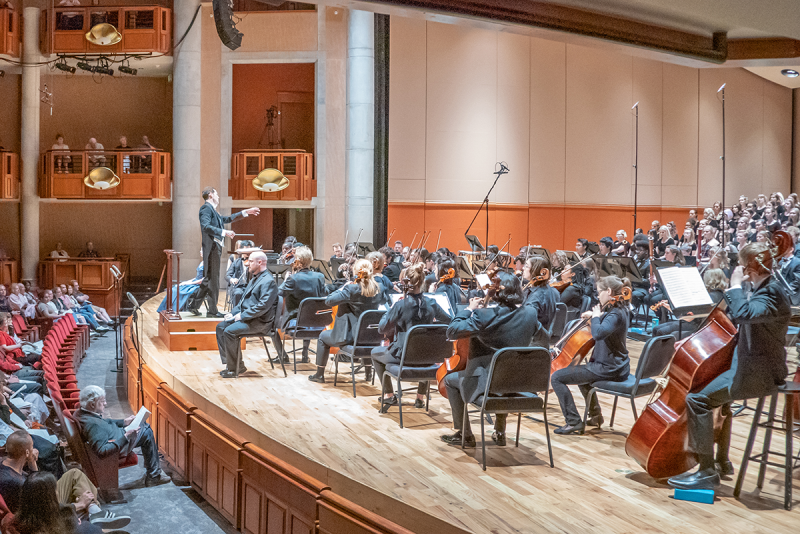 On February 7, the Lamont Symphony Orchestra will present a diverse program that features a piece by a Lamont grad, music by a Black contemporary of Mozart's, and horn players from several major American orchestras. 
J.J. Hollingsworth (b. 1956), who is of Native American descent, was born in Colorado Springs and received her Bachelor of Music from the Lamont School of Music in 1979. She went on to earn her Master of Music from the San Francisco Conservatory of Music in 1986. That same year, she won the Raymond Hubbell award from the  American Society of Composers, Authors and Publishers. The LSO will perform her work "Phase D," written in 1987. 
Joseph Bologne, Chevalier de Saint-Georges (1745-1799), was a French Creole virtuoso violinist and composer. He was born on the French Caribbean island of Guadeloupe, the son of an enslaved woman of Senegalese origin and a French plantation owner. His career blossomed in France, where he eventually became conductor of the leading symphony orchestra in Paris. The LSO will present his Symphony No. 2 from 1779. 
The Lamont Symphony Orchestra will feature several superstar horn players from around the country for Robert Schumann's Konzertstück. Lamont's horn professor, David Byrd-Marrow, will be joined by James Ferree (Principal Horn, Saint Paul Chamber Orchestra), Richard Deane (Associate Principal/Acting Principal Horn, New York Philharmonic), and Wei-Ping Chou (2nd horn/Acting Principal Horn, Kennedy Center Opera Orchestra). 
"Diversity is a top priority for us in the Lamont School of Music," said Lawrence Golan, Music Director of the LSO. "When it comes to programming for the Lamont Symphony Orchestra, I strive to select music from a wide variety of composers from different countries, different backgrounds, different times and different styles. It is very important for our students to gain experience studying and performing music that they will encounter in the professional arena—both in terms of what they need to play for auditions to get into professional orchestras and what they will be playing once they are in."
The Lamont Symphony Orchestra performs Tuesday, February 7 at 7:30 p.m. in Gates Hall, Newman Center for the Performing Arts (2344 E Iliff Ave, Denver, CO 80210). Tickets are $5 for reserved parterre seats, or free general admission. The concert will also be live-streamed at this link. Details and the link to purchase tickets are found here. 
About the Lamont Symphony Orchestra:
The award-winning Lamont Symphony Orchestra is often listed among the top college orchestras in the nation. Music Director and Conductor Lawrence Golan auditions members of the orchestra from music majors and student musicians across the university. In addition to performing works from the classical canon, the LSO performs with Lamont Opera Theatre and presents an annual concert with the Lamont Chorale and combined choirs.