Lamont Wind Ensemble to celebrate Black History Month and Dr. King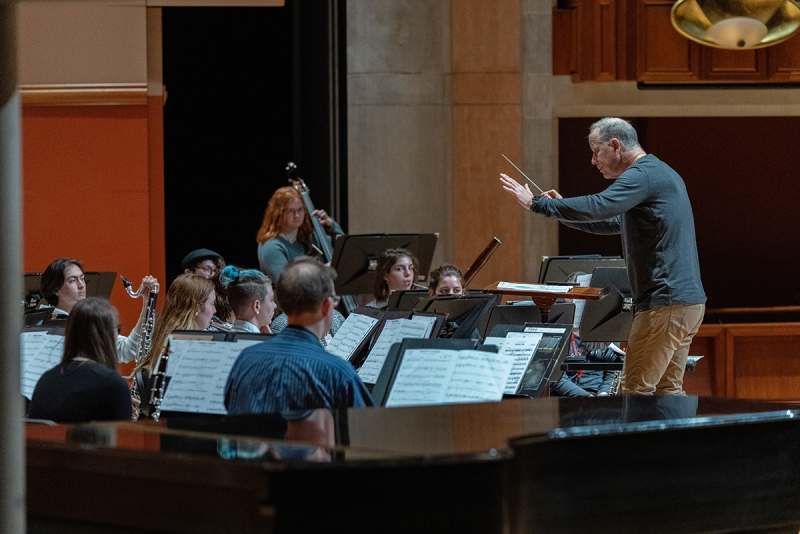 On February 1, the Lamont Wind Ensemble and DU's Division of Diversity, Equity, and Inclusion present a concert in celebration of Black History Month and the birthday of Dr. Martin Luther King, Jr. The performance will be a centerpiece of the University of Denver's DEI activities in February. 
The program includes Michael Daugherty's Rosa Parks Boulevard, which pays tribute to the woman who, in 1955, helped set in motion the modern civil rights movement by her refusal to move to the back of the bus in Montgomery, Alabama. This dramatic work features three trombones, which represent the spirit of the African American preacher and the courage of Rosa Parks. The three soloists will be Lamont's own Richard Harris, Greg Harper (Colorado Symphony), and Peter Ellefson (Indiana University).
The featured piece is New Morning for the World - "Daybreak of Freedom" by Pulitzer prize winning composer Joseph Schwantner. It features quotes of Dr. Martin Luther King, Jr. Mr. Schwantner recounts "The words that I selected for the narration were garnered from a variety of Dr. King's writings, addresses, and speeches, and drawn from a period of more than a decade of his life. These words, eloquently expressed by the thrust of his oratory, bear witness to the power and nobility of Martin Luther King's ideas, principles and beliefs." 
"The students and faculty at Lamont have embraced the opportunity and the responsibility to contribute to the betterment of our community and the advancement of social justice through the power of our music making," said Joseph Martin, Director of the Lamont Wind Ensemble. "We are very excited to share this dramatic program to further the conversation of creating a more just and inclusive society. The music is deeply moving, and the narrative is critical."
The LWE will welcome guest conductor Wesley Broadnax and guest narrator Charles Moore for the Schwantner. 
Lamont student Deborah Anderson will begin the concert by reading the poetry of Amanda Gorman.
John Robinson-Miller IV, Associate Director of DEI, Black Community Initiatives, will introduce pieces and provide context throughout the concert.
They will round out the program with the second movement from William Grant Still's Afro-American Symphony and "In Living Color" by Katahj Copley.
The Lamont Wind Ensemble performs Wednesday, February 1 at 7:30 p.m. in Gates Hall, Newman Center for the Performing Arts (2344 E Iliff Ave, Denver, CO 80210). Tickets are $5 for reserved parterre seats, or free general admission. The concert will also be live-streamed at this link. Details and the link to purchase tickets are found here.