Boren Fellow Takes Passion for Agriculture Abroad
IIC student will visit South Korea this winter.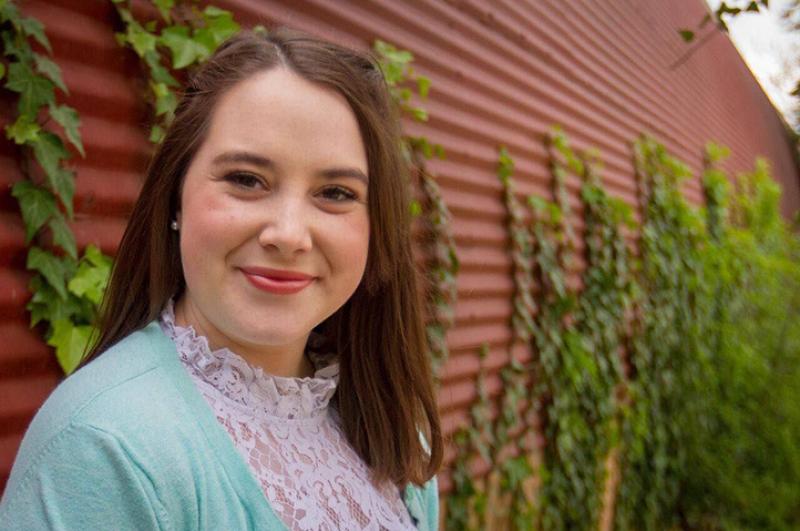 Agriculture is in Kathryn McCauley's blood. Her father is a high school agricultural science teacher, family members operated a cattle ranch and raised cotton when she was growing up — some of McCauley's earliest memories are riding around with her grandfather on his tractor, checking on the herds.
McCauley, a second-year MA student in DU's International and Intercultural Communication (IIC) program, is taking her passion for agriculture abroad as a Boren Fellow in 2020. The prestigious fellowship allows McCauley to connect local and global interests, taking her passion for agriculture to an international platform.
McCauley reflected on her early years in school when she first began pursuing a more worldwide focus.
"When I started my freshman year at Texas Tech University, I decided to major in agricultural communications so I could share my love and passion for agriculture with the people it impacts (consumers, policy makers, etc.). Then my sophomore year I was able to study abroad with the agricultural college in France and Germany."
"Up until then I'd really only seen agriculture state or nationwide, but visiting farms and talking with farmers helped me see agriculture in a new light. Regardless of country, culture, ethnicity or religion everyone on earth depends on agriculture. That realization sparked my interest in international agriculture and the rest is history."
McCauley knew she wanted to keep broadening her understanding of agriculture as she looked into master's programs.
"When studying agriculture, it is easy to look local. I knew I needed to marry the big and small pictures together. You can't look at a small, rural farm town without also acknowledging that cotton farms in that town export to China. So, I started to look at programs specializing in international communications."
That's when McCauley found DU and soon realized it was the perfect fit. She highlights the importance of community in her program, noting that "even though everyone in IIC has a different academic specialization, the program feels like a family." From faculty who foster comradery in the classroom to mentors willing to meet in-person, McCauley "can honestly say coming to DU was the best decision I could have made."
McCauley encourages students interested in similar disciplines to reach out to professors in Media, Film & Journalism Studies (MFJS), as well as the Josef Korbel School of International Studies.
"In IIC you get the best of both worlds. [Between MFJS and Korbel] there are tons of great classes to take and the instructors are amazing if you get a chance to pick their brains."
McCauley is looking forward to taking her foundational coursework abroad in January 2020, when she'll be leaving for Seoul, South Korea. She'll continue her work as a student in the Korean Language Program at Ewha Woman's University and will also seek an internship as part of her Fellowship requirements.
"The entire experience will really open my eyes to a new part of the world and hopefully a new cultural relationship with food and agriculture. While in Korea, I'm going to explore rural communities, wander grocery stores, visit street markets and hopefully meet some local farmers. Having this understanding of South Korean agriculture will open new doors for me."
McCauley is especially interested in this location because "South Korea is the sixth largest consumer of US agricultural goods in the world and a driving economic force in its own right. Additionally, South Korea went from a rural, third-world nation to a modern, developed nation in a radically short time frame. Understanding how this impacted their agricultural sector is important for future developmental communications. So, regardless if I decide to work in trade, development or diplomacy my time in Korea will be a huge asset."
But McCauley almost didn't apply for the Boren Fellowship at all. She says she didn't feel qualified and emphasizes the reality of imposter syndrome, even for graduate students.
"Don't be afraid to take advantage of all that's offered to you," McCauley advises fellow graduate students. "I filled out the application with the help of faculty in MFJS, Korbel and the Writing Center. Now that I've received the fellowship, I'm using even more DU resources: Rosetta Stone, language tutoring, the study abroad office, the Office of Graduate Education, etc. These resources aren't just for undergrads, take advantage of them. You never know where you might end up, maybe even South Korea."
Looking ahead, McCauley hopes to stay in South Korea if possible, pursue a PhD and possibly work with the USDA's foreign agricultural service in some capacity. For now, though, she's living in the moment.
"I have a list of possible futures, but for right now I'm enjoying the present. After all, I have a pretty big adventure ahead of me."