CAHSS Alumnus Wins $100K Investment for Business Venture ScholarLead.com
ScholarLead currently serves 15 public charter schools in five states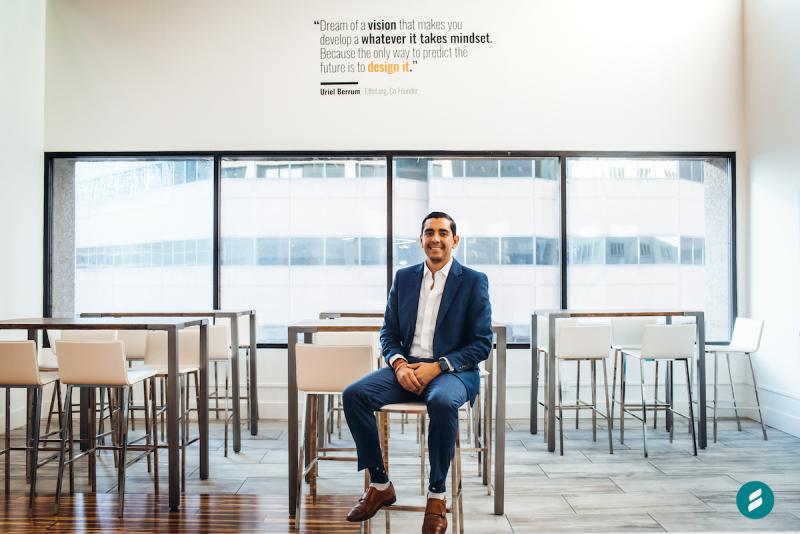 Uriel Berrum (BA '15) has a quote on the wall at his company's office that reads, "Dream of a vision that makes you develop a whatever it takes mindset. Because the only way to predict the future is to design it." 
The message from Berrum himself aligns with his long-held desires to remain open and flexible and to get out of his comfort zone whenever possible.  
He's been doing so since he came to the University of Denver as a second-year transfer student.
More recently Berrum — who studied public policy and economics — got out of his comfort zone in December when he and co-founder Nick Brown walked away from their first- ever pitch competition with a $100,000 equity commitment. 
Brown and Berrum traveled to Stanford, Calif., for the Dolphin Tank Social Impact Venture Competition hosted by Capital Plus Financial, placed fourth out of 50 companies and secured the first institutional investment for ScholarLead.com. 
"This seed investment is a real validating stamp that we are onto something," Berrum said, adding that other investors are more closely watching to see what they do next. 
ScholarLead, which launched in June 2022, is an education technology product that helps schools grow by simplifying their enrollment.  
Currently ScholarLead serves 15 public charter schools in five states and that number only continues to grow. 
Berrum and Brown also co-founded Effct.org back in 2018, a full slate digital agency that works with education leaders, political campaigns, social enterprises and social advocacy organizations by using digital media to help them achieve their goals and create meaningful transformation in their communities. 
'A Non-Traditional Student' Dreams Big 
As a first-generation American and the first to attend college in his family, Berrum saw himself as a non-traditional student — at least in the beginning. 
After completing his first year at the Community College of Denver, Berrum ultimately set his sights on attending DU "partly because it was so out of my comfort zone." 
"The reason I chose DU was because I knew that it was the premier university in the city and the state. I wanted to aim big in terms of what a higher education institution would be able to provide me and then also where I thought that I would be able to be challenged," he said. 
Berrum continued to venture outside his comfort zone once he was on campus.
He attended an Undergraduate Student Government (USG) meeting his first week on campus, eventually becoming president pro tempore during his senior year, and joined the Lamba Chi Alpha fraternity. 
His time at DU also included several internships and work opportunities, including one where the university provided him a stipend so he could work as an unpaid healthcare and Latino outreach intern in U.S. Sen. Michael Bennet's office. 
"I really tried to take advantage of the student experience as much as possible; I was not trying to just get my homework done and graduate. I was like, 'OK, how can I really embrace this institution and its community,'" he explained. 
Paying it Forward 
When Berrum and Brown started first Effct.org and ScholarLead.com, they were motivated to solve social issues like education inequality.  
The first school the organization partnered with is led by Berrum's former high school math teacher and mentor David Singer. He approached Berrum at the end of 2019 with the goal of getting more parent qualified leads, and they were able to help the school enroll 100 new kids that next year. 
It was then Berrum realized the model could be replicated. 
"We realized that many schools were facing the very same issue: declining enrollment. It's hard to attract and retain kids without a very sophisticated way to do so. That's where ScholarLead came in," he said. 
ScholarLead.com was created to help address this and empower more schools to deliver for kids. 
After 2 years of working with schools across the country and helping them enroll hundreds of kids, Berrum and his team quickly realized the limitations of existing solutions out there, so he had to yet again get out of his comfort zone and find a way to build his own — and he did. 
Now, with 15 schools already under their belt after the first year of operations, Berrum has the admittedly ambitious goal of having 160 schools use ScholarLead by the end of this year. 
"We're not trying to build a software company for the sake of it. We know that if we can equip more schools with this software, they're going to continue to make the big difference in children's lives that we all want and we all need, frankly, in our country," he said. 
And the investment from Capital Plus will serve as the initial jet fuel that ScholarLead.com needed to quickly get this tool to hundreds of schools thus impacting the lives of hundreds of thousands of kids – particularly those of color and low incomes.  
His biggest piece of advice for DU students is to "dream big and find ways that DU can help you achieve your goals."  
Berrum did just that at DU, believing he serves as an example of what can happen when the university invests in students who are trying to make a big difference but sometimes need little extra support. 
As both companies continue to grow, Berrum aims to give back to DU by providing internship, mentorship and job opportunities to current students. 
"I'm in a position right now where I fortunately have an organization that can offer internship opportunities or full-time job opportunities to folks, so why not go back to a place that's very special to me and a place that really helped me get to where I am," he said. "I think mentorship is important and I always try to pay it forward."