Doctoral Fellowship for Inclusive Engagement Awardees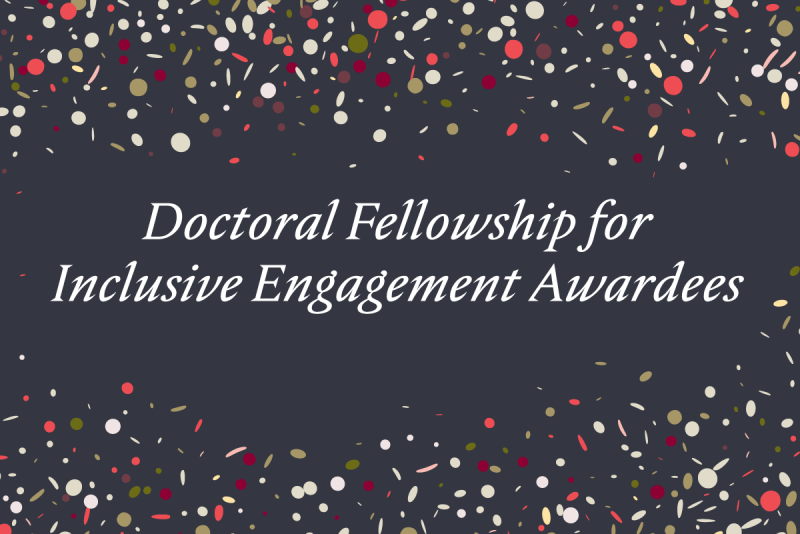 The Doctoral Fellowship for Inclusive Engagement (IE) Award seeks to retain a diverse community of highly talented doctoral students at the University of Denver. Exemplary domestic and international graduate students are nominated by each academic unit's dean's office in recognition of the "meritorious nature and significance" of their research, academic achievement and potential.
Office of Graduate Education IE Awardees
The 2022–23 Office of Graduate Education IE Awardees from the College of Arts, Humanities & Social Sciences (CAHSS) are: Sohaib Alkamal, Francesca Beasley and Marina Burandt (Department of English & Literary Arts), Jenna Chin and Nathalie Dieujuste (Department of Psychology).
Sohaib Alkamal
Sohaib Alkamal is a second-year international doctoral student from Iraq seeking a degree in English & literary arts — literary studies. Alkamal also has extensive experience as a translator. His work excavates the 18th- and 19th-century American and British literary influences on contemporary Arab fiction. His work is relevant to the contemporary era in the way it explores the notion of "Oriental otherness" — an idea that gained momentum in 18th- and 19th-century travel writing and remains a concern today. This award will help support his desire to build a scholarly network in the Middle East over the next two years as he completes coursework and delves into dissertation writing.
Francesca Beasley
Francesca Lisette Beasley is a second-year international doctoral student seeking a degree in creative writing with a concentration in poetry. Beasley's work encompasses multiple creative disciplines — including dance and performance, visual art and writing — which are united by their interests in cosmology, divination and accessibility. They have published two collections of poetry and performance ephemera: "Teens" and "sub rosa: the Book of Metaphysics" under the name Francesca Lisette. This award will support them through their final year of coursework and their fourth year of dissertation writing.
Marina Burandt
Marina Burandt is seeking a PhD in literary studies. Her research looks at the 17th-century woman writer Margaret Cavendish and argues that Cavendish's feminist critiques offer a prototype of sorts for the kind of self-regard or self-evaluation we might today call "self-love." Burandt's research not only assesses self-love as feminist critique but also as a mode of being and discourse that crosses genre and time. Burandt brings her interest in gender, feminist criticism and women writers to her teaching and is an eager, enthusiastic teacher and student advocate. This award will help her stay focused on completing her program in Spring 2025. 
Jenna Chin
Jenna Chin is a second-year student in the developmental psychology doctoral program. Her research seeks to understand how stressful environments shape infant neurodevelopment and the postpartum brain. The overall goal of her work is to inform policy and interventions aimed at improving parent-and-child wellbeing. Chin is also passionate about science outreach and mentoring, which are crucial for reducing barriers to academia. This award will support her in completing her coursework and continuing her research alongside her efforts to increase accessibility and inclusion within science.
Nathalie Dieujuste
Nathalie Dieujuste is a rising third-year doctoral student seeking a PhD in developmental psychology. Dieujuste's research interests encompass investigating the developmental impact of early life trauma and chronic stressors on the physical and mental health of Black individuals. Most recently, Dieujuste's research has examined the impact of racial discrimination on traumatic stress symptomology in Black Americans. The fellowship will support Dieujuste as she continues to investigate the impacts of racial trauma on Black people across the lifespan.
CAHSS IE Awardees
The 2022-23 CAHSS IE Awardees are: Rachael Anderoju, Manuel Calvillo de la Garza, Natalie Earnhart and Cassandra Eddington (Department of English & Literary Arts), Rachel Harr, Arianna Lane, Drew McGee, Simrat Samra and Valeriia Vlasenko (Department of Psychology).
Department of English & Literary Arts
Rachael Anderoju
Rachael Anderoju is a second-year international doctoral student seeking a PhD in literary studies. Anderoju gained teaching experience by enrolling in the "Writers in the Schools" course, demonstrating her commitment to having a full and rigorous doctoral student experience. She is currently preparing for her comprehensive examinations which she will take in late August. Once she passes her exams, she will devote her third year to dissertation preparation.
Manuel Calvillo de la Garza
Manuel Calvillo de la Garza is a second-year international doctoral student seeking a PhD in creative writing with a concentration in prose. He is pursuing his doctorate in the United States because graduate-level writing degrees aren't readily available or accessible in his home country of Mexico. He hopes to use his doctorate to help cultivate the culture of contemporary writing in Mexico and also make it more accessible to writers of all backgrounds and classes. 
He publishes widely and also works with Indigenous poets to translate their poetry into Spanish. Along those lines, he recently launched an online literary magazine fueled by his interests in translation. He seeks to serve others by creating ways for everyone to share in the joy of literature together. This award will provide valuable support in his final year of coursework and in his dissertation writing year. 
Natalie Earnhart
PhD candidate Natalie Earnhart is currently writing her dissertation, which draws on her experiences as a former healthcare worker, to examine identity, queerness and the political body. Earnhart makes significant contributions outside the classroom as a self-identified "queer writer" who uses literature and creative writing to build alliances with other writers and support diverse writer communities.
Cass Eddington
Cass Eddington completed their coursework two years ago and currently teaches community-based and university-funded creative writing classes while completing their dissertation. They are an excellent teacher, student, poet and astute reader. Their work not only delves into questions of identity (class and transness from an ex-Mormon background, the far-reaching deleterious impact of settler colonialism and white supremacy) but also asks how poetry can help us understand ourselves, our surroundings and our roles in the world even better. To this end they created and run Vocational Poetics — an accessible process-based educational platform focused on developing creative autonomy. Through this virtual platform they offer classes, host guest teachers dedicated to radical pedagogy and curate spaces of community, pleasure, play and political engagement for working writers of all backgrounds and experience levels. This award will provide the support needed to help this talented poet complete their program by the end of the 2023-24 academic year.  
Department of Psychology

 
Rachel Harr 
Rachel (RJ) Harr is a second-year doctoral student studying developmental and social outcomes of system-impacted youth in the United States. They have a particular focus on the promotion of individual resilience factors as well as the abolition of juvenile incarceration institutions and advocacy for system-impacted youth at the systems level. As an Appalachian individual, they have a continued commitment and desire to highlight cultural influences and white supremacist consequences in their research as well as a dedication to mixed methods that centers on qualitative narratives. As a queer and trans individual, they also seek to uplift their community and experiences. This award will enable them to continue their doctoral studies as they approach comprehensive exams to advance their doctoral candidacy.
Arianna Lane

 
Arianna Lane is a second-year student in the clinical psychology PhD program. Her research examines the impact of early childhood experiences on mental health outcomes in individuals and couples, with a particular focus on self-injurious thoughts and behaviors (SITBs) in parents of diverse backgrounds. Her work aims to understand how childhood resources and support reduce the risk for SITBs and confer resilience in low-income, ethnically diverse parents with histories of childhood adversity. She hopes that her research will shed light on the prevalence of SITBs during the perinatal period and into early parenthood and reduce associated stigma. This award will provide valuable support as she continues to invest considerable time and energy in her research, clinical work and courses.
Drew McGee

 
Drew McGee is a fifth-year graduate student in the developmental psychology PhD program. He focuses on intervention and prevention science for developmental issues in various systems levels. His work looks at policy, preschool and early childhood education (ECE), parenting and dyadic relationships and individual factors like physiology, problem behaviors and self-regulation. He is especially focused on studying resilience and how protective factors, such as sensitive parenting or quality early childhood education, can reduce the impact of early life adversity on social-emotional outcomes and stress responses in early childhood. He is also interested in exploring the implications of these processes on public policy. This fellowship will provide support as he completes his dissertation.
Simrat Samra

 
Simrat Samra is a second-year graduate student seeking a PhD in affective, social and cognitive psychology with an emphasis on social psychology. Her research broadly focuses on the biased perceptions of racial minorities across various domains. Samra's current research primarily focuses on biased perceptions and downstream consequences that impact multiracial populations. This is also the focus of Samra's master's degree, which she will be defending in fall 2023. The fellowship will provide support going into her third year and enable her to focus on defending her master's.
Valeriia Vlasenko
Valeriia Vlasenko is a second-year international doctoral student in the Department of Psychology. Her research on emotion regulation contributes to the science of well-being.
She hopes that her work will provide insight into the application of reappraisal (i.e., changing the way we think about a stressor in order to change how we feel) in a variety of stressful situations which will help mental health professionals to better meet the needs of their clients. This fellowship will support her in completing her degree.