DU Alumna Infuses Urban Planning With New Voices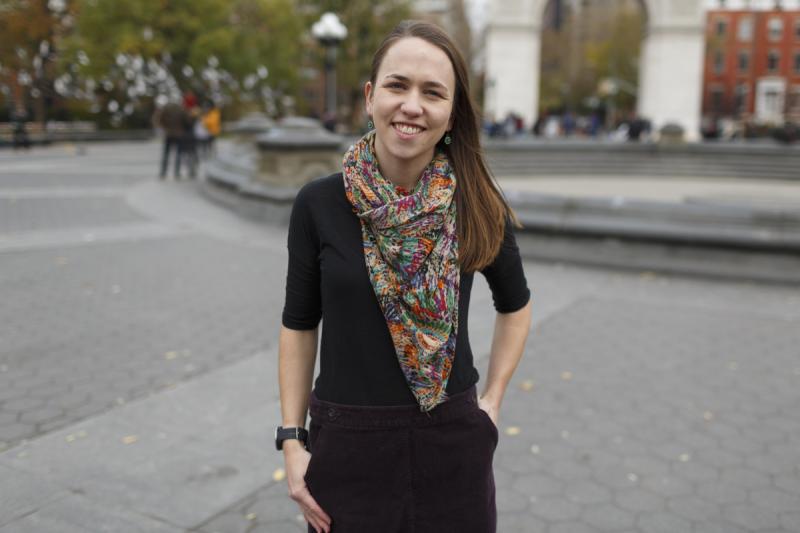 Urban studies involves city planning, urban geography and community engagement, in addition to an understanding of how cities evolve. For DU alumna and Project Manager at Project for Public Spaces Shaylee Zaugg (BA '14), urban studies is all about the people.
Zaugg's experience at DU as an anthropology and biology double major sparked her interest in urban studies and opened her eyes to the field of work.
"I ended up taking four anthropology classes with Director of Urban Studies and Anthropology Professor Dean Saitta, including his Culture and the City class," says Zaugg. "That was really the course that made me interested in cities and community engagement in public spaces."
Her interest in urban studies also stemmed from the work-study position that Zaugg held at the Center for Community Engagement to advance Scholarship and Learning (CCESL). In her position with the public achievement program, she taught high school students community engagement and leadership skills.
"That sort of involvement and thinking about being connected to your communities, as well as learning about how cities grew and evolved, made me really interested in the topic of urban studies," says Zaugg.
Zaugg's especially thankful to her professors at DU for helping her see the value of new perspectives.
"Professor Saitta and Carol Samson really made an impact, especially in the values I have in terms of wanting more voices to be heard," says Zaugg. "And working with the public achievement program has made me want to make sure that specifically youth voices can be heard in projects, too."
After graduating from DU, Zaugg went on to receive her master's of science in urban studies at University College London. Since then, she's been a part of creating more people-friendly streets, making connections between public health and access to public spaces and amenities, and educating urban practitioners with Project for Public Spaces.
"I've been making sure that the voices of communities are featured in the process and included in the vision and decision making," says Zaugg. "I'm constantly thinking of how we can create mechanisms for people to be engaged either through virtual engagement tools or different events that can incorporate ways of including communities in decisions."
Outside of work, Zaugg advocates for communities through her involvement with the Community Active Living Coalition, the Denver Streets Partnership and the Baker Historic Neighborhood Association. Using what she learned at DU, she hopes to continue making a difference by encouraging community partnerships.
"I'm getting more involved [in activism] because I want to see more people have the opportunity to have their voices heard," says Zaugg. "If I can advocate on behalf of someone or encourage them to join a community group, then hopefully more decisions for cities will be made by the communities, and not just by the planners, the designers, the architects."