DU Emergent Digital Practices Professor's Work Probes the Vast Frontiers of Outer and Inner Space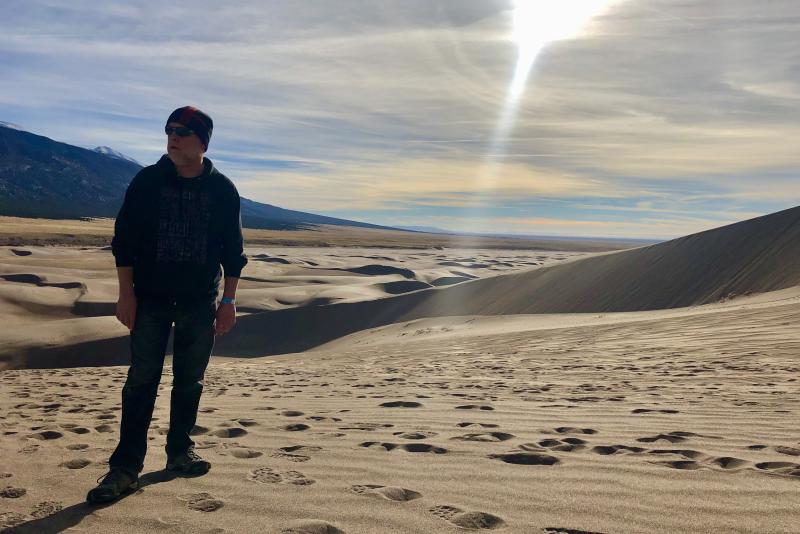 Staring up at the wide, open skies as a kid growing up in Lubbock, Texas, fueled a fascination with the mysteries of all things outer space in Trace Reddell, professor and director of the University of Denver's Emergent Digital Practices (EDP) program.
What proved to be equally influential?
"Watching NASA's Apollo program, Carl Sagan's 'Cosmos' and reruns of the original 'Star Trek' series on TV; the hopefulness of movies such as 'Close Encounters of the Third Kind,' the ecological empathy of 'Silent Running' and the horror of 'Alien,'" he said.
Reddell earned a bachelor's degree in English literature from Texas Tech University in 1986, a master's degree in creative writing in 1989 and a PhD in 1997 from the University of Colorado Boulder, where he explored parallels between 19th century drug literature and 20th century cyber-punk science fiction.
In the mid-1990s, he taught a science fiction and a travel writing class at the University of Colorado Denver where they launched "CU Online."
"It was, at least locally, the birth of online course delivery and development," he said.
The experience enabled Reddell to hone his digital skills, learn to code and produce audio lectures and slide shows while experimenting with early streaming video technology.
He also produced shows as a DJ for Radio Valve, the first 24-hour, streaming electronic and techno music radio station based in Boulder and "got into the digital and electronic sound art, music and video scene in Denver where artists were throwing big events in gallery spaces and warehouses."
In 2000, Reddell landed a position as a lecturer and the following year as an assistant professor in DU's new Digital Media Studies program launched by former Professor of Mass Communications Jeffrey Rutenbeck, who founded the "visionary and first of its kind" interdisciplinary bachelor's and master's degree programs at DU in 1996.
Reddell continues to teach on multimedia topics, including a sonic art class that grounds students in production and creative approaches to sound making and a class on expanded cinema focused on live video work. His theoretical, scholarly classes include a graduate seminar for incoming EDP students designed to root them in the theory and cultural aspects of emergent technologies.
He found his recent class on "Spiritual Technologies" – originally created as a colloquium for the joint PhD program in Religious Studies offered by DU and the Iliff School of Theology  – an "exciting and fun" interdisciplinary collaboration.
Subsequently offered as a course for EDP undergraduate and graduate students that also attracted students in religious studies, English and philosophy, the class challenged students to create their own imaginary technologies around whatever spiritual practice they were researching and, in some cases, currently practicing.
Focused on the history of psychedelic music from the 1960s to contemporary electronic dance music and hip-hop, Reddell's advanced seminar on "Psychedelia in the Age of Artificial Intelligence" for undergraduates across university disciplines tackles the rapidly emerging applications around AI, including ethical issues.
"I keep reiterating that what we're seeing now with AI to my mind reflects what happened in the 1960s with the release of psychedelics, especially LSD, which suddenly proliferated throughout the culture, and no one had thought out the ramifications, some good, some terrible," he said.
"How can we get a little bit ahead of this and have a really strong ethics detector to make sure that things are done in equitable ways that actually help people instead of privileging a few at the expense of many," he added.   
Reddell distilled some of the research he conducted for his upcoming book "The Magic Circle: Sonic Substance in Psychedelic Music," slated to publish next year, into a talk delivered in March as part of DU's Intermedia Roundtable.
"One of the things I've been working on is how to bridge contemporary philosophies of the mind and consciousness with understanding neuroscience and psychopharmacology and also looking at Indigenous approaches to sound, developing a dialogue about the importance of sound to our sense of self and community," he said.
His previous book, published in 2018, "The Sound of Things to Come: An Audible History of the Science Fiction Film," explores new ways of construing both sonic innovation and science fiction cinema.
"For me, the mystery of outer space but also the mystery of inner space are consistent threads," Reddell said. "The idea that there's always more out there and always more in our heads than we think we've tapped into. We can surprise ourselves and discover new frontiers in both locations that help us make sense of a large-scale world view."
An all-around creative who performs live, improvisational video presentations collaging science-fiction images, sound and video clips, Reddell continues to study the possibilities of psychedelics and sound in enhancing both creativity and emotional healing.
He's excited about attending the PhilaDelic conference happening this summer in Philadelphia. "You've got neuroscientists, chemists, musicians, therapists and humanities professors, a community of people interested in all levels of psychological healing and revisiting these substances that have so much potential for helping people with PTSD and trauma, terminal life diagnoses, alcohol and tobacco dependencies." 
Reddell remains grateful for his 23 years at DU that have empowered him to move between his areas of interest "whether focusing on my art practice in sound and video or thinking and writing more critically."
"I've exhibited videos around the world and participated in digital and electronic media and sound festivals. I've also invested years of research and writing into two major book projects. Being able to be a really well-rounded person has been awesome and it's a quality I try to encourage in my students."