DU Media Project Seeks Student Collaborators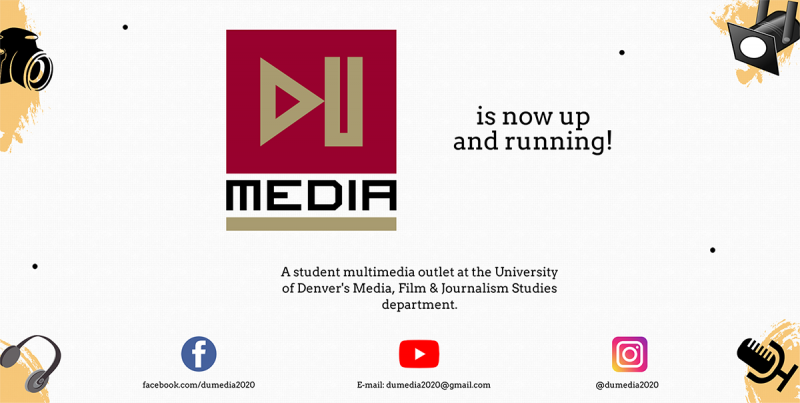 The Department of Media, Film & Journalism Studies is excited to announce a new outlet and learning experience for students — DU Media. Dr. Kareem El Damanhoury, assistant professor at DU, started DU Media in response to student interest in acquiring multimedia production experience.
"DU Media is a collaborative project that brings Media, Film and Journalism Studies faculty and students together to publicize students' work and help them with experiential learning," El Damanhoury explains.
DU Media is seeking student volunteers to pitch ideas and produce projects. Currently, the outlet is only available to Media, Film and Journalism Studies students, but will expand to all DU undergraduate and graduate students as it develops.
In addition to valuable learning experience, DU Media provides students with a career-building platform for their work.
"Students produce fascinating projects in their classes and beyond, and they often end up on a hard drive. One of DU Media's goals is to have students get credit for projects they work on by adding those to their resumes and portfolios before they go on the job market."
El Damanhoury continues, "Plus, employers tend to ask for fresh graduates with experience, which DU aims to provide by working with students on their pitches and media production."
Unlike other media outlets on campus, DU Media focuses on faculty-student mentorship.
"DU Media is faculty managed and student led, which means that the outlet has a very intricate relationship with the curriculum. Faculty engagement offers students a laboratory experience while featuring top projects in media, film and journalism classes."
DU Media features short movies, documentary films, photographs, infographics, news reports and written articles — and it plans to keep expanding.
"As we speak, DU Media is working on getting funding that will potentially bring more equipment and allow student productions to compete for media awards regionally and nationally toward the end of 2020."
"In addition, we're in the process of partnering with Rocky Mountain Public Broadcasting Service and others further down the road to have student productions featured on mainstream media," El Damanhoury says. 
DU Media is open to pitches from students in a variety of areas, from issues of gender equality and representation of Indigenous communities to topics like medical marijuana use and vaping in Colorado.
To learn more about DU Media, check out their social media below, or contact Kareem El Damanhoury to get involved.