DU Professor's Passion for Integrative Learning Sparks Collegewide Collaboration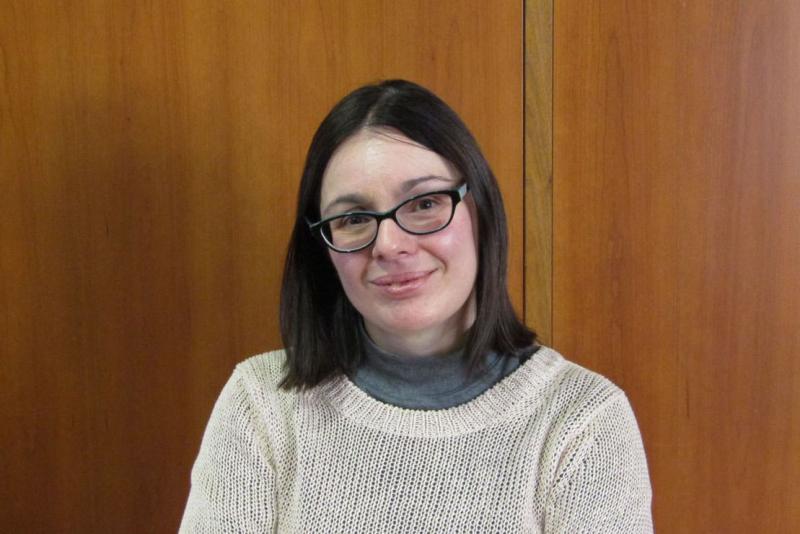 Polina Dimova's early education growing up in then communist Bulgaria sparked an innate passion for the alluring synergy of multicultural literature, languages and the arts.
"I could never quite choose what I wanted to focus most on — I just wanted to do everything," she said.
Dimova, an assistant professor of Russian in the Department of Languages, Literatures & Cultures, acquired Russian as a second language while attending a language school in Bulgaria. She enrolled in a music school to learn violin on the side and later studied English and German at the English language school in her hometown.
She went on to specialize in English with a secondary specialty in German at Sofia University in Bulgaria. In her second year, longing to expand her understanding of additional literatures, languages and cultures, Dimova explored options to transfer to universities located in the United States and was ultimately accepted to Smith College as a comparative literature major.
Her cultural journey in the U.S. began when she landed at John F. Kennedy International Airport in the middle of the night enroute to the college.
"I studied English for seven years and had rehearsed 'how do I find my connection?'" she recalls, laughing. "I could not understand anything said to me but somehow I made it to Smith."
Dimova struggled at first to keep up with the pace of U.S. higher education. But she soon adjusted and formed a support network with fellow international students as well as American students likewise pursuing degrees in comparative literature — many of whom she keeps in touch with today.
She subsequently earned a PhD in comparative literature at University of California, Berkeley that enabled her to dive deeply into her three favorite modernist literatures — Russian, German and British — while indulging her appreciation for music and visual arts.
Her dissertation explored collaborations and experiments between modernist artists, providing the genesis for future research and writing.
After teaching at several U.S. universities, Dimova accepted a position at the University of Denver in 2019 and then traveled to Russia, the Czech Republic, Germany and England, courtesy of a fellowship from the American Council of Learned Societies (ACLS), researching her upcoming book, "At the Crossroads of the Senses: The Synaesthetic Metaphor Across the Arts in European Modernism."
The book, slated to be published next year with Penn State University Press, bridges the humanities, the arts and sciences and supports neurodiversity.
"Historically the neurological condition synaesthesia (in which the stimulation of one of the senses stimulates other senses) was seen either as a symptom of degeneration or a rare gift," Dimova said. "Yet it is important to remember that it is not an aberration, but a diversity in perception. I have taught many amazingly creative students with synaesthesia, who have inspired this project."
Dimova cites one of her favorite modernist composers, Alexander Scriabin, who presumably had synaesthesia "and could hear tonalities in color and see lights when listening to music," she said.
Her book focuses on Russian and Western European modernist artists who probed the possibilities of using synaesthesia as a metaphor for the blending of colors, sounds or shapes to inspire multimedia projects.
Dimova teaches intermediate and advanced Russian and analytical inquiry courses in English on topics such as Russian culture and civilization, the 19th-century Russian novel and Russian fantasy and science fiction.
"I really love these topics because I can bring in not just books but movies, music and visual arts," she said.
Early on at DU, Dimova reached out to fellow faculty members in other departments who were likewise committed to harnessing the power of multidisciplinary work about her ongoing research in synaesthesia. Those conversations eventually led to the recent "Intermedia Roundtable: Literature, History, Art, Technology and the Senses" campus event sponsored by the Committee for Comparative Literature.
"My mentor in English, Professor W. Scott Howard, had a big part in helping me realize this project and involving faculty across paths at the university," Dimova said.
As one of 14 awardees to receive an ACLS residency to attend the Summer Institute for Scholars of East Central and Southeastern Europe in Bulgaria from June 1-15, Dimova plans to continue research on her next project, an electronic book companion to her monograph entitled "At the Crossroads of the Senses: Synaesthesia in Art and Science — A Digital Companion."
The digital companion will include images, music, multimedia and visualizations mapping the modernist senses. In the meantime, she continues to delight in sharing her ongoing insights with students and marveling at their creative responses.
"I really appreciate how they're all open to engaging both critically and creatively with Russian literature, culture and art," she said. "Of course, it's such a sweeping topic on the one hand, but they've shown that they really love the multimedia material. And so many of the students are interested in Russian culture now for a very good reason because of the war with Ukraine. Learning about Russian culture is essential, as understanding Russia's history and imperial ambitions can shed light on what is happening now."