DU Psychology Student Links Policy to Child Development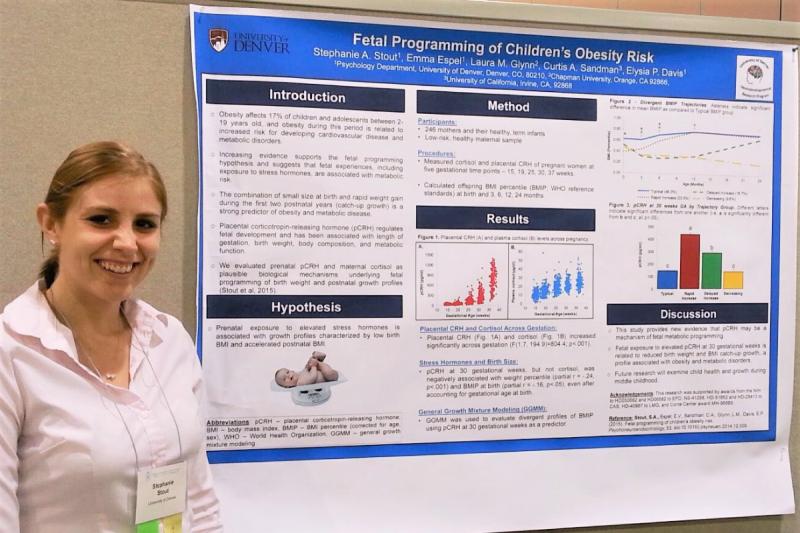 Although she always knew her purpose was in the lab, Stephanie Stout-Oswald, a doctoral candidate in the University of Denver's developmental psychology program, wasn't expecting it to spill into the political realm. Set to graduate this summer, her research has guided her to bridge the worlds of science and public policy.
"My time at DU has taught me to communicate science and statistics to different audiences, to collaborate with individuals across disciplines and roles and to use existing resources to most effectively answer research questions."
Working as an analyst for Denver Public Schools, she was called on to help leadership officials understand the impact of recent changes in the district's early assessment policies to child development. She dedicated several months to this project — conducting literature reviews, analyzing data and developing effective ways to share those results with leadership.
"My work provided leaders with the information they needed to inform their policy decisions, and as a result of my work, leadership amended controversial district-wide policies that affected thousands of students," Stout-Oswald explains.
Her current research, which she began as an undergraduate at the University of Michigan, centers on the relationship between mother and baby.
"I knew I wanted to pursue further education in developmental psychology when I became a research assistant for a lab in the psychiatry department as an undergraduate," she recalls. "It was fascinating to learn that experiences so early in life can have a measurable impact on how our bodies work and how our brains develop."
Stout-Oswald's dissertation looks at how a mother's feelings, including stress hormones and genetic factors, relate to her baby's development during pregnancy.
"I think a lot of people understand that a mother's physical health is tied to her fetus's health, but only recently did scientists really start to explore how a mother's feelings and experiences, both positive and negative, can impact how her baby develops," says Stout-Oswald.
Although COVID-19 has pushed her graduation date to August, she accepts that our attention and efforts are divided in new ways.
"Maintaining a consistent, high level of academic productivity is understandably difficult in these times, as everyone is adjusting to new communication norms, accommodating shifts in how research can be conducted and discovering the new normal in the home, community and/or workplace."
As she adjusts to the "new normal," she's committed to maintaining a healthy mental outlook. She plans to continue to provide analytical and research support for local organizations that serve pregnant women and young children.