Greater Inclusivity through Creative Technologies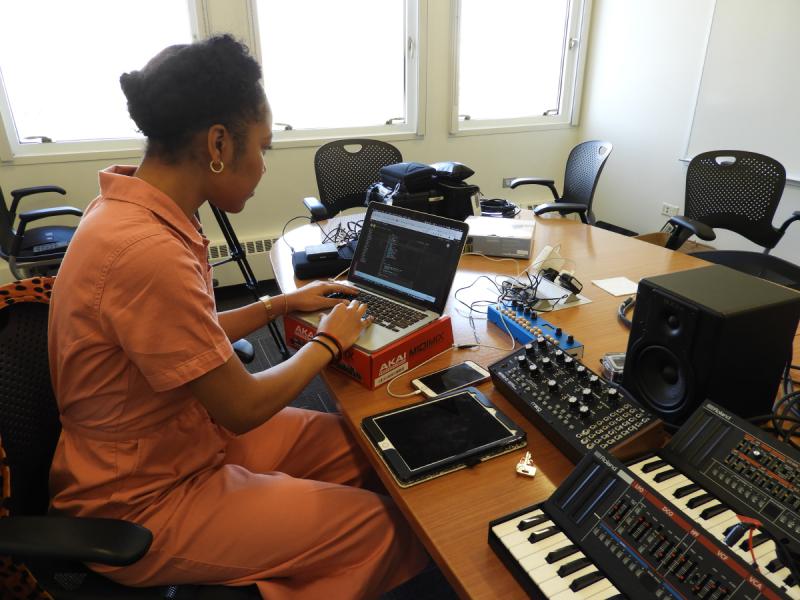 "There's an amazing world that lies at the intersections of art and technology. The art advances the experiences of technology, while the technology advances the possibilities of the art," says Ari Melenciano, a Brooklyn-based interdisciplinary artist, creative technologist, and researcher.
Melenciano is DU's first Contributor in Residence at the University's Clinic for Open-Source Arts (COSA). The Clinic takes its name seriously: Director and Professor of Emergent Digital Practices Chris Coleman explains that creating healthy communities is vital to having artists express themselves in digital spaces. Here, student and visiting contributors work together by combining their expertise in challenging conversations aimed at creating and sustaining healthier communities in the arts and technology fields.
Through a grant from the Mellon Foundation and support from the Knight Foundation, COSA has launched a residency program that pushes the boundaries of how open-source tools can be used on campus and beyond. COSA's aim is to create an increasingly inclusive community where students are not only users but contributors to open-source technological creation.
Melenciano first came to DU as part of Processing Community Day, a COSA conference. After a live AV performance, she spoke of the need for making technology a more inclusive space. "This residency is focused on making open source creative technologies more accessible to people of different racial, cultural, gender, and socio-economic backgrounds."
She adds, "It's a representational project. In technology it's hard to find people who may look like you if you're Black or Latino/a, so visuals of people in different communities show all kinds of people can do programming."
During her residency this March, Melenciano created and delivered a series of tutorials on creative uses for a range of open-source technologies as a way to democratize resource access. "I study public policy, history, and sociology to figure out how the world has operated. The saying goes you have to know the rules in order to break them. Thinking about the whole institutional framework can create more equitable experiences for people of all needs."
This work is part of her time as a research fellow at NYU's Interactive Telecommunications Program where Melenciano earned her master's degree. Her research lies at the intersections of experimental pedagogy, digital activism, aesthetics, speculative design, human-computer interactive technology, race/identity, and how technology impacts marginalized communities.
For creators interested in this type of work, Melenciano explains creative technology is an established but rapidly expanding field. "In the real world, you can see its applications in airport terminals, institutional entryways, and other interactive public spaces, as well as on websites and the apps on your phone."
Melenciano is the founder and producer of one such space, Afrotectopia, a new media, arts, culture, and technology festival. Reflecting on a recent conversation with DU Emergent Digital Practices students Melenciano explained, "I love to create spaces with music and visuals: playing music, live composing and also having live visuals behind me all interacting with each other."
You can check out Melenciano's Intro Guide to Creative Technology, created during her residence at DU, as well as work on her YouTube channel, AriCiano, her Medium page, @Ariciano, and on her website, www.ariciano.com.