Introducing the New 2023-24 CAHSS Faculty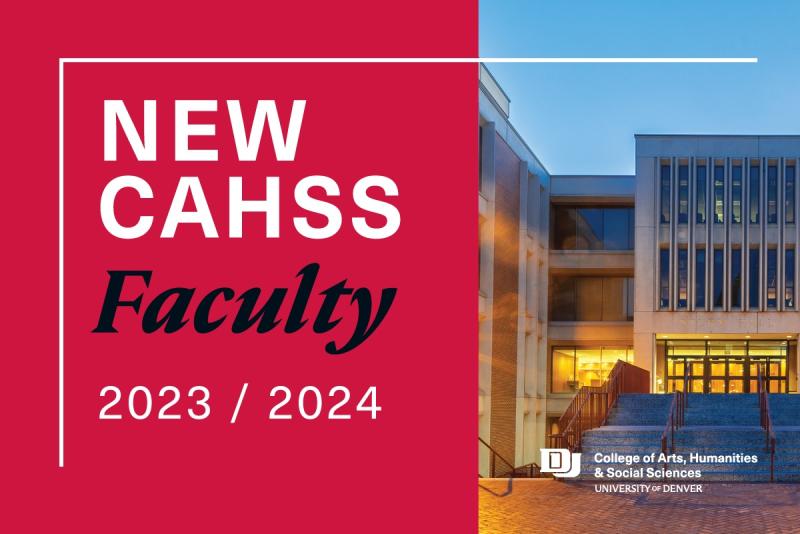 For the 2023-24 academic year, the College of Arts, Humanities & Social Sciences at the University of Denver welcomes 10 new faculty across six schools, departments and centers. Join us in welcoming these scholars, who will bring new insights, dedicated research and hands-on guidance to our students.
School of Art & Art History
Ellen Macfarlane, assistant professor
Macfarlane received her PhD in 2018 from the Department of Art and Archaeology at Princeton University. Before coming to DU, she was a Mellon Postdoctoral Scholar in the Visual Studies Research Institute at the University of Southern California. Her first book, "Politics Unseen: Group F.64 Photography and the Problem of Purity" will be published in the fall of 2024.
Department of Economics
Daniel Ossa, teaching assistant professor
Ossa's main research and teaching interests are in the areas of political economy and macroeconomics. In particular, he has worked on topics of income distribution, business cycles and financialization. He received his PhD and master's degree in economics from the University of Utah and his bachelor's degree in economics from the National University of Colombia.
Tamara Lynn Trafton, teaching assistant professor
Trafton is an economic educator and former faculty union president. She has studied behavioral economics, experimental economics, and economic history. She received her PhD and master's degree from Vanderbilt University. Trafton currently focuses on economic education, teaching courses that draw upon feminist economics and labor economics, as well as fields of previous study. Her most recently designed course examines the undercounted, undervalued work of women, and her most recently designed assignment asks students to determine how to count and value their own work.
Department of English & Literary Arts
Jennifer Soong, assistant professor
Soong is a poet and a scholar of modern and contemporary Anglophone poetry. Prior to joining DU she was a postdoctoral fellow at the University of Oxford. With a bachelor's degree in English from Harvard University and a PhD from Princeton University, she is currently completing a critical book about poetry and forgetting.
Department of History
Kimberly Jones, assistant professor 
Jones is a historian of slavery, focusing on disability gender law and capitalism in the Black/Afro Atlantic world. Her research engages with topics related to age, resistance practice of disabled enslaved people, the performance of disability and the relationship between racial capitalism and disabilities in institutions in Early Republic America.  She received her Ph.D. in history from Rice University in 2023.
Department of Languages, Literatures & Cultures
Wayne CF Yeung, assistant professor
Yeung graduated with a PhD from Penn State University with the dual title of comparative literature and Asian studies. His research interests include modern Chinese and Sinophone studies, Hong Kong studies, social movements and postcolonial and empire studies with a comparative dimension drawn from Francophone — in particular Caribbean — studies.
Lamont School of Music
Tatiana Mayfield Brown, assistant professor
Brown has been singing and playing jazz since the age of 13. She has performed in various venues and festivals throughout the U.S., which in turn have earned her rave reviews from listeners and musicians in addition to numerous awards. Brown has degrees from the University of North Texas and the University of Texas at Arlington. In addition to her vocal skills, she plays piano and trombone, composes, and teaches voice and music theory. 
Department of Political Science
Michael Greenberger, assistant professor
Greenberger's research focuses on political development, representation and geospatial research methods. He is a Ph.D. candidate in political science at the University of North Carolina at Chapel Hill, where he also received his master's degree. He is interested in how American electoral institutions are shaped by the demands of elites and the public. He also studies how units of geography and space, like county borders or police beats, can shape political outcomes.
Department of Sociology & Criminology
Shirley Lung, assistant professor
Lung received her PhD in sociology from Johns Hopkins University. A key question motivating her work is "how do groups form?" In particular, she is interested in ethnic and racial identity formation across transnational spaces. Her work to date investigates Taiwanese and Chinese religious and ethnicity-based organizations and how they construct and deploy narratives of ethnic identity.