DU Spanish Professor Casts Critical Eye on Portrayals of Latin America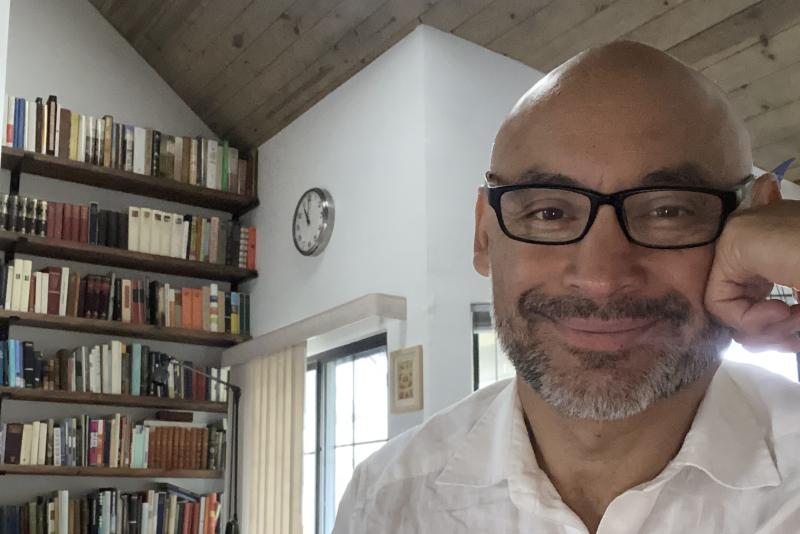 University of Denver Teaching Associate Professor Gustavo Fierros would like to see museums become more self-aware, reflective and transparent about their portrayals of Latin America.
Fierros asked the question, "Where and when is Latin America" during a recent College of Arts, Humanities & Social Sciences (CAHSS) event that explored how the term has been viewed historically and culturally as well as from a contemporary perspective in the United States and in Denver.
The thought continues to energize his research and teaching in the Department of Spanish Language, Literary & Cultural Studies.
Fierros grew up in Mexico City during the last years of the long powerful Party of the Institutional Revolution (PRI) government. The experience instilled a discerning sensibility toward the historical and modern narratives that various cultures and nation-states craft and the implicit messages they carry.
This led Fierros to earn a bachelor's degree in journalism from the Carlos Septien Garcia School of Journalism in 1993.
"Mexico was in the latter years of a very turbulent and monolithic political party," he said. "As an artistic, young guy I became involved in a liberal atmosphere and started writing literary criticism in magazines in the 1980s as a freelance writer."
He subsequently earned a master's degree and a PhD in Hispanic literature from the University of Maryland and traveled extensively throughout South America researching and writing his dissertation on Romantic and avant-garde poetics.
Fierros began teaching classes in the fall of 2007 in Hispanic American literature, Mexican literature and Spanish language at DU. Increasingly his courses and research examined how Latin America is described and represented in an American context.
His course "Inventing Latin America," to be offered in fall quarter 2023, will focus on how historical narratives and institutions like museums depict Latin America in temporal and spatial dimensions.
"People ask the question, 'is Latin America modern?' or 'is Latin America part of Western Civilization?'" Fierros explained. "The first question is grounded in a temporal dimension and the second one is grounded in a sort of geographical but also historical dimension; the idea of Western Civilization."
The term "Latin America" arose in the 19th century, according to Fierros. The Cuban nationalist poet and writer Jose Marti used the expression.
"But for people of his generation, Latin America was an idea linked to Spain and even to the Roman Empire," Fierros said. "The notion of Latin America was connected to the idea of civilization as European that of course, was expressed in racial terms."
Fierros' research on the way contemporary museums in the United States represent Latin America is inspired by Benedict Anderson's book "Imagined Communities." The book suggests that national associations influence a particular society's view of Latin America.
American museum displays "create an idea that they belong to different times and histories than Latin America," Fierros said.
"If you go to a U.S.museum you will find American art located near European art and opposite to Latin American art and Indigenous art. They present the idea of a Latin America that is not only rooted in, but whose present is only understandable in terms of the Indigenous past, and display it far away from European and American identities," he added.
He recommends that museums offer some kind of context about the associations and connections they're making. He cites Columbia University Anthropologist Claudio Lomnitz­­­­­­'s observation that museums of the future might be more transparent about how their own analysis of artifacts evolved and contributed to present myths about Latin America.
"It would be wonderful for museums to show their own histories and interpretations over time," Fierros added.
He enjoys taking students to venues such as the Denver Art Museum to analyze Latin American collections and exhibits.
"I always like to discuss the difference between what historians used to call 'history for the present' and 'history of the present.'" he said. "History for the present tries to justify or celebrate and confirm a specific social construct, but history can also be more critical and 'of' the present; focused on what a social construct means now."
Fierros appreciates teaching students to think "outside the box rather than just speak to ideas that are too familiar and sometimes not very good ideas."
"It's important to encourage some accountability about ideas that may seem inclusive but turn out to be exclusionary," he said. "It's rewarding to give students the critical tools they need to consider this for themselves."