Museum Studies Alumni Promote Accessibility in Art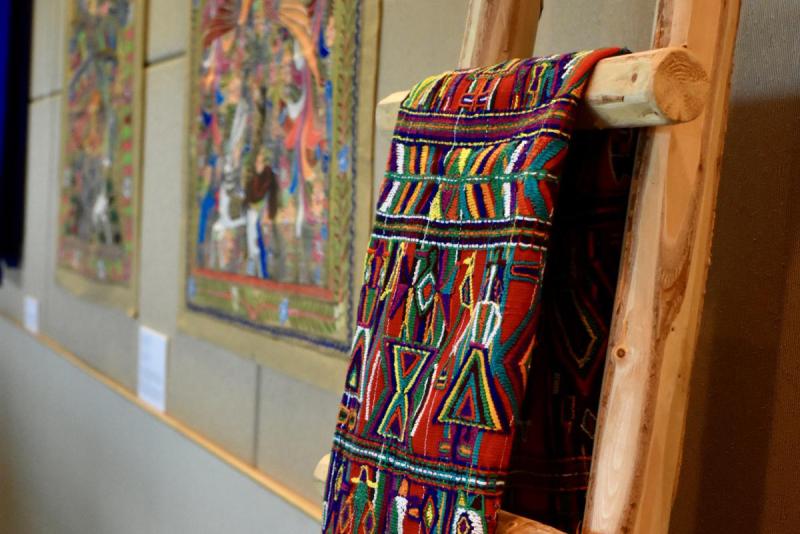 Recent CAHSS graduates Lilly Barrientos (MA '21, Museum Studies) and Jennie Hord (MA '20, Museum Studies) have always found museums to be important, interactive spaces for people to access a variety of different histories, narratives and perspectives. 
Now, as curatorial assistants at the Denver Arts Museum (DAM), they take seriously and value their unique opportunity to promote and share with museumgoers the diverse viewpoints alive within the art exhibits they help curate. 
"I've always felt very comfortable in museums," Barrientos says. "I love storytelling, and museums tell all kinds of stories from so many perspectives. Despite their colonial origins and the challenges that are still present because of those origins, these spaces provide opportunities for expanding visitors' perspectives, which may translate to how they behave and interact with others outside of museums." 
Similarly, Hord knew she wanted to work in museums because of their unique ability to create interactive spaces for people to connect with and be inspired by the creative and representative work of different viewpoints and cultures around the world. 
"I wanted to work in a museum to help share those stories and help people who feel disconnected or intimidated by art to feel welcome and inspired when they come to the museum," Hord says. 
Though Hord recently received her master's degree in museum studies from the University of Denver in 2020, she has been working at DAM since 2015 where she started in a gallery host position. Having received a bachelor's degree in Spanish language and literature at the University of Nebraska in 2012, Hord returned to Denver, her hometown, at the end of 2014, determined to build a career working in museums.  
For both Hord and Barrientos, one of the main highlights of attending DU's School of Art & Art History master's program was its small size. They wanted a program that would facilitate close mentoring relationships with the faculty and direct access to Denver's art community.  Barrientos and Hord were able to immerse themselves in that scene during their internships at the Museo de las Americas, an experience they both remember fondly. 
When Barrientos was an intern for the Museo de las Americas, she had the opportunity to work behind-the-scenes as support staff for a mostly contemporary art show titled Altar'd Continuum: Resistance and Empowerment in Sacred Spaces. As a result, Barrientos was not only able to feature the work of Rose B. Simpson, the artist Barrientos was then studying for her master's thesis, but she was also introduced to Simpson and shook her hand.  
That, however, was not the only surreal experience for Barrientos. The show included a photograph of a performance by one of Barrientos' favorite artists, Ana Mendieta. 
 "As a Cuban immigrant myself, it felt like a true full-circle moment when I was present for the installation of her work in a show I was helping to organize," Barrientos said. "I don't think anything will ever surpass that moment for me." 
Hord remembers her pride in the mission and public reception of an exhibition she organized for the Global Fest at the Aurora Municipal Building that featured the everyday lives of people in Latin America. 
"My hope is that visitors gained a new appreciation for these cultures and a realization that people and traditions that can seem foreign to us are really not that different," said Hord. 
Issues of exclusivity and appropriation surrounding museum organization, implementation and history were critical elements of Barrientos' and Hord's studies and continue to be an integral part of their work and motivation as they continue to build their careers. 
"Art museums have a history of being exclusive, and though they are generally on the right path to being more welcoming and accessible to all, there is still a lot of work to do," says Hord. "Even if I can only make the slightest dent in this process, bringing art to everyone, regardless of their background, is important and meaningful work." 
Ultimately, both Barrientos and Hord believe in the importance of centering diverse viewpoints and narratives and the potential that museums have to educate visitors on social, political and emotional levels. 
"Art is always political," says Barrientos. "Museums can't run themselves; they will always need people to contextualize objects, and that is a huge responsibility that I love to have and do my best to live up to."