Summer Internship Opens History Student's Eyes to New Career Possibilities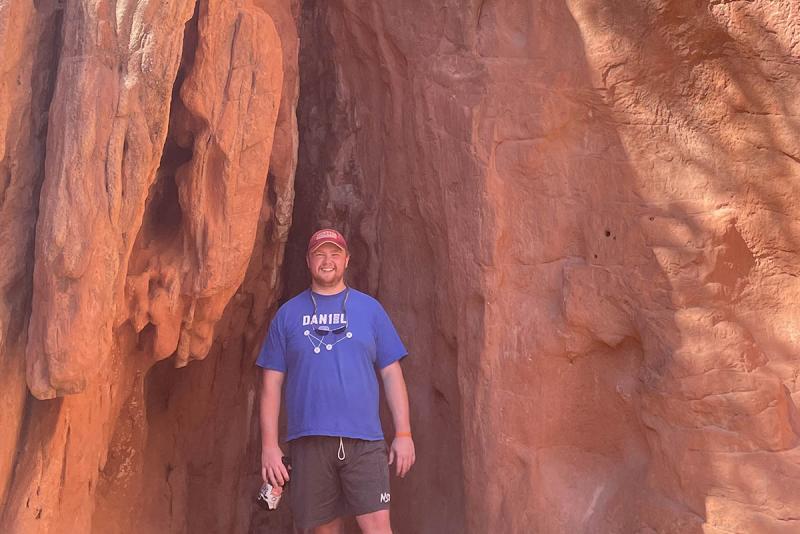 As a child growing up in Charlottesville, Virginia, history student Jack Emery (BA '23) was captivated by the battlegrounds all around him and the stories they told.  
"In elementary school I was always checking out history books from the library and was lucky enough to visit all the historical sites that excited the little historian in me," Emery said. 
A class focused on the Veterans Legacy Program he took with Associate Professor Elizabeth Escobedo during his sophomore year reignited that excitement.  
"I have some members of my family who served in the military and I wanted to learn more about their stories," Emery said. "I started studying the Veterans Legacy Program and considering military history from a very personal lens. 
That led to taking classes with Associate Professor Carol Helstosky looking at the unclaimed remains of U.S. veterans last year. As part of that class, she brought in a representative from the Defense POW/MIA Accounting Agency (DPAA) that led to creating an internship with the agency." 
"All history majors learn what historians do and must complete a year-long senior project, during which they research and write an article-length thesis," Helstosky said. "Internships are also important for history majors because they encourage students to apply the skills they learn in the classroom, in Jack's case, learning first-hand how research skills can make a critical difference in locating and identifying the remains of missing soldiers."  
Emery applied for and landed the internship with DPAA and received financial aid to help cover expenses from DU's Summer Internship Award Program. He started at the agency's offices in Omaha, Nebraska, in early June 2022. 
Bringing Classroom Skills to Real-World Challenges 
 "I was the first intern that the agency had ever taken on," Emery said.  
He began by working on a project aimed at finding out where six World War II veterans, whose remains were still missing in Iwo Jima, were at the times of their deaths in hopes of locating remains to return to their final resting place in the U.S.  
"It meant looking through their unit records to try to pinpoint exactly where they were on the island when they died," Emery said. "The project I spent most of my time on was writing a historical narrative on an island in the Pacific called Chichi Jima that the historians were just starting on. I found primary and secondary sources that pertained to this island, specifically about American airmen who were missing on or around the island." 
Emery's research involved reading through books and notes from war crimes trials after the war. 
"There were 11 Americans captured and of those, three were sent to Japan and the others were executed," he says. "That's not counting the airmen who died when they crashed on the island and even more who died at sea around the island who are probably unrecoverable."   
Emery relied on skills acquired writing history papers at DU to craft the narratives.  
"It was very similar except instead of using historical evidence to create an argument I was providing the historical information, citing and referencing my sources as much as possible to enable historians from the agency who will work on this project later to find the information they need." 
The process provided Emery with far more than an intellectual understanding of the war in the Pacific Theatre.  
"It was sad to look at their birthdates and death dates and realize these men were younger than I am when they got killed on an island in the middle of the Pacific," he said. "I found these little tidbits about them. It felt almost like doing research on a family member sometimes because of how personal the information would be." 
For example, while researching airmen who were executed on the island, he fed their names into a newspaper database.  
"I'd pull up an article published in their local paper from the beginning of the war with a photo of them just out of bootcamp talking about how they were going off to serve," he said. "It was a little heartbreaking, honestly, to see them so young and to know what ends up happening to them. The names of the men who were executed did not get released to the public until long after the war. Only their families knew their fates." 
Learning from Working Historians 
Emery found working closely with experienced historians invaluable.  
"They took me under their wing," he said. "They were teaching me and talking about their experiences at the agency and prior as they were going through school. One of the historians actually left the agency while I was there to go back to being a professor so I saw how academic and teaching circles can interlock with government historian work."  
Michele Cornell, disinterment historian working for SNA International in support of DPAA, with whom Emery worked closely, said "Jack produced high-quality historical work for DPAA during his internship. His World War II research has strengthened DPAA's efforts to account for missing service members. The knowledge his work generated will inform DPAA's disinterment work, prospective field operations and communications with the families of missing Service Members. We were thankful to have Jack on our team." 
Ultimately, the internship transformed the way Emery perceives his future following graduation next summer.
"I didn't even know this agency existed until last spring, that doing this kind of history work was a possibility," he said. "My plan prior was to go to grad school and get a PhD in history and teach. This internship opened my eyes to what historians can do in a non-academic setting."