Vicki Myhren Gallery's "The Space(s) Between" a Multi-Site Collaboration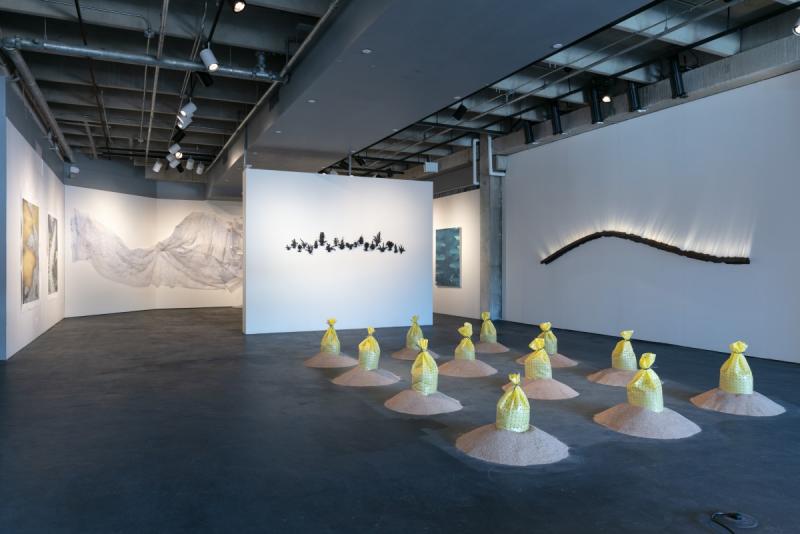 The Space(s) Between explores various understandings of how we experience the vastness of place and the iconic nature of the American west through contemporary art. This multi-site and multi-project exhibition is curated by DU Vicky Myhren Gallery Director Geoffrey Shamos and Independent Curator Donald Fodness, in collaboration with GOCA Director Daisy McGowan for outdoor sites. In addition to physical exhibitions in two university art galleries throughout Spring 2021, there will be a curators talk on April 14, 2021 at 5:30 p.m. Sign up here.
The Space(s) Between examines the notion of the horizon as a convention through which we orient ourselves in relation to the landscape. In traditional landscape representations the horizon functions both as a formal tool to arrange pictorial space on the two dimensional plane as well as a device to depict the illusion of depth beyond that surface. It visually divides the heavens and the earth; but as one ventures into the landscape, this liminal division becomes a non-existent destination per contra our perception. Many artists in this exhibition nod to the tradition of the landscape while advancing their own path forward, returning to the genre with revitalized visions and methodologies.
Artists included are Lisha Bai, Libby S. Barbee, Tyler Beard, Mindy Bray, Chad Brown, Terry Campbell, Beau Carey, Amelia Carley, Jaime Carrejo, Lanny Devuono, Rebecca DiDomenico, Dani Dodge, Conor Dowdle, John Defeo, Andy Ducett, Nina Elder, Gary Emrich, Ian Fisher, Tobias Fike, Megan Gafford, Anthony Garcia, Alvin Gregorio, Scott Johnson, Tsehai Johnson, David Jones, Anna Kaye, Patrick Marold, John McEnroe, Michael S. Moore, Mia Mulvey, Lauri Lynxxe Murphy, M12 Studio, Sarah Scott, Natascha Seideneck, Gretchen Marie Schaefer, Elspeth A. Schulze, Chip "Jetsonorama" Thomas, Devon Tsuno, Letha Wilson and Charles Parson.
The exhibition will be on view at Vicki Myhren Gallery at the University of Denver from March 11–May 2, 2021 and at UCCS Galleries of Contemporary Art (GOCA) from March 11–July 25, 2021.