Myhren MASK Exhibit Celebrates Expression During Pandemic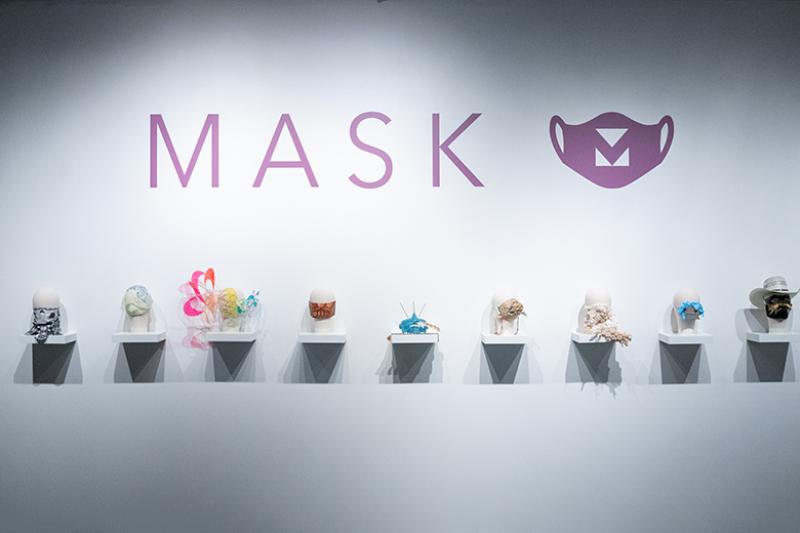 Typically, to set up an art exhibit, museums and galleries plan a couple of years in advance. Proposals must be reviewed, committees consulted, artists procured, artwork transported. And that's all before creating an attractive exhibit design and penning the descriptions that accompany each piece.
Of course, this year has been anything but typical.
When the COVID-19 pandemic wave threatened to sink the fall programming at the University of Denver's Vicki Myhren Gallery, Geoffrey Shamos and Lauren Hartog elected to swim. At the suggestion of Annabeth Headrick, director of DU's School of Art and Art History, they postponed a planned installation and created MASK — an exhibit with creative work that is nearly as impressive as its existence in the first place.
"It is pretty remarkable," says Shamos, director of the Myhren Gallery. "To get an exhibition off the ground quickly is pretty rare. A lot of times exhibitions that end up being topical are kind of fortuitous. It's really nice to tap into the moment and let artists be free with their expression through this format."
As its title suggests, MASK explores the 2020 fashion trend nobody wanted. Forty-three different artists contributed nearly 50 masks of all shapes, sizes and styles.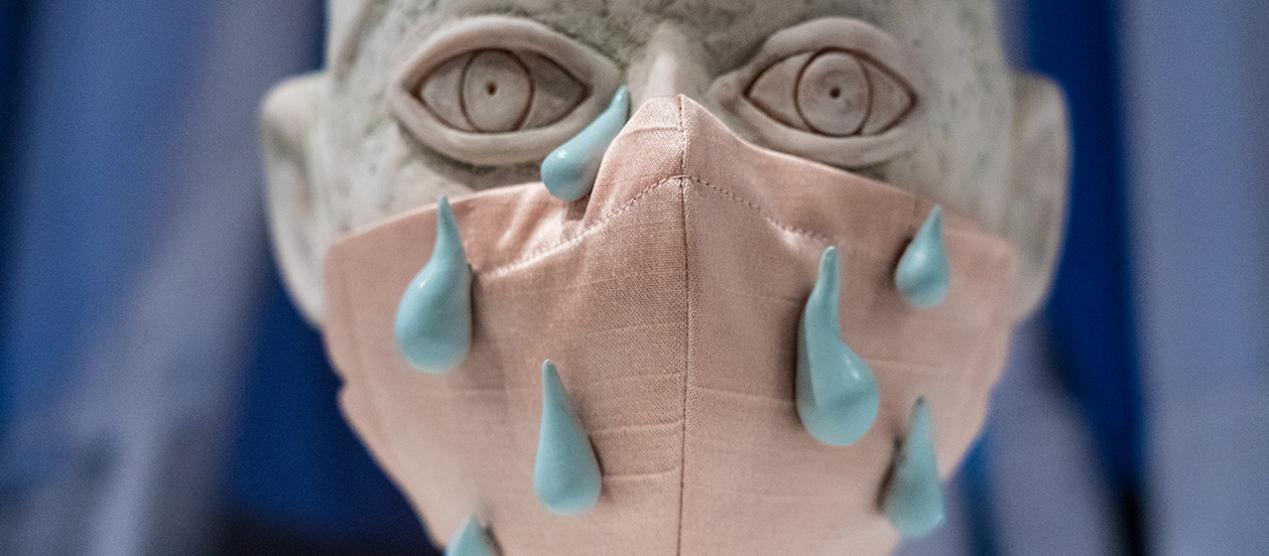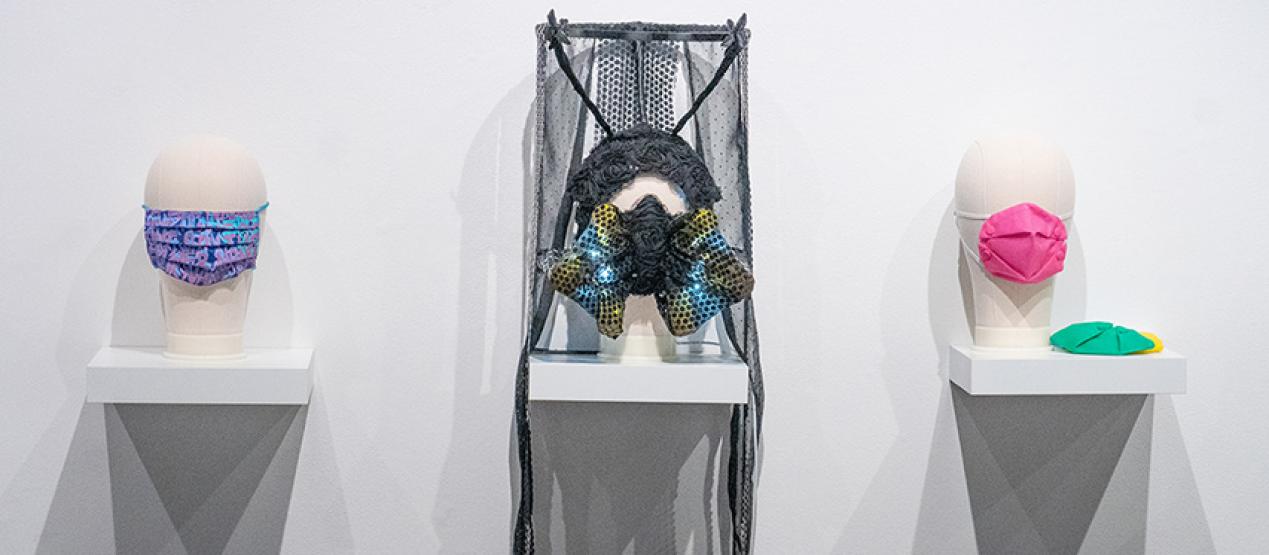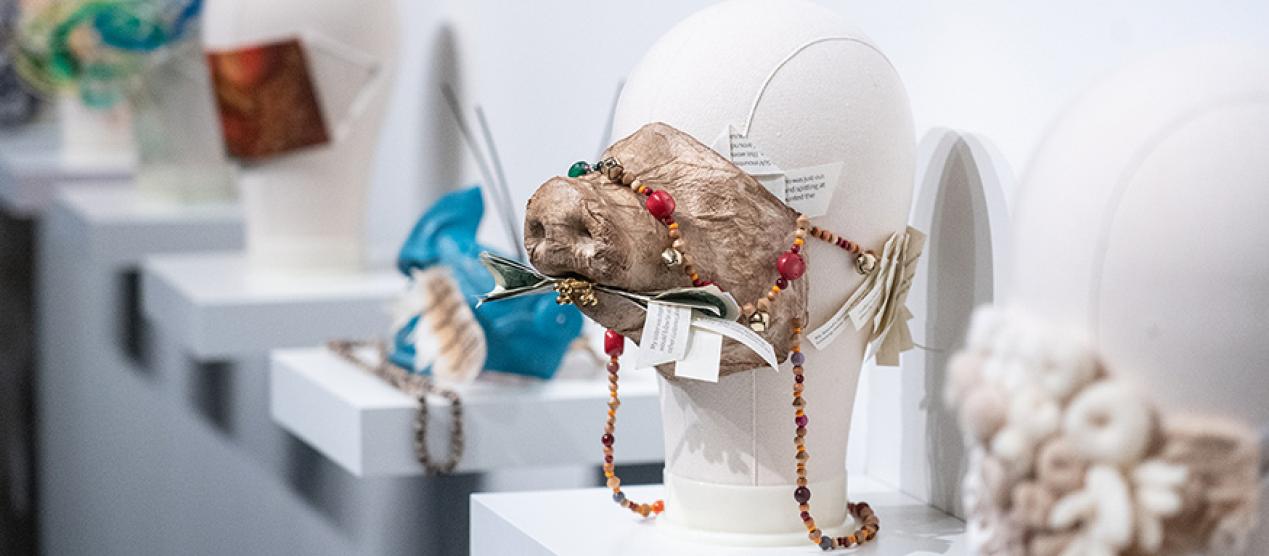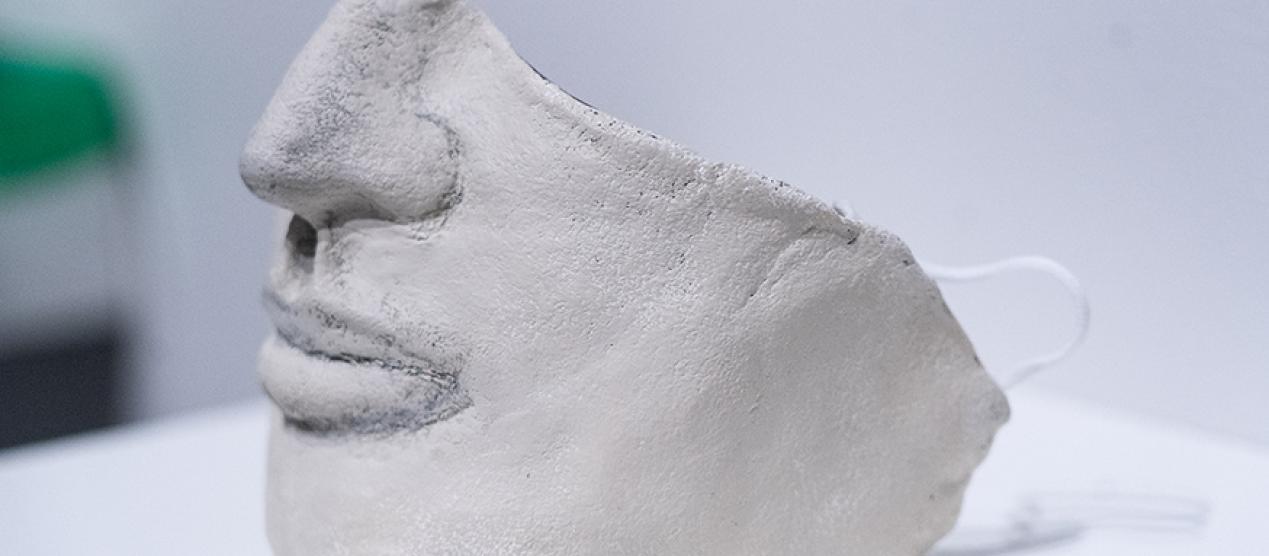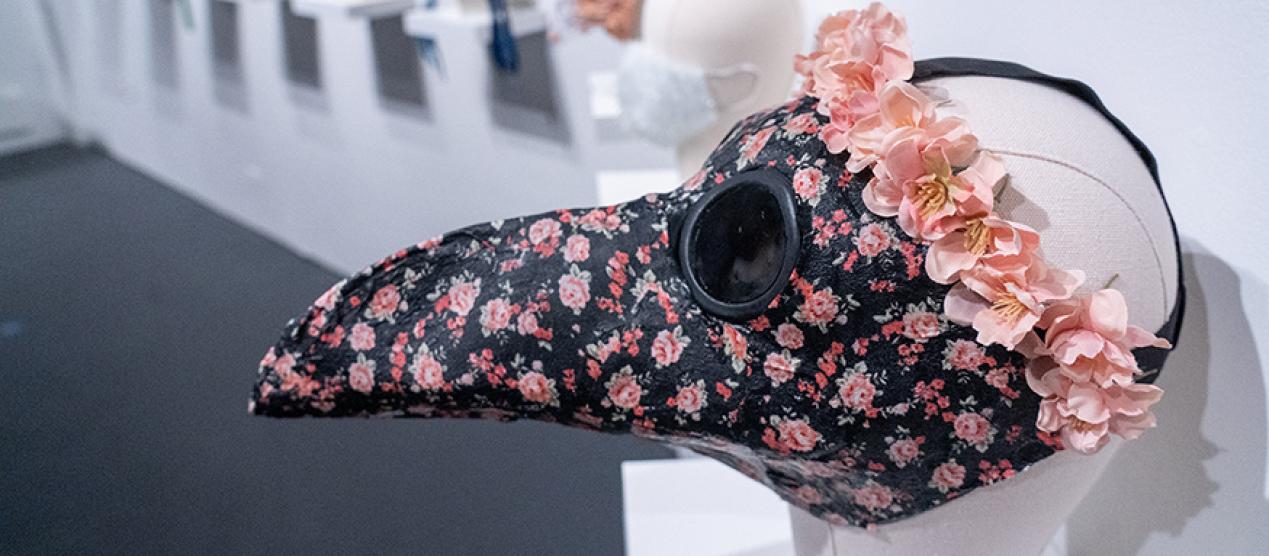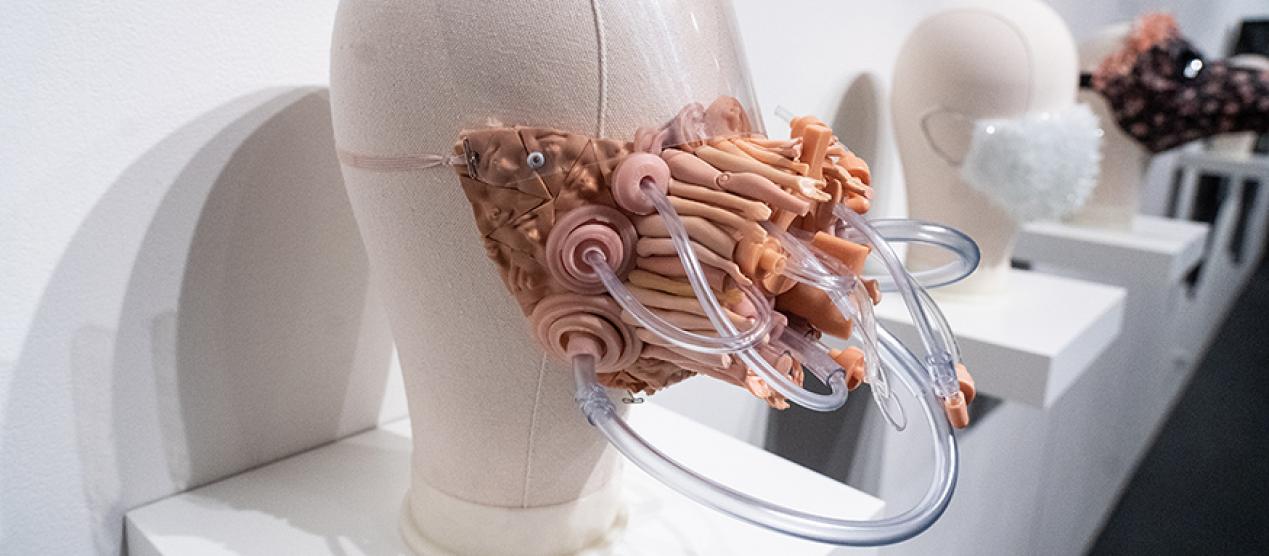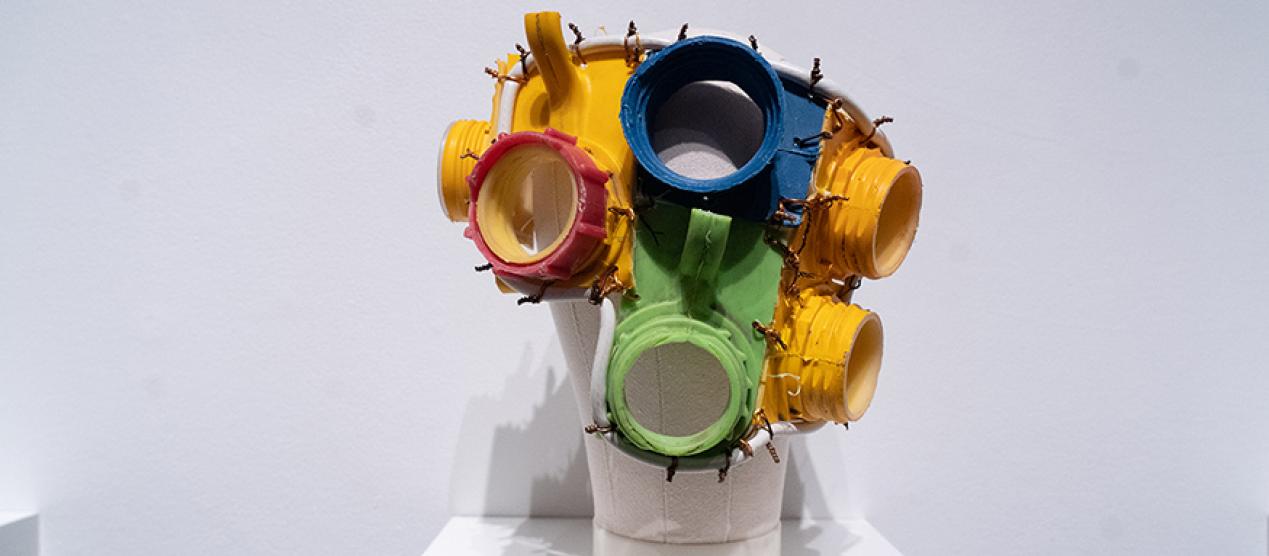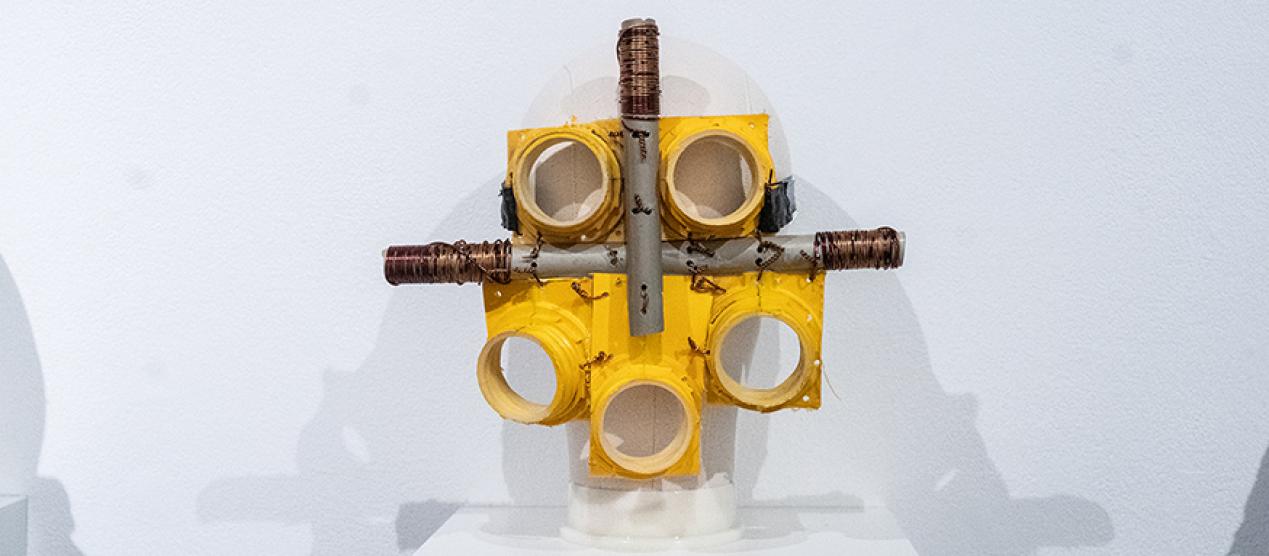 "The mask is a form of outward expression, like our clothing or how we choose to represent ourselves," Shamos says, "but it's specifically masking our prime tool for interfacing with the world. So there's this really interesting push and pull between unique identity that comes through and the inability to read anyone's expression. It becomes this second layer that's doing your communicating for you in a different way."
To find the pieces that now fill the Myhren Gallery, Hartog and a team of art students scoured lists of artists and Instagram profiles for creative ideas. About one-third of the contributions adorning the heads of faceless mannequins are from outside Colorado — from as far away as Germany, Australia and Portugal.
The rest are by local artists, including DU's own Christopher Coleman, a professor in the Emergent Digital Practices program. Coleman's 3D-printed piece, "Contact," considers the absence of intimate greetings. The mask he created allows two people to stand cheek-to-cheek, separated only by a thin membrane, while long tubes whisk exhalations 6 feet in either direction
"Reality is really difficult right now," Coleman says. "We are all waiting, hoping that there is a change — in government, in the division in the country, in the pandemic. I have barely been able to make any art. So while, at first glance, this exhibit seems obvious, the straightforwardness of it gave me permission to make something quick and intuitively."
Less straightforward were the logistics of bringing the MASK exhibit to life. Simply transporting the art from across the globe proved difficult, not to mention the challenges in displaying it.
This fall, as part of DU's return-to-campus plan, the Myhren Gallery is pulling double duty as a classroom four days a week, providing a more socially distanced learning environment. On Fridays, the Myhren team pushes aside the desks to make room for a three-day display.
"The large central open space that we had in this exhibition design actually ended up working super well," says Hartog, who serves as assistant to the director. "It also makes it easier for people to social distance."
Attending the exhibit, which runs through Dec. 1, requires a reservation. Once inside, instead of physical labels explaining each piece, visitors can use their smartphones to scan a QR code, which unlocks an interactive document with links to videos and artist websites. "It's a fun way we had to adapt to the current situation," Hartog says.
Shamos agrees. "[We're] building new muscles in terms of tools and kinds of programming," he adds. "In some instances, virtual programming is really nice to reach out to people who are physically in other states who would never plug in otherwise."
The gallery is donating proceeds from the MASK exhibit to RedLine, a nonprofit art center working to partner artists with their communities and facilitate social change. During the pandemic, RedLine has promoted an artist relief fund and created an initiative to make and distribute masks to those who need them most.
For Shamos, it's a perfect example of the importance of the arts during tough times.
"There's always this notion that art is a 'nice to have' and not a 'need to have,'" he says. "But I really think that artists and creatives, because they are people who see the world through a different perspective, they're sensitive to how others operate in the world. Art can be a balm and assist in healing and working through the traumas of our times."