'Monumental Experience' in Communication & Adoption Course Leads DU Alumna to Launch Podcast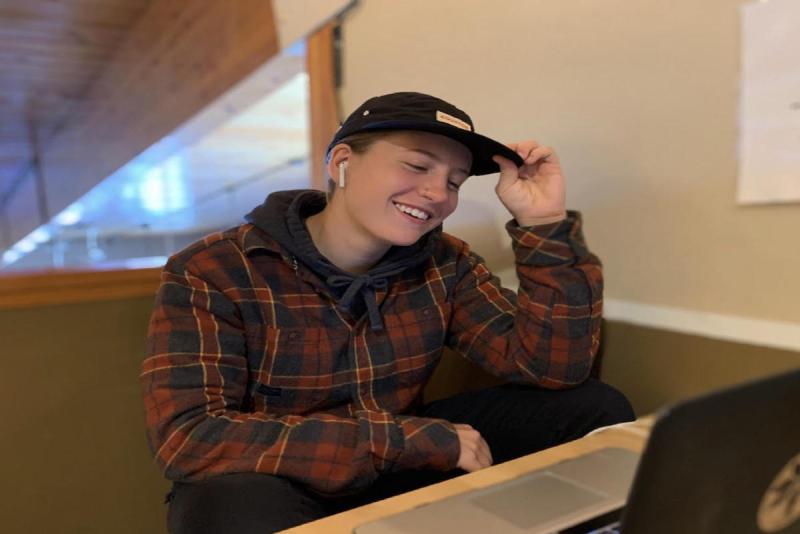 Happenstance may have brought Glenna Boggs (BM '20) to Professor Elizabeth Suter's Communication & Adoption course, but it didn't take her long to recognize the impact the class would have on her life from that day forward.
As a bassoon performance major in the Lamont School of Music and an adoptee herself, Boggs was looking for an advanced seminar (ASEM) when a friend recommended Dr. Suter's course.
Suter is a College of Arts Humanities & Social Sciences (CAHSS) professor in the Department of Communication Studies and affiliated faculty in the Gender & Women's Studies program. She is also both an adoptive mother and a biological mother.
"I've gained such a huge appreciation for other adoptees and the vastness of our stories, and how our experiences are so different and can also be so similar and just how complex it all is," Boggs said of the course.
"It's so easy to feel isolated within your adoption experience … It just takes so much emotional capacity and energy to be adopted for a lot of people," she added.
However Boggs did not feel isolated among her fellow classmates, even though she was the only adoptee taking the class at that time. Instead, she experienced a sense of community and support as she was able to openly share her feelings about her own adoption.
Boggs was adopted from Russia with her identical twin sister in 1999.
Inspired by the course Boggs created a podcast called "Tough Love: Adoptees' Perspectives on Relationships" with two other adoptees, Lauren Fishbein and Deontae Boswell.
Boggs met Fishbein when she spoke during one of Suter's class periods on her own experiences and her work as an adoption therapist, and she met Boswell through Fishbein.
The podcast "was created to help normalize the suffering that comes with and from adoption, and to provide a platform for adoptees to share their story."
The first episode launched in March 2021 and the podcast has gained a "steady following" since. As of the beginning of February, the podcast had released 30 episodes, including one featuring Suter as a guest.
What has been most surprising, according to Boggs, is the response they've received from listeners and adoptees globally.
"What's been the most remarkable and probably the greatest part of the podcast for me is the messages that we receive from people who listen, and the connections that I've made with other adoptees all over the world. That's not even something I considered when we started the podcast," she said.
Boggs has also become an active member of the Colorado adoption community. She has returned to Suter's course to speak to students about her experiences, and she regularly volunteers to lead adoptee and adoptive parent workshops at the Colorado Heritage Camp for Adoptive Families.
Now an elementary school music teacher in Littleton, Boggs attributes a lot of her success now to the adoption course and how it allowed her to heal and be proud of her story.
"I feel much stronger now and so I can be strong for my students emotionally. Especially coming out of COVID, most of [our students] are really struggling socially and emotionally, so me being able to have healed from everything and be strong allows me to be strong for others," Boggs said.