New CAHSS Faculty 2021–2022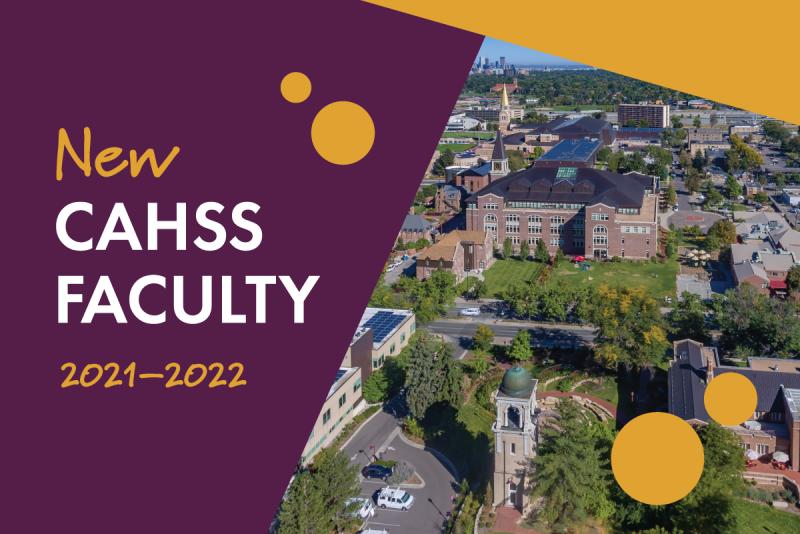 This academic year, the College of Arts, Humanities & Social Sciences at the University of Denver welcomed several new faculty members in the Department of Sociology & Criminology, Department of Communication Studies, Department of Psychology, Center for World Languages & Cultures, Department of History, Department of Languages, Literatures & Cultures, Department of Political Science, and Lamont School of Music. Join us in welcoming these scholars, who will bring new insights, dedicated research and hands-on guidance to our students and departments.
Alana Inlow, Department of Sociology & Criminology
Alana Inlow (they/them) is a teaching assistant professor in the Department of Sociology & Criminology. They earned their PhD from Washington State University in 2021. Their dissertation focused on socio-spatial aspects of street crime, including homicide and land use, graffiti as an act of resistance, and the relationship between street crime, the built environment and socioeconomic neighborhood characteristics. Alana's secondary research areas include green criminology, asset-based/anti-deficit pedagogy and accessible curriculum. While research is important, Alana's greatest passion is teaching. They teach general sociology courses and specialized courses in criminology as well as mentor and advise students on a myriad of projects and career opportunities.
Public sociology is another important part of Alana's life and work. They have worked with and for several nonprofits and community-based organizations in the past, including tenant's rights groups, labor unions, eco-socialist groups, healthcare initiatives, LGBTQ community resources and other social services.
Youllee Kim, Department of Communication Studies
Youllee Kim (she/her) is an assistant professor in the Department of Communication Studies, where she teaches courses on health communication and civic engagement. She received her PhD in communication studies from the Pennsylvania State University in 2021. As a quantitative scientist, she studies health communication with an emphasis on social processes involved in health information dissemination and behavior change. Kim's research program revolves around improving public health by being attentive to social determinants of health and designing community-based interventions. With special interests in understanding people's desire for collectively improving existing conditions, she is currently most interested in understanding how communication evokes and spreads hope in a way that results in meaningful community-level health outcomes. 
Kamilah Legette, Department of Psychology
Kamilah Legette (she/her) is an assistant professor in the Department of Psychology. Her interdisciplinary research investigates individual and institutional racial biases in teachers and schools and their impact on youth academic performance, social-emotional and identity development, as well as the implications of these biases on teachers' curricular placement and discipline decisions. The goal of this work is to inform effective interventions, school policy changes and teacher preparation programs to optimize healthy development for all youth. Her previous degrees, in addition to her PhD, include a master's degree in counselor education from UNC-Charlotte (2011) and a BA in psychology from Spelman College (2006). 
Polina Maksimovich, Center for World Languages & Cultures
A native of Lipetsk, Russia, Polina Maksimovich's (she/her) research lies at the intersection of drama, performance and contemporary Russian politics. She received her PhD in Slavic languages and literatures from Northwestern University, where she studied 20th-century drama and theater, as well as gained experience in curriculum design and second language pedagogy. In the Center for World Languages & Cultures, she works closely with colleagues to further develop and promote the Russian program. At DU, she teaches elementary Russian language sequence, as well as courses in Russian literature and culture. Before coming to DU, Polina taught at Northwestern University, Loyola University Chicago and Arizona State University. Her academic interests include project-based learning, instructional technologies and the "New Drama" movement. 
Trishula Patel, Department of History
Trishula Patel (she/her) is an assistant professor of history, and she earned her PhD from Georgetown University in Washington, D.C., in 2021. Her research interests include the history of race and segregation in Southern Africa, colonialism in the Brit­ish Empire and the South Asian diaspora in Africa. Her publications have included works on the history of cricket as an imperial sport in Zimbabwe, Indian diplomats in Central Africa, xenophobia in 21st-century Africa and the legacies of Gandhi outside the subcontinent. She has a BA and MA in history from the University of Penn­sylvania and an MS in journalism from Columbia University, and she was a Fulbright Doctoral Dissertation Research Abroad fellow from 2018–19. She has also worked as a high school teacher, photographer and journalist, including stints at the Washington Post, the Philadelphia Inquirer, Philadelphia Weekly and PassBlue.
Cris

Tietsort, Department of Communication Studies
Originally from the Northwest, Cris Tietsort (he/him) recently finished his PhD in organizational communication at Arizona State University. In his research, he sometimes jokes he is trying to figure out how to make work suck less. Practically, this has focused his attention on improving organizational relationships, with an emphasis on the influence of leadership and the contextual influences that constrain compassion at work. In the classroom, Tietsort teaches classes on organizational communication, leadership and negotiation, as well as quantitative research methods. In the future, he hopes to develop classes out of his own research, including an applied, values-driven, communication-based leadership course, as well as a course on how to cultivate compassion and justice at work. In his free time, Tietsort loves getting to the mountains with his partner.
Michael Toole, Department of Languages, Literatures & Cultures
Michael Toole (he/him) is a teaching assistant professor of Japanese in the Department of Languages, Literatures & Cultures. His research interests include Japanese literature, inclusive language pedagogies, visual culture, premodern paleography, queer theory and disability studies. He holds a PhD in Japanese from the University of Wisconsin-Madison, an MA in Japanese literature from Washington University in St. Louis and a BA in Japanese language and literature and Hispanic language and literatures from Boston University. His book project, "Queer Disordering: Visualizing Sexualities and Bodies in the Print Culture of Early Modern Japan," examines visions of sexuality and the body in 17th- and 18th-century Japan. He is currently working on a second project on queer manga in post-war Japan, as well as a translation of an early modern comic book about a mermaid who becomes a courtesan. His research has been supported by the Fulbright Foundation.
Heidi Vuletich, Department of Psychology
Heidi Vuletich (she/her) will be joining the affective/social/cognitive psychology area this fall. She is currently an National Science Foundation postdoctoral fellow at Indiana University Bloomington. She received her PhD in social and developmental psychology from the University of North Carolina at Chapel Hill. Her research examines the consequences of intergroup inequalities, as well as some of the factors that contribute to and sustain inequality. She investigates disparities by race, gender and socioeconomic status and examines both the aggregate (system-level) and individual effects of inequality. She is looking forward to collaborating with new colleagues and students. Having grown up in Colorado, she's excited to be near the mountains again.
Alena Wolflink, Department of Political Science
Alena Wolflink (she/her) is a political theorist of democratic agency and identity. Her research examines the construction of narratives about democracy and citizenship through analyses of the undercurrents of race, gender and sexuality discourses in the language of political economy. She received her PhD in politics from the University of California, Santa Cruz in 2019 and has also taught at Beloit College, California State University Stanislaus and San Quentin State Prison. Her work has been published in such venues as Critical Philosophy of Race, Philosophy and Global Affairs, and Theory & Event, and her first book, "Claiming Value: Political Priority from Aristotle to Black Lives Matter," will be published in summer 2022. She is currently working on a new project on the politics of desire and will be teaching political science classes like feminist political thought, radical democracy and American political thought.
Heidi Melton, Lamont School of Music
Bio coming soon.