We present the CAHSS Newsroom's most enjoyed stories of 2019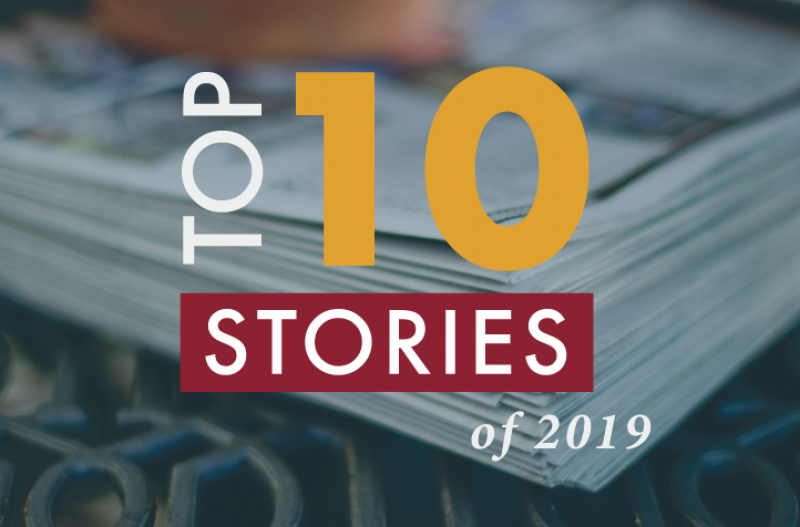 As we gaze forward to the possibilities 2020 brings, we wanted to look back and celebrate the past year at DU. Readers of the CAHSS Newsroom enjoyed the following stories featuring students, alumni, faculty and programs most from a selection of over 115 total articles.
Your top story comes from the Department of English & Literary Arts's literary journal, Denver Quarterly. The longest running journal west of the Mississippi, Denver Quarterly engages the DU community and seeks to expand and involve more students.
Jeremiah Jones's winding road from religious studies master's program to deputy district attorney spoke to many of you. Jones applied his passion for social justice and put his empathy into practice for those needing a helping hand.
Cherish Marquez's unique use of virtual gaming, which allows her to speak out on the problems of border politics faced by immigrants, sparked a lot of interest among you all.
Lina Reznicek-Parrado, teaching assistant professor of Spanish, conceived of a course that addresses learning Spanish in a new and inclusive way, acknowledging the diverse experiences and topics that are relevant to her students and our readers.
World-traveler Gergana Argirova studied at DU's Lamont School of Music and inspired us all by turning her success into an opportunity for children with autism to pursue their interest in music.
Senior Makia Jones's journey of turning discomfort into opportunity and learning how to fit in at a new university resonated with you, and we are glad to share her story!
This play may have been written in the 17th century, but its wit and satire speak to contemporary audiences interested in examining the nuances of sincerity and hypocrisy.
This year has been incredible for students and faculty alike, with 26 faculty members moving forward in their careers. Congratulations again to our faculty for their successes this past year.
Lamont School of Music student Elliot Clement caught your eye when he took his instructor's advice to never limit himself and participated in an international conference on jazz.
We're proud of our Dean's Dissertation Fellowship awardees, whose commitment to their research continues to guide their journeys. 
Thank you for reading! To see more top stories from the College of Arts, Humanities & Social Sciences, as well as the rest of DU, visit "The Best of 2019" by Nicole Militello.