Faculty and Staff DEI Grant Awards for 2020-2021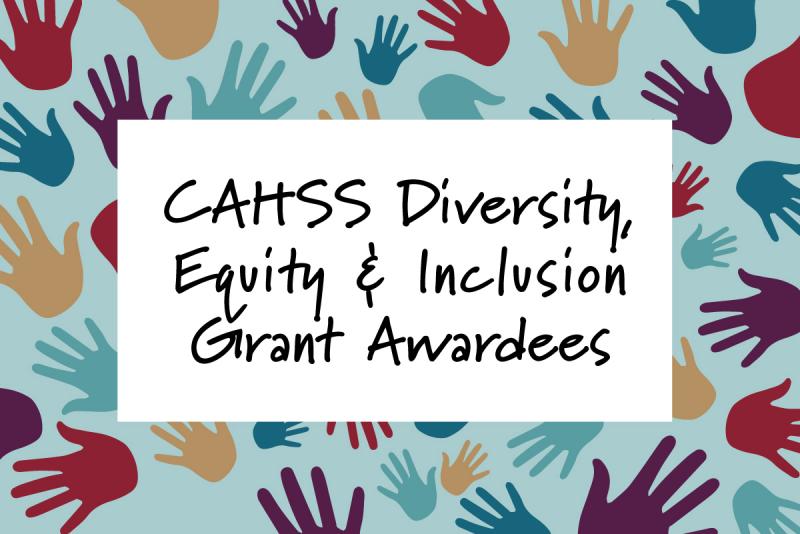 Congratulations to the following faculty and staff members who received a DEI Grant Award in 2020-2021!
The Diversity, Equity & Inclusion Committee in the University of Denver's College of Arts, Humanities & Social Sciences provides support and professional development funds for employees interested in pursuing DEI initiatives and/or professional development opportunities specific to staff and faculty of color and other historically minoritized groups.  (For the full RFP, faculty and staff can login to Portfolio and visit the Funding Opportunities tab). 
Aleysia Whitmore, assistant professor in Lamont School of Music and chair of the Lamont DEI committee
The Lamont DEI committee will conduct an Intercultural Development Inventory (IDI) assessment with Casey Dinger in order to better collaborate on approaching cultural change and effectively implementing long- and short-term projects. The committee aims to use the assessment to reflect on and advance the priorities they have identified in building community partnerships and creating community conversations about DEI issues at Lamont and in the music world more broadly.
Keith Ward, professor and director in Lamont School of Music
In this project, the ten professional staff in Lamont, as well as associate director Jack Sheinbaum and director Keith Ward, will complete and process the Intercultural Development Inventory (IDI). Through the IDI, they aim to better understand current perceptions within the department and devise a staff development plan specific to diversity, equity and inclusion in service to the multiple constituencies that define Lamont and its public.
Brenda Boyle, enrollment services manager for the dean's office
Brenda Boyle, in her role of managing the CAHSS Student Ambassadors Team, will attend the Level I and Level II trainings in Race Forward's Building Racial Equity series, a collection of interactive trainings for those who wish to sharpen their skills and strategies to address structural racism and advance racial equity. 
Lina M. Reznicek-Parrado, teaching assistant professor in the Department of Spanish Language, Literacy & Cultural Studies
This project focuses on the development of teaching assistant professor Lina M. Reznicek-Parrado's book dealing with issues of educational accessibility for students who are heritage speakers of Spanish; that is, students who have traditionally received little to no academic schooling in the language of their heritage. Reznicek-Parrado will create a virtual space to directly engage with two senior scholars in the field and invite them to provide coaching, mentorship and feedback to chapter manuscripts that stem from her current research on the issue. 
Casey Stockstill, assistant professor in the Department of Sociology & Criminology
Stockstill will attend the virtual Association of Black Sociologists conference in April 2021 in order to continue her professional development and collaborate in intellectual spaces with other Black scholars similar to herself. She intends to improve her approach to scholarship, connect and network with other Black scholars and sociologists on Black sociological theorizing, and develop learning experiences about teaching, thriving and addressing inclusion of people of color in predominately white institutions.
Kathryn Fox, assistant professor in the Department of Psychology 
Fox is teaching a multicultural issues and clinical psychology course, a class that represents students' first step toward cultural humility. She will be utilizing the funds to bring in guest lecturers with relevant expertise and experience.
Dheepa Sundaram, assistant professor in the Department of Religious Studies
Sundaram is developing a podcast on religion in the public square that will address current issues of race, gender, interfaith, ability and other intersectional identities as they pertain to the practice, study and engagement with religion.
Angela Parker, assistant professor in the Department of History
Parker will use the funds to support a panel, "Sonic Resistance: Indigenous Women and Social Justice," that considers the way music and sound challenges the spaces of settler society. As part of The Spirituals Project's thematic focus on "The Year of the Woman," the panel will engage Indigenous female scholars, performers and activists from both North and South America to consider the ways that sound and resistance intersect.
Lisa Martinez, professor in the Department of Sociology & Criminology, and Jesse Acevedo, assistant professor in the Political Science Department
Martinez and Acevedo plan to use the funds to host a virtual screening of the documentary, "The Facility," which features the lives of people held in immigrant detention at the GEO facility in Aurora. 
Hava Gordon, associate professor in the Department of Sociology & Criminology
Gordon plans to use the funds in her capacity as CAHSS ODEI Faculty Fellow to help support a pilot program for DEI assessment in CAHSS.